Public educators honored at Heart of Education Awards
April 29, 2017 - 11:26 pm
Updated April 30, 2017 - 4:24 pm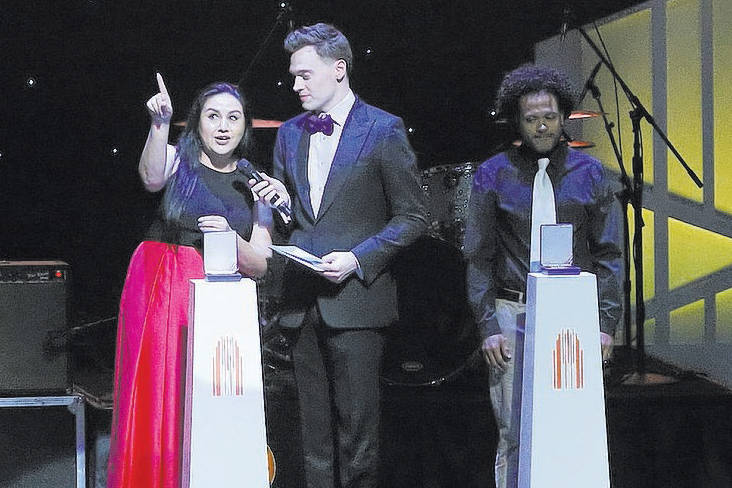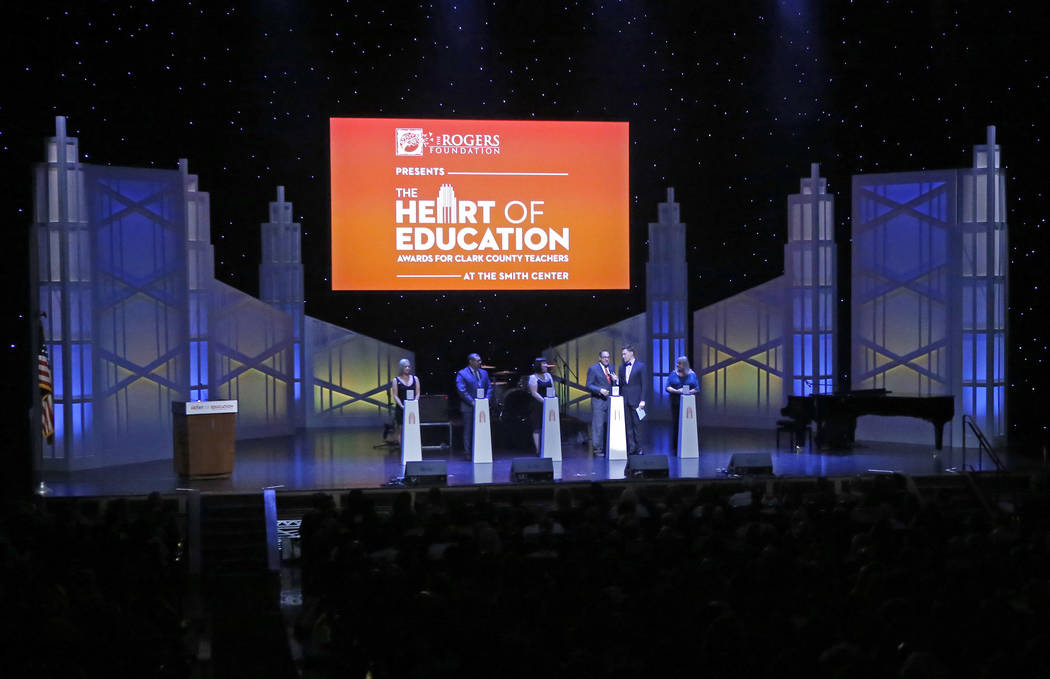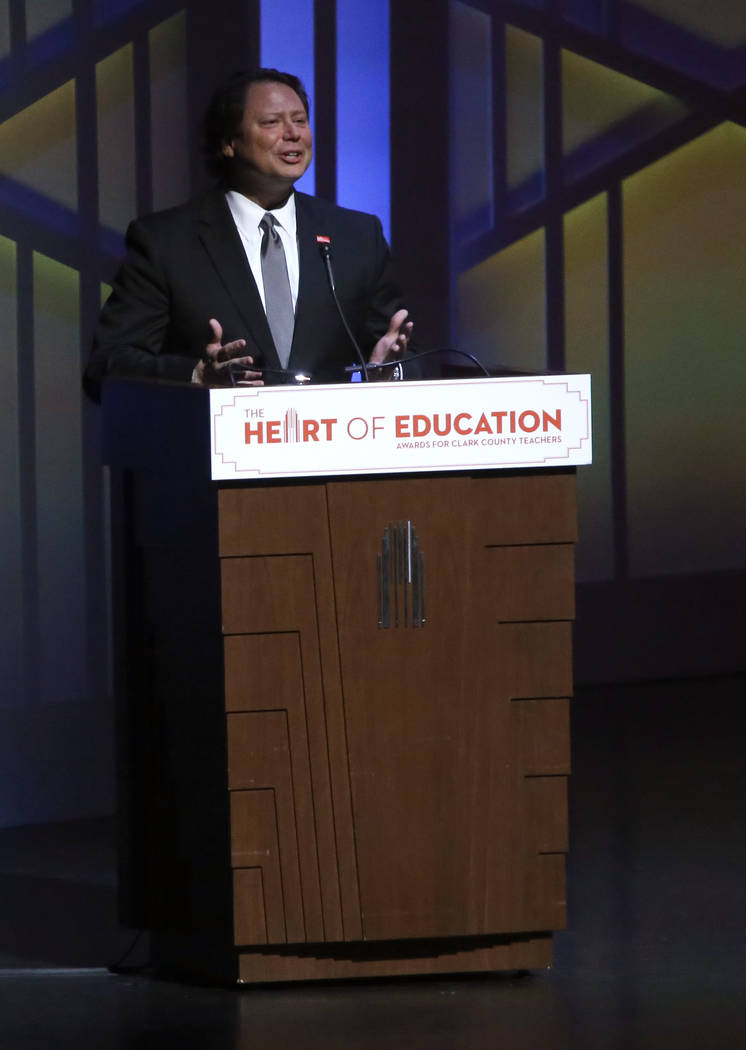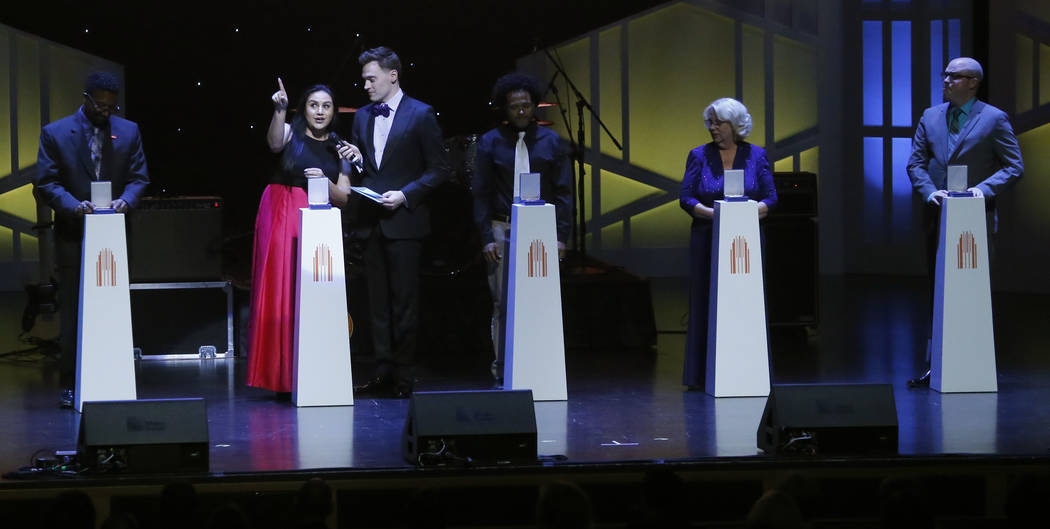 Just like in the school, the Heart of Education awards ceremony honoring public school teachers opened Saturday evening with the national anthem.
But unlike the classroom, this rendition was performed by the a cappella group The Sound Collage at The Smith Center in front of an audience of more than 2,000 teachers and their guests.
More than 900 Clark County teachers were selected as finalists in an awards ceremony that honored dedication, patience and selflessness. Twenty were each awarded a prize of $5,000 for personal use, $1,000 for their school and a custom medallion.
After being selected as a finalist last year, Hela Naziri, an AP biology and anatomy teacher at Cheyenne High School, was one of the award recipients.
"To win, it's just … I can't explain," she said as tears welled in her eyes. "I love my job, I love the people I work with, and I love my kids more than anything."
In Naziri's nomination for the award, a former student wrote: "She has helped me through many trials, from difficult lessons and grades to college and life advice. I would not be where I am right now if she did not help me and I will always be grateful to her."
Myron Martin, the president and CEO of the Smith Center, said he came up with the idea for the event after seeing a similar ceremony at the Kennedy Center in Washington.
Martin said the event was a way to recruit and retain quality teachers.
"If they can do that in D.C., imagine what we can do in Las Vegas," Martin said he later thought. "The first thing we need to do is make our teachers feel respected and appreciated."
Martin recruited longtime Smith Center supporter Beverly Rogers and the Rogers Foundation to back the event, and the foundation sponsored the first awards last year. And the Rogers Foundation has signed on for the next 10 years, committing $2 million, Martin said.
2017 marks the second year the Las Vegas Review-Journal has presented its People's Choice Awards. Four teachers who received the most votes in an open contest each received $2,500.
Review-Journal publisher Craig Moon said the candidates received more than 20,000 votes.
"It's to recognize really good teachers that inspire children," said Moon, who presented the awards. "In a lot of cases, teachers don't get that recognition."
Albert Ocampo, an AP literature teacher at the Southwest Career and Technical College, was one of this year's People's Choice award winners.
Several students nominated Ocampo, and in his application, he noted that the school's basketball team, which he coaches, has raised funds for each of the past four years as a Christmas bonus for the custodians.
The event was led by emcee Erich Bergen, an actor in the onscreen and onstage versions of "Jersey Boys" and a frequent guest star on "Madam Secretary." Bergen brought out five winners at a time, punctuating the event with performances by local band Brumby and Michael Cavanaugh.
In the surprise twist of the night, Martin introduced a well-known educator as the keynote speaker: Dr. Jill Biden, who received audible gasps and a standing ovation.
Biden, wife of former Vice President Joe Biden, underscored the traits of strong educators as giving, innovating and constantly evolving and also spoke of her time as "second lady."
"No matter where in the world I traveled, I always carried a bookbag of papers to grade," she said, before mentioning she'd brought a bag to the event, to laughs.
The event culminated in a spirited performance by Clint Holmes. In addition to the "swag bags" all finalists received, in the lobby, attendees were treated to dessert and glasses of champagne.
Martin said it was important to give educators a special night to enjoy.
"It's just another component about how we're changing the dialogue about teachers and education in Las Vegas," he said.
Contact Brooke Wanser at bwanser@reviewjournal.com. Follow @Bwanser_LVRJ on Twitter.
2017 Heart of Education Award recipients
Alexandra Matthews, Barbara and Hank Greenspun Junior High School
Damon Wahl, Kay Carl Elementary School
Deborah Fleischer, Jack Lund Schofield Middle School
Demitrio Frausto, William E. Ferron Elementary School
Diane Koutsulis, Green Valley High School
Erick Ekker, Bob Miller Middle School
Hela Naziri, Cheyenne High School
Jeffrey Hinton, Advanced Technologies Academy
Kathryn Faulkner, Myrtle Tate Elementary School
Kelly Kirkbride, Elaine Wynn Elementary School
Kimberly Murray, R.E. Tobler Elementary School
Kimberly Butterfield, Whitney Elementary School
Linda Marie Wise, Rex Bell Elementary School
Perryn Hale, Roy W. Martin Middle School
Renee Ara, Robert Lunt Elementary School
Ruben Perta, Early Childhood Department
Ryan Duff, Basic Academy of International Studies
Saleutogi Lualemaga, Jerome D. Mack Middle School
Sergio Lopez III, Chaparral High School
Shannon Sheldon, Southwest Career and Technical Academy
Las Vegas Review-Journal's People's Choice Award winners
Bonnie Lamping, Shirley and Bill Wallin Elementary School
Kristan N. Nigro, Halle Hewetson Elementary School
Jeffrey C. Archibald, Las Vegas Academy of the Arts
Albert L. Ocampo, Southwest Career and Technical Academy