Regents OK Thom Reilly to lead Nevada's higher education system
Updated June 26, 2017 - 7:41 pm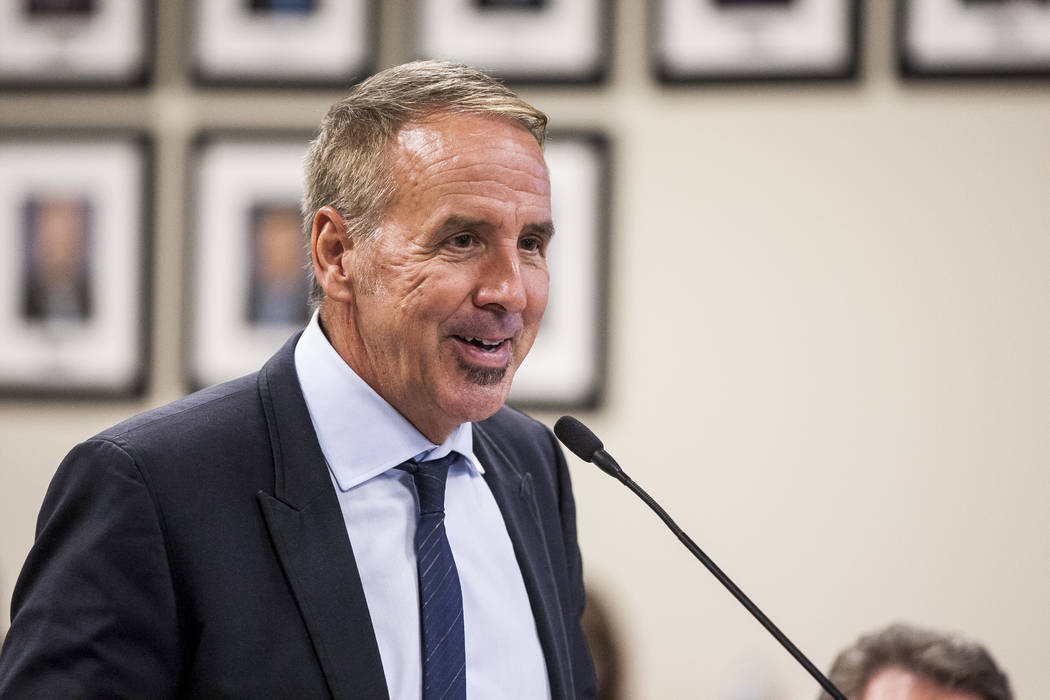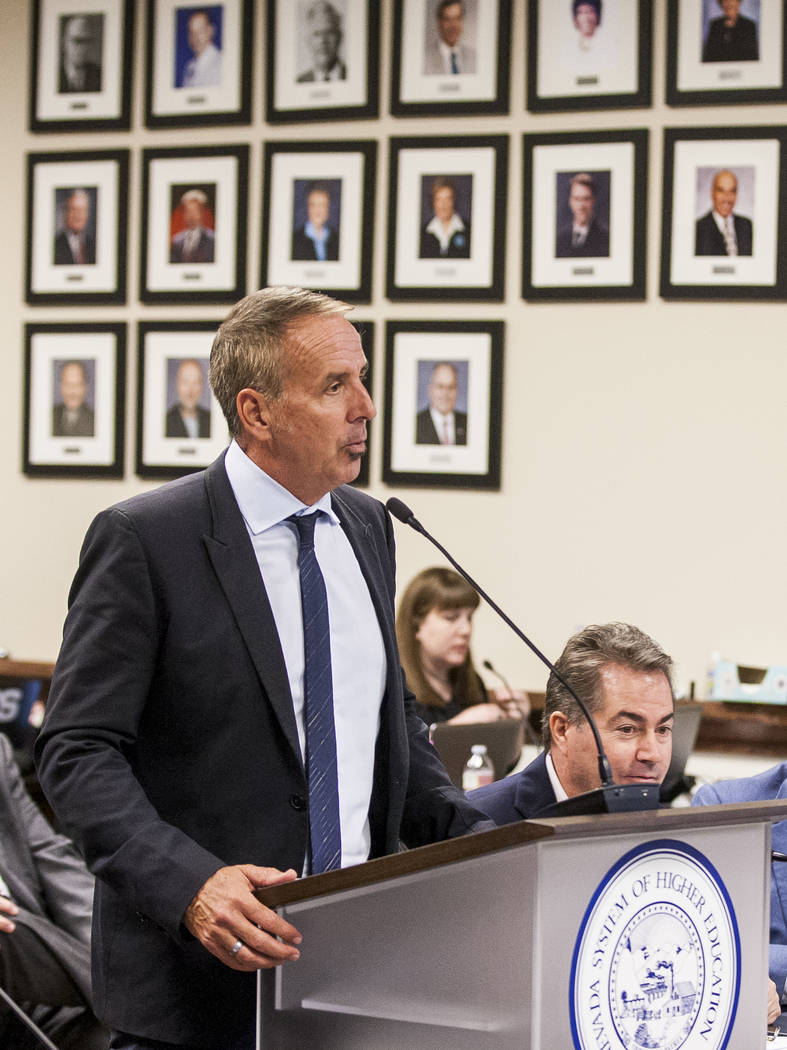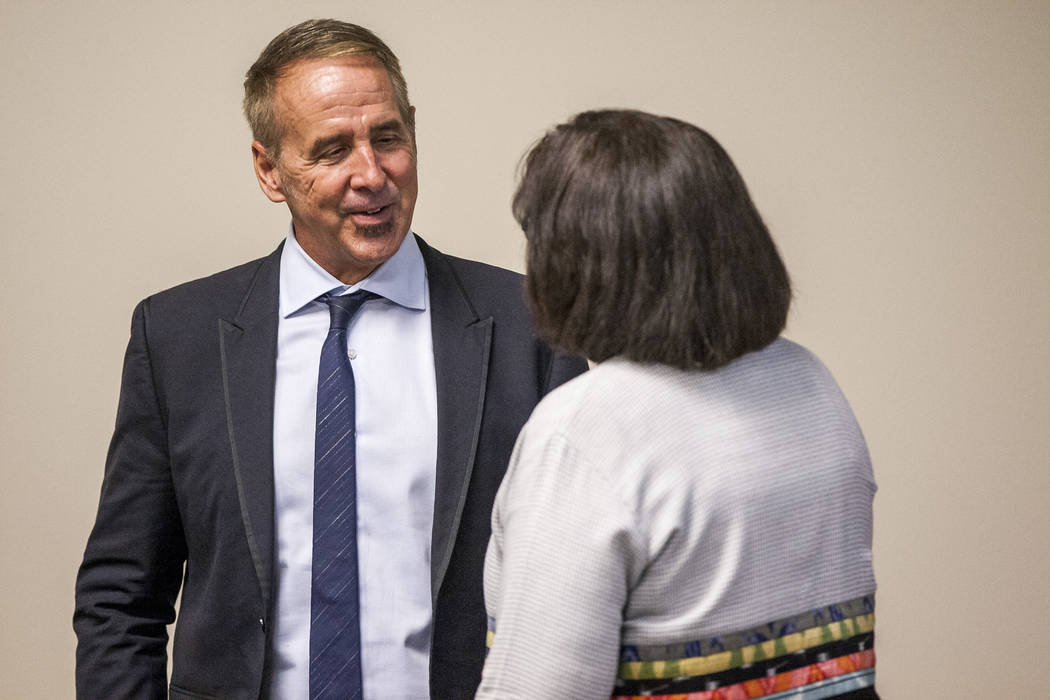 The Nevada System of Higher Education gained a new leader Monday after more than a year without a permanent chancellor.
The Board of Regents voted 11-0 to appoint Dr. Thom Reilly, current director of the Morrison Institute for Public Policy at Arizona State University and former Clark County manager, to the vacant post. Regents Cedric Crear and Trevor Hayes were not present for the vote.
"It was a vigorous process," Reilly said afterward. "The questions they asked me today were the same they asked me in the community. There's a lot of common themes, a lot of interest, a lot of passion. I'm looking forward to it."
Reilly will begin his three-year contract on Aug. 7 and earn a yearly salary of $425,000, along with an $8,000 automobile allowance and a $10,000 host account, used for activities such as business meetings, travel and lodging expenses. Both acting Chancellor John White, whose contract ends on Friday, and previous chancellor Dan Klaich earned an annual salary of $303,000.
"We're definitely offering a very competitive salary," Regent Patrick Carter said last week after Reilly's employment agreement was made public.
The board also unanimously approved Jane Nichols, who has served in various capacities in Nevada System of Higher Education, to serve as acting chancellor for 37 days, until Reilly assumes the post. Her salary will be $34,839 for the period.
Reilly was appointed after attending two days of candidate forums at Nevada System of Higher Education institutions in Las Vegas and Reno last week, which included a voluntary online survey of those who attended. He also was interviewed by the chancellor search committee.
According to Kevin Reilly, a consultant with AGB Search in Washington, D.C., 82 forum attendees completed the online survey, with 68 percent saying they believed Reilly would be an effective chancellor. Six percent said no, and 25 percent were undecided.
The regents on the search committee, who made the 5-0 recommendation to the full board to hire Reilly, also heard words of support from community members, including former Clark County Commissioners Bruce Woodbury and Rory Reid and former Assemblywoman Barbara Buckley.
"He devotes so much of his time to making things better," Buckley said. "He doesn't tire of doing the right thing, and he does it in a way by bringing everyone together. His heart will make sure he doesn't overlook any part of the system."
While the support for Reilly was overwhelmingly positive, Dr. Jill Acree, an advisory member to the search committee and Faculty Senate chairwoman for the College of Southern Nevada, pointed out Reilly's lack of experience with community colleges.
"That is a bit of a concern. However, he appears to be very interested in learning, very interested in listening," Acree said. "The fact that he wants to make his first class teaching at CSN is a good sign."
CSN President Michael Richards said he believes Reilly will be a quick study.
"I'm a big fan," Richards said. "I think he's excellent. He's teachable. He'll learn about all the institutions, and I'm very excited about his service as chancellor."
Contact Natalie Bruzda at nbruzda@reviewjournal.com or 702-477-3897. Follow @NatalieBruzda on Twitter.