Tension, politics and personality mark planning for CCSD breakup
January 31, 2016 - 10:44 am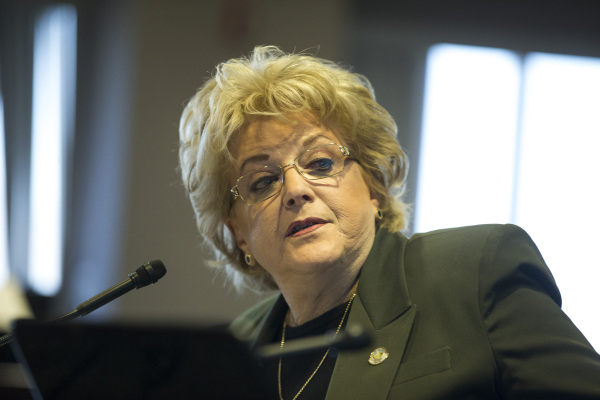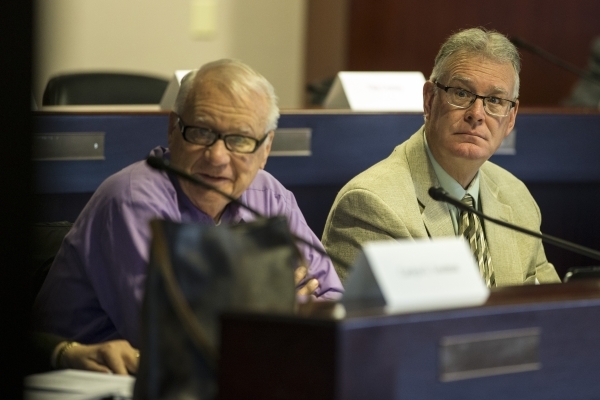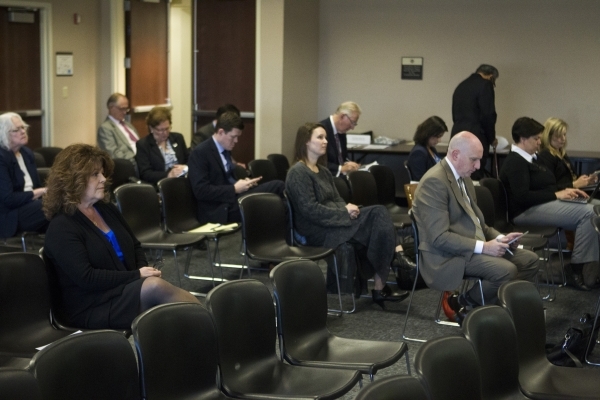 Clashes between Republican lawmakers and Clark County School District officials have started to overshadow a study to carve up the nation's fifth-largest school system despite hopes that politics wouldn't interfere with that process.
Take, for example, a picture that Assemblyman Stephen Silberkraus, R-Henderson, recently posted on social media.
Silberkraus serves on a nine-member legislative committee charged with developing a plan to reorganize the nation's fifth-largest school district. During a meeting earlier this month, he posted a photograph of Clark County School Board President Linda Young talking to state Sen. Aaron Ford, D-Las Vegas, and Assemblywoman Dina Neal, D-North Las Vegas.
"I find it interesting that (Young) has never said as much as a word to me," Silberkraus wrote.
Young is hardly a cheerleader for splitting the massive district into smaller precincts, which is seen as a way to improve the quality of education. The only African-American member of the School Board, she has called the bill requiring that reorganization racist and warned it could resurrect Jim Crow-era segregation between the haves and have nots in Las Vegas.
State lawmakers must decide before January 2017 how to reorganize the 320,000-student district, and Young sits on a 24-member committee helping the legislative panel craft its final plan.
Less than four months into that process, however, Republicans have criticized Young's role on that committee, pointing to her to exemplify everything they believe is wrong with the district.
"I'll be blunt: Linda cares more for the sound bite than talking for the people," Silberkraus said last week. "She shows up to the meetings, sits there, doesn't say anything, doesn't get involved.
"When (the committee) breaks, she goes to talk to the media and then leaves," he added.
Noting that the School Board recently re-elected Young as its president for the next year, Silberkraus said, "That shows me how tone-deaf they can be."
For her part, Young seemed surprised by his comments.
She mentioned during a recent board meeting that "someone" had posted the picture with Ford and Neal but disagreed with the suggestion that she is avoiding anyone.
On Friday, she said she has worked on the reorganization study with Republican state Sens. Michael Roberson, who chairs the main committee, and Becky Harris, who chairs the technical advisory committee developing the plan.
"I was just a little taken aback," Young said of Silberkraus. "I don't even know him.
"Personally, I thought it was a little petty and meant as a dig. It was a little 'gotcha,'" she added. "I didn't think it was right."
Strife from the start
Tension, politics and personality have peppered the committee meetings since they started last fall.
In November, teacher union officials hijacked a reorganization hearing and redirected the conversation to criticism of the district's handling of contract negotiations and its chronic teacher shortage.
Later that month, Superintendent Pat Skorkowsky lashed back at the suggestion that he hadn't spent one-time savings wisely and asked lawmakers to pump more money into the district.
More recently, the legislative panel spent hours berating Skorkowsky — who took over as superintendent in 2013 — for the district's decision years ago to quietly stop implementing a mandatory school program.
District officials and board members who have observed the daylong meetings often note how bizarre they find the overall process, calling it an opportunity for politicians to grandstand on the voter-friendly subject of education. They also question the committee's in-depth examination of the district's internal operations, wondering why that work didn't happen before the Legislature voted for reorganization last year.
"This is something we have talked about for a very long time, and yet nothing has ever been done about it," countered Assemblyman David Gardner, R-Las Vegas, author of the reorganization legislation.
"Even if the end result is, 'Well (the district) is perfect, we're not going to change anything,' at least we had discussed it and had to pay attention to it," he said last week.
Gardner stressed that he works well with Young but also asked whether she could be sincere in working on a concept she opposes.
Young, who often highlights her upbringing in a segregated school environment, downplayed those concerns and said she simply wants to ensure "equal educational opportunity" at the end of the reorganization.
She also acknowledged that some lawmakers and parents may have legitimate reasons to support breaking the district into smaller precincts, which they hope will increase local control and boost student achievement.
"The district does need to take ownership about parents not feeling engaged and trustees perhaps not being as connected with their communities as they can," Young said.
But "I think it's unfair that the total burden of the well-being of a child is placed on our schools. The academic component certainly is in our purview," she added. "Yes, we have our part, but I don't think the legislators do their part either. They should fund education appropriately, teachers need higher salaries, (and) if we looked at how educators perform their job, we could see that there are issues to be improved as well."
— Contact Neal Morton at nmorton@reviewjournal.com or 702-383-0279. Find him on Twitter: @nealtmorton