The Business Press honors 10 women who mean business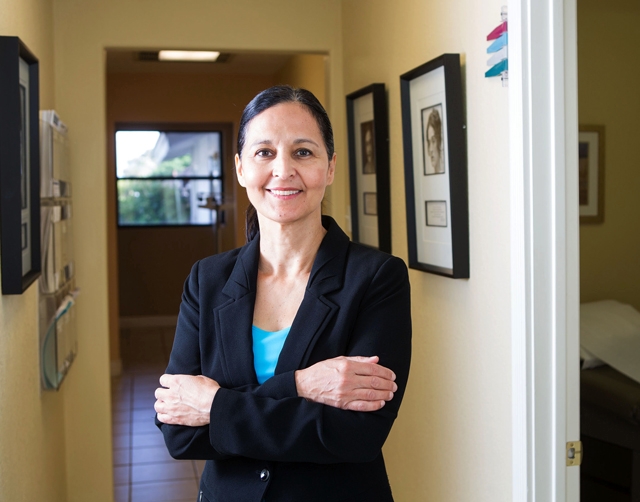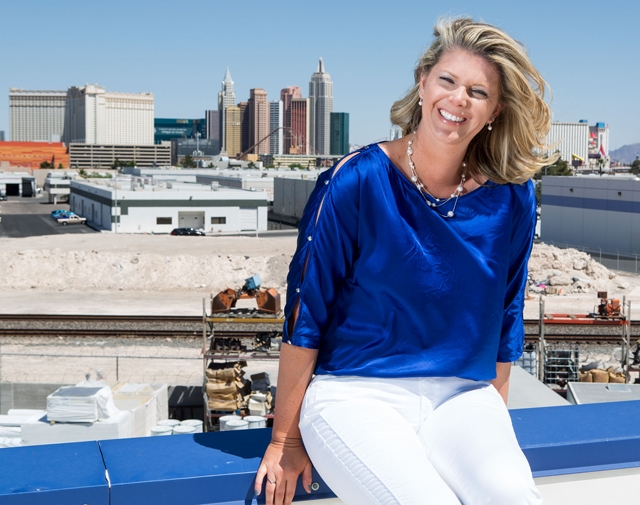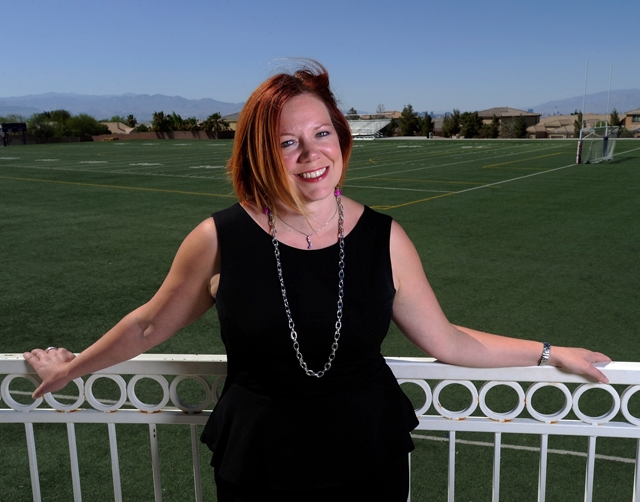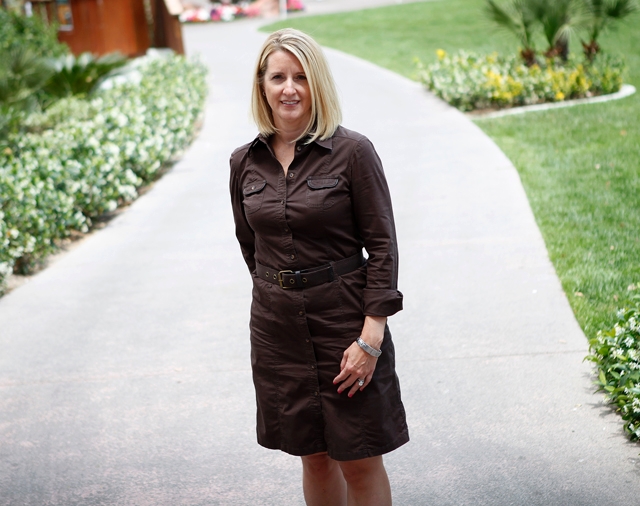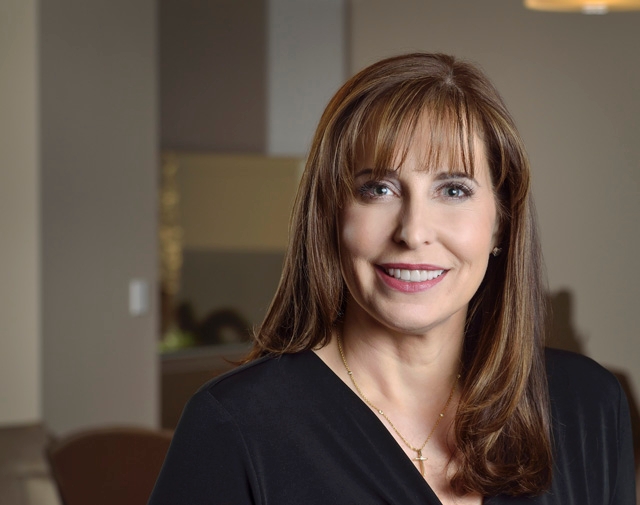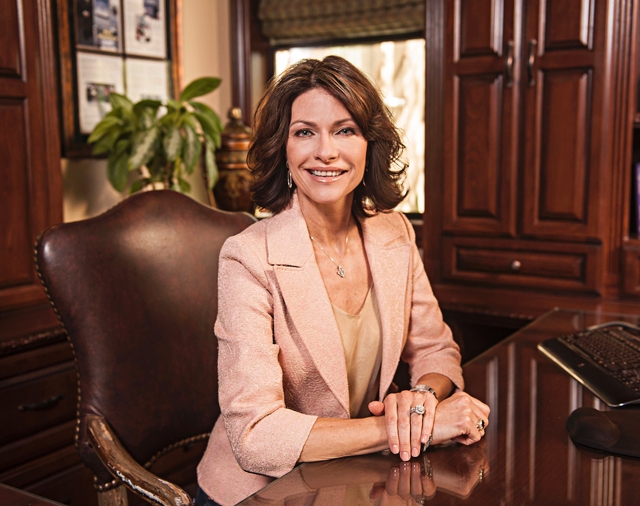 Keeping your business afloat in a tough economy is one thing.
Keeping your business afloat in a tough economy while finding time to volunteer at an animal shelter, compete in triathlons, help a child through a kidney transplant or battle cancer? That's another level of achievement altogether.
And this year's group of Women Who Mean Business rose to that level time and again, shrugging off the burden of hard financial times to make things work on the job and in the community.
Of course, our 10 honorees aren't alone in their dedication to do well while doing good. The Business Press received hundreds of nominees, and it's clear from reading them all that the Las Vegas Valley is in great hands, both economically and philanthropically. Countless local businesswomen are not just surviving, but thriving in today's environment.
But the sheer number of great candidates also made our decisions that much more difficult.
In the end, we chose women from a multitude of industries, and with a wide variety of outside interests.
Among the ranks of Women Who Mean Business, you'll find a small-town Pennsylvania girl who helped keep a roofing company afloat in an epic real estate downturn, and a cancer activist who ditched a career in accounting to go into education. You'll also see an emerging celebrity chef who parlayed a gig on Bravo into a growing local restaurant business, and a real estate brokerage owner who guided her business through the housing collapse and an office fire without cutting payroll. And then there's the health clinic operator who never forgot the kind charity of a childhood doctor, and is using his example to help thousands of locals get affordable care.
Other honorees include women in banking, law and hotel management. They've come from every corner of the country — and beyond — to bring their work ethic and compassion to the valley. The city is lucky to have them. Together, they're paving the way and setting examples for aspiring entrepreneurs and business executives.
Congratulations to the honorees of our fourth annual Women Who Mean Business.
— JENNIFER ROBISON
FLORENCE JAMESON
founder/CEO | Volunteers in Medicine of Southern Nevada
Although the Affordable Care Act comes with the promise of near-universal health coverage, Dr. Florence Jameson worries that performance could fall well short of promise in the next few years.
"We don't really think the problem of people not being able to afford health coverage will go away with health care reform," she said. "In fact, we are scared this will get rougher."
So the 59-year-old Jameson is proceeding with plans to broaden the reach of Volunteers in Medicine of Southern Nevada so it can see more patients who now have no coverage at all yet often are afflicted with chronic illnesses. After opening its first clinic in eastern Las Vegas three years ago, Volunteers in Medicine hopes to break ground on a downtown location within six months and eventually establish a third in Henderson.
As the founder and CEO, Jameson decided to follow a nonprofit model that is light on fixed expenses and cash contributions and heavy on in-kind donations. Many of the 780 people who put in time at the clinic are students and active or retired professionals. To attract doctors and nurses, the clinic has been certified under the Federal Tort Claims Protection Act, under which the federal government will defend any malpractice claims and spare the need to spend hundreds of thousands of dollars a year in insurance.
She has stitched together a network of organizations, such as Quest Diagnostics, St. Rose Dominican Hospital and UNLV School of Nursing, that regularly provide people or services. This keeps the fundraising demands, never easy in Las Vegas and an even bigger hurdle since the recession hit, to a minimum.
For example, the clinic runs on a $1 million-a-year cash budget, but pulls in about that much each quarter in drugs provided free by the philanthropic arms of pharmaceutical companies.
The clinic is housed in a once-vacant county-owned recreation center that it now rents for $1 a year. The land for the downtown location was gifted by an anonymous patron, with $1.2 million of the $2.2 million construction fund now locked down.
"We don't want to have to raise rent money every month," she said.
Jameson, who has maintained a private practice in obstetrics and gynecology for the past 28 years, grew up in an economically tough household. But she remembers a family doctor who promised to always take care of her and her family despite their limited ability to pay.
Volunteers in Medicine is designed for people with no money for health care; who are not eligible for Medicare, Medicaid or Social Security; and those unable to afford private insurance. The annual number of patient visits now exceeds 3,000.
— TIM O'REILEY
MICHELLE SHETROM
sales administrator | Commercial Roofers Inc.
Michelle Shetrom came to Las Vegas in 2007, a small-town central Pennsylvania girl eager to enjoy the brighter lights and faster living of Las Vegas.
Shetrom had a sales administrator job lined up with Commercial Roofers Inc. in Las Vegas. But before she knew it, she was doing public relations, updating the company's Facebook page, organizing the company's Christmas party and representing one of Las Vegas' biggest roofing companies at roofing industry events in addition to her sales work.
Rather than feel overworked by the various job duties, she embraced them. And during the past 5 1/2 years Shetrom has become the face of the company while continuing her original job assignment of finding new roofing jobs and monitoring customers' feedback.
"My job is very diversified," said Shetrom, a 38-year-old Henderson resident who loves dogs, plays golf and volunteers for several dog shelters and golf tournaments. "I come up with new leads in the re-roofing market, but I do a lot more than what my job was on Day One. I like the new challenges. Every day is different and never the same. I like a little bit of variety."
Commercial Roofers has 80 to 90 roofers, 25 foremen and 30 office staffers and the company's biggest job was an $8 million contract to waterproof the tunnel at McCarran International Airport, Shetrom said.
The rare rainstorm in Las Vegas will trigger 300 to 500 calls a day, she noted.
Shetron was born and raised in Carlisle, Pa., where she worked for a roofing construction material company. She vacationed in Las Vegas in 2005 and knew she had to live here. Two years later, she began work at Commercial Roofers.
"You can't pick and choose where you're raised as a child," Shetrom said. "But I wanted a little more lights and excitement. When I came to Las Vegas for the first time, so much was going on it was screaming my name."
But she noted with a laugh, "If I came here in my 20s, I probably would not have lasted and gotten into trouble."
Shetrom is a golfer who volunteered as chairwoman for the Nevada Professional Facility Management Association golf tourney, raising $50,000 for charities in 2011.
She also enjoys hiking, hitting the trails from Yosemite to Red Rock Canyon to the Narrows at Zion National Park.
Shetrom knew New York City was a lot closer to Pennsylvania than Las Vegas and also had the faster pace of life. But Las Vegas and its toasty weather easily won out as her new home in 2007.
"I didn't want the East Coast weather," she said.
— ALAN SNEL
SHARICE LANCE
managing director | Henderson International School
Sharice Lance has a traditional accounting background, with an accounting degree from Northern Illinois.
But the Henderson resident is no accountant.
As managing director of the private 440-student Henderson International School, Lance works on everything from information technology, facility and human resources to admissions, marketing and security.
In other words, she makes the trains run on time at the pre-K to 8th grade school.
"I spend very little time on financials or accounting. I review financial statements and still do the budget, but it's a small part of what I do every year," said Lance, who has run the school's operations since Jan. 4, 2011.
"What I do is put out fires — whether it's facilities or foreseeing things down the way or finding solutions for our teachers and parents," said Lance, 39.
Before this, Lance worked for a Chicago-area real estate company, where she began stretching her job duties from her mergers and acquisitions role. Lance began meeting with accountants, working with IT to move databases and setting up procedures.
That paved the way for a move to Seattle, where she helped open a new arts college called the International Academy of Design and Technology as vice president of finance and operations from 2004 to 2010.
That assignment served as the gateway for a move to the Las Vegas Valley, where she eventually was tapped for the operations chief job — or managing director — at Henderson International School.
The school is known for "educating the whole child," focusing on building well-rounded kids with a traditional core curriculum, plus fine arts and music, Lance said.
The Chicago native is a mother of one with an master's of business administration from Colorado Technical University in 2006.
And when she's not making sure the Henderson International School runs like a fine-tuned machine, Lance serves as the events chair for Susan G Komen for the Cure Southern Nevada. She's working on a new event for the last Saturday in September in Town Square Las Vegas.
— ALAN SNEL
DARA GOLDSMITH
partner | Goldsmith & Guymon
Dara Goldsmith is a frontrunner in many areas of her life. Besides being a well-respected attorney and an active member of the Las Vegas community, she's also a competitive swimmer and runner who recently completed the California Ironman Triathlon.
After receiving her juris doctor degree from Pepperdine University, Goldsmith continued her education by earning a master of law degree in taxation from the University of Miami. She then spent five years at a midsized Las Vegas law firm before deciding to strike out on her own, founding Goldsmith & Guymon with her partner, Marjorie Guymon, in 1996.
"We are primarily a code-driven practice," Goldsmith said. "We litigate in cases involving the bankruptcy code, probate code, trust code and guardianship code." The firm also handles estate planning and business planning, taking advantage of Goldsmith's expertise in the tax field.
Goldsmith said her most rewarding cases enable her to help families with issues such as legal guardianship and trusts. She also litigates to recover the assets of people who've been financially exploited by family members or caregivers.
Her firm contributes pro bono work to clients of Legal Aid Center of Southern Nevada, chiefly in the areas of bankruptcy and guardianship, and both partners shared that group's Pro Bono Attorney of the Year Award in 2011. Goldsmith also received the Lloyd D. George Professionalism Award from the State Bar of Nevada in 2007, given to an attorney who exemplifies professionalism in the practice of law.
Goldsmith has volunteered with the Nevada Community Foundation since 1998, as a board member for 12 years, and now as a member of its audit committee. She also chairs the board for the Justice League of Nevada (formerly the Nevada Law Foundation), which makes grants to law-related education projects and legal aid service providers.
Amid her busy work schedule and community activities, Goldsmith makes time daily for physical fitness, and belongs to a competitive swim team.
"Running and swimming are really good times to think about cases and run through theories," she said. "If you have a bad day, exercise is also a great way to get rid of stress." Her husband and two teenage sons are also competitive athletes, and in July the family will spend their vacation climbing Mount Kilimanjaro.
— KAY FOLEY
KARIE HALL
VP of hotel operations | Caesars Entertainment Corp.
For Karie Hall, variety truly is the spice of life.
Hall is the vice president of hotel operations for much of Caesars Entertainment Corp.'s east side-of-the-Strip operations.
Her hub is the Flamingo. But she also oversees hotel operations for The Quad and Harrah's Las Vegas, and will be in charge of the 188 hotel rooms when the Gansevoort Las Vegas — the remodeled Bill's Gamblin' Hall — opens in late 2014.
Hall oversees the front office, VIP services, guest services, housekeeping, environmental services and six other departments covering more than 8,700 hotel rooms and four properties.
"We have a lot happening on this side of Strip," Hall said. "It makes the job exciting."
Because of her hotel operations role, Hall is involved in The Quad remodeling, which is transforming the former Imperial Palace into a centerpiece hotel that blends into the $550 million Linq development.
Hall is also involved in the Gansevoort renovation. Caesars has licensed the brand but will operate the boutique-style lifestyle hotel.
The four properties offer Hall a variety.
"Our core gaming customers come to Harrah's and our leisure tour and travel customers like the Flamingo," Hall said. "We think The Quad is going to attract the crowd that enjoys the nightlife associated with Linq. Gansevoort is really a celebrity lifestyle property."
Hall's parents both have ties to the gaming industry. They worked at properties in Lake Tahoe and Atlantic City.
Hall attended Arizona State University and earned a degree in recreational management/tourism.
"I wanted to get away from gaming," Hall said. "But that changed."
After working for resort hotels in the Phoenix area, Hall returned to Las Vegas for a job at Caesars Palace. She left Caesars and became part of the team that opened The Venetian but was lured back to Caesars in 2002.
The Flamingo remodeled about 2,000 hotel rooms last year and Hall said Harrah's is exploring a room remodeling project that could begin later this year. The Quad will continue to upgrade rooms.
"It's fun to be in the heart of a lot of change," Hall said.
— HOWARD STUTZ
PATRICIA LEE
partner | Hutchison & Steffen
In 2009, Patricia Lee became the first female partner in the law firm of Hutchison & Steffen, where she practices primarily in business and commercial litigation.
A graduate of the University of Southern California, she joined the firm in 2002 after receiving her law degree from George Washington University.
As the pro bono liaison for Hutchison & Steffen, she helps the firm partner with the Legal Aid Center of Southern Nevada to provide free legal services to victims of domestic violence and represent abused and neglected children through the Children's Attorneys Project. In December 2012, Lee was named Pro Bono Attorney of the Year by the Legal Aid Center, and earlier this month she received the prestigious ABA Pro Bono Publico Award — one of only three attorneys nationwide honored by the American Bar Association for their volunteer legal services to the poor.
Lee said she has always been interested in giving back to her community, and it remains an important part of her life. Growing up in Lompoc, Calif., as the child of a single mother on welfare, Lee said she depended heavily on people and organizations who took an interest in her.
"Without them, there's no way I would have gone to college or become an attorney," she said. "With all those people helping me along my way, how could I not go back and help other people along their way?"
Besides serving on many local boards and committees, Lee is the current president of the Las Vegas chapter of the National Bar Association Foundation, a nonprofit group dedicated to promoting diversity in the bar. Asked if she considers herself a role model for other minority women, Lee said her achievements prove that people from humble beginnings can still be successful: "It's not how you start the race, but how you finish." If she keeps up her present pace, Patricia Lee will finish very well indeed.
— KAY FOLEY
STACY WATKINS
senior VP/senior retail banking officer/senior regional manager | Nevada State Bank
If you ask Stacy Watkins how she got into the banking business, she'll tell you it was by accident. Watkins, 39, was already successful in the food and beverage business in Palm Springs, working part-time in a bank on the weekends.
"We moved to Las Vegas in 1997, so banking allowed me to be home a lot more," Watkins said. "It also offered a lot more career opportunities. In food and beverage, you're on call all the time, making it difficult with two young boys."
Not that she doesn't travel in her role as senior vice president, senior retail banking officer and senior regional manager at Nevada State Bank.
"I cover a territory with 16 branch locations, including the Pahrump market," she said. "It's a big job that also requires traveling. But, I'm home on the weekends a lot more."
In her role, Watkins oversees every aspect of the business in a branch, from hiring and firing, to recruiting, revenues and service levels.
She called her job with Nevada State Bank the "sweet spot."
"They are extremely supportive of me," she said. "I am the kind of person who sets five-year plans, whether they're personal, financial or career plans. I want to know where I'm going."
Watkins said in five years, she wants her boss's job as director of retail banking. She's also not shy about discussing her role as an advocate for women with breast cancer and education.
Watkins was diagnosed and treated last year for breast cancer. She admits that keeping a positive attitude was difficult, but she didn't miss a day during six-and-a-half weeks of radiation treatments.
"I oversee 150 employees who go through their own struggles," she said. "But if they believe I can do it, they can do it also."
Watkins also earned a dual degree in business administration and management from the University of Phoenix in 2002. Watkins, who was the first in her family to graduate from college, said her accomplishments were about "breaking the chain and setting a path for my children."
— CHRIS SIEROTY
CARLA PELLEGRINO
executive chef | Bratalian Neapolitan Cantina/Meatball Spot
Carla Pellegrino was born in Rio de Janeiro to a Portuguese father and an Italian mother. As early as age 10, she was helping run her mother's catering business before moving at age 16 to Liguria, Italy, to run her own small store where her passion for food led her to conduct cooking demonstrations.
"I landed in New York in 1997, went to culinary school and stayed for 11 years," Pellegrino said. "That's how it all started."
In May 2000, Pellegrino and her then-husband, Frank Pellegrino Jr., opened and successfully established Baldoria restaurant on Eighth Avenue in New York's theater district. In late 2006, she was named executive chef and opened Rao's Las Vegas at Caesars Palace.
"John Unwin, who now runs The Cosmopolitan (of Las Vegas), used to love my place for lunch when he was in New York," she said. "One day, he asked me if we would open a Rao's in Las Vegas, because they needed a big name at Caesars Palace."
Pellegrino said after meeting with her former father-in-law, they agreed to open the restaurant.
"My ex-father-in-law would only agree to it if I ran it," she said. "It was a big honor for me. I love Las Vegas and that move made it all possible for me."
Pellegrino is executive chef and owner of Bratalian Neapolitan Cantina in Henderson and is part-owner of Meatball Spot at Town Square. She was even featured on Bravo's "Top Chef."
"I'm also working on my cookbook," Pellegrino said. "I've been so busy, but I'm hoping to finish it by the end of the year. We are also working on a second Meatball Spot location."
Meatball Spot is just that — a casual restaurant featuring a variety of meatballs from traditional beef, sausage and turkey to even veggie. Pellegrino is so confident in the restaurant she's looking to franchise the concept.
If that wasn't enough, Pellegrino is developing a fine Italian restaurant in town, what she describes as "a signature place." She said "nothing is on the table yet … we are still doing the business plan."
— CHRIS SIEROTY
HELEN ROBBINS
VP of managed care | HCA Far West Division
Helen Robbins says health care is in her lineage.
The vice president of managed care for HCA's Far West Division, Robbins is the daughter of a nurse and her grandfather was an OB/GYN. She received degrees in economics and art but when she graduated from college she worked for a medical clinic in the San Francisco Bay Area running its business office.
"I've always been interested in health care," Robbins said. "It's part of my family. I've got it in my genes. I just love the environment and feel fortunate that my best efforts go to something really good, and providing better health care to patients motivates me."
Most of her career has been spent at HCA where she has served in her present position for 16 years. The division, which is in Henderson, includes 10 hospitals in Nevada and California. She has also overseen Far West's ambulatory surgery centers, medical groups and imaging centers throughout the West.
Robbins focuses on relationships between the hospital and medical groups, contractors, insurance companies and employers. Her colleagues say Robbins has worked to expand Nevada hospital service access to communities in Utah, California and Arizona. She has worked to build patient satisfaction metrics into payment models and testified in the Nevada State Senate on behalf of the Nevada Hospital Association on bills to increase access to health care and lower costs.
Colleagues describe Robbins as a tactical thinker who has developed and maintained great working relationships.
"Helen is great at seeing both sides of the equation," said John Prassas, vice president of provider contracting and service at Cigna Healthcare. "She has a passion and intellectual interest in the importance of customer service, especially in how you can meet the consumers' needs. She also exhibits this in how she deals with her contacts and colleagues."
A 12-year Las Vegas resident and single mom with two teenage boys, Helen serves as a Eucharistic minister for her church, Christ of the King. She has worked with baseball club teams to donate toys to Sunrise Children's Hospital during the holidays and has made it a tradition to visit the hospital's pediatric patients every Valentine's Day to gift new books.
Robbins is an activist and large contributor to the Nevada Humane Society and has rescued cats and dogs. She supports equine therapy programs and, inspired by her father who was blind, she works with Guide Dogs for the Blind.
"I feel lucky that I'm part of something big," Robbins said.
— BUCK WARGO
MOLLY HAMRICK
president/COO | Coldwell Banker Premier Realty
A marketing job her senior year at UNLV led to a career that Molly Hamrick never anticipated and to becoming one of the top executives in the Las Vegas real estate industry.
Hamrick, president and chief operating officer of Coldwell Banker Premier Realty, worked to pay for her college tuition by doing marketing studies and surveys for new homebuilders. It helped her find her path because the work required her to get a real estate license and work with buyers and sales associates. When she graduated from college, she worked as an agent in the Green Valley office of Better Homes & Gardens, where she met her husband, Bob.
The Hamricks moved to Coldwell Banker in 1995 and bought it three years later. Today it's one of the leading firms in the valley.
During the housing downturn, Coldwell Banker Premier Realty did not downsize or cuts payroll even when others closed shop, Hamrick said. The firm recently faced another challenge when a fire destroyed its corporate headquarters and sales offices and forced employees to work in makeshift offices, homes and cars.
Hamrick says a business culture with a family focus has been key to the office's success. Hamrick and her husband in 2011 received Coldwell Banker's national spirit award for innovation, creativity and drive to persevere despite obstacles or setbacks, which she called humbling.
"We have a sense of responsibility for some of the 275 families," Hamrick said. "Basically, that means we're all in this together, celebrating each other's success and working through difficulties. The fire demonstrated that we are truly a family supporting one another through adversity."
Outside of real estate, Hamrick is a founding member on the Southern Hills Hospital board where she also serves as co-chairwoman and member of the executive committee. She also served on the board of the Bank of Las Vegas and Woman's Development Center.
Hamrick has three daughters, including one 14-year-old twin who recently underwent a kidney transplant.
"Some might see my life as overwhelming at times, but it is still my parents' work ethic and passion to succeed that guided me when I started in this business and still guides me today," Hamrick said. "Life is truly a gift."
— BUCK WARGO