Union promises consequences if teachers forced to work extra hours
Updated August 30, 2023 - 7:29 pm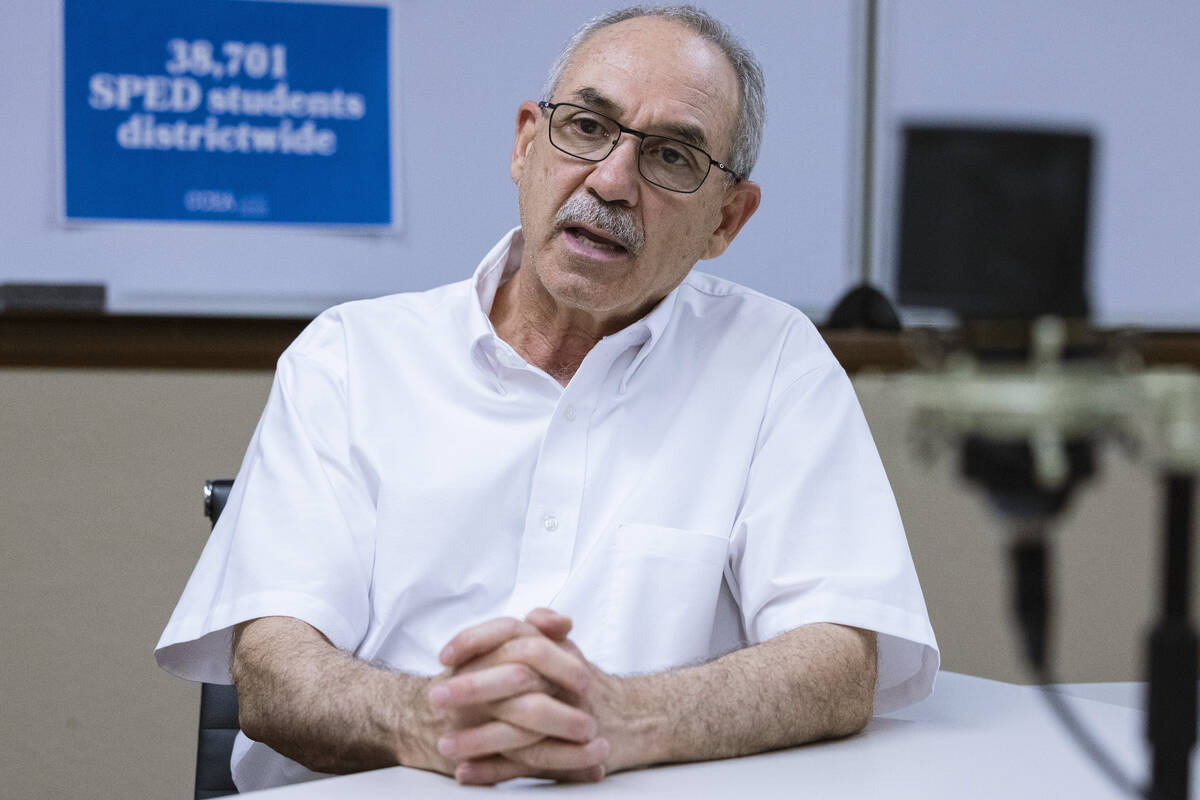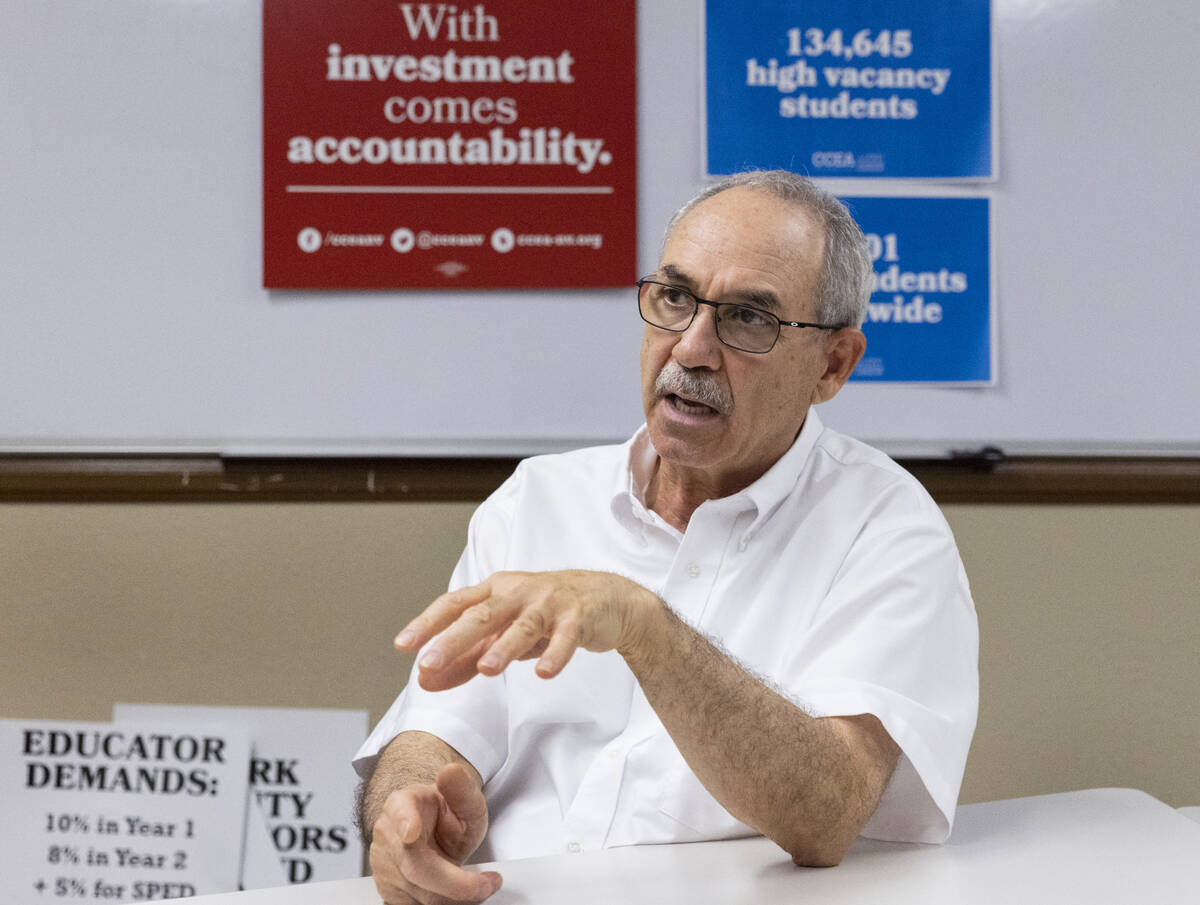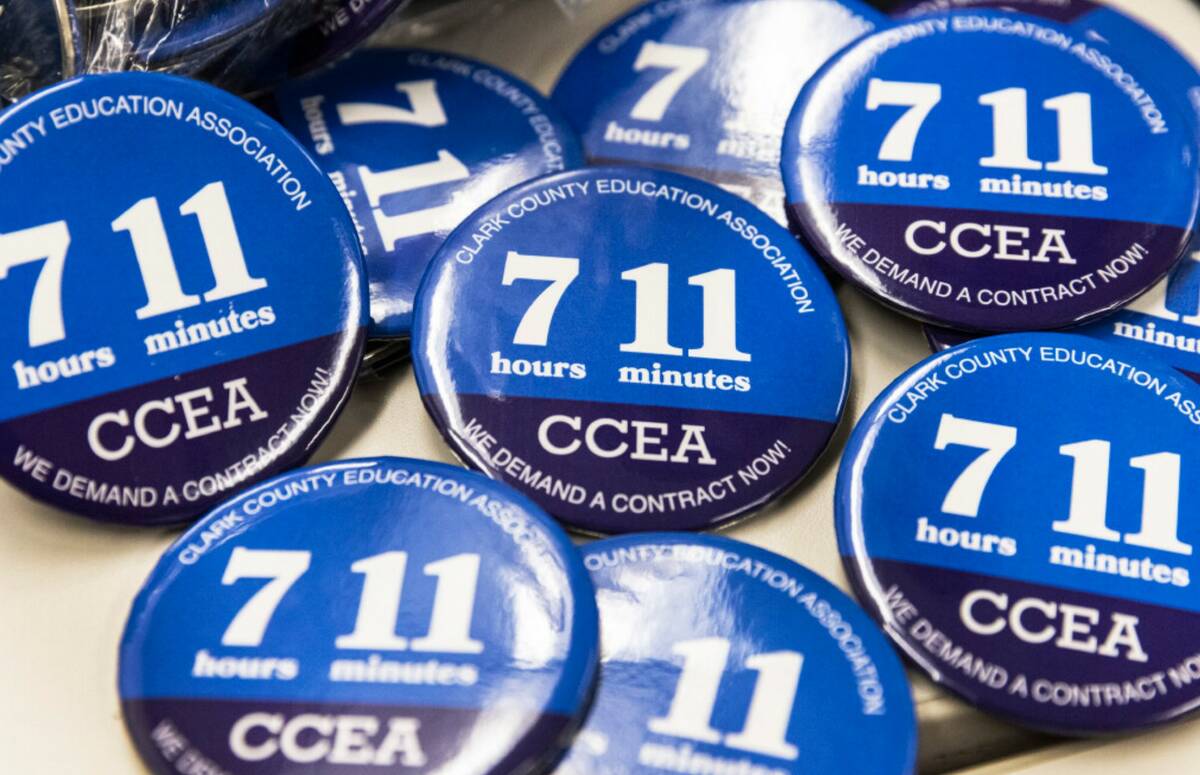 The teachers union on Monday informed the Clark County School District that it will take action if educators are forced to work beyond their contracted hours.
It's one of the steps resulting from the Clark County Education Association's member meeting Saturday at UNLV's Cox Pavilion, where educators decided on next steps amid contentious contract negotiations.
That meeting was closed to reporters, and union officials didn't respond to requests for comment. But on Tuesday, CCEA Executive Director John Vellardita told the Las Vegas Review-Journal that the union "served notice" to the district on Monday regarding teacher work hours.
'7 hours, 11 minutes'
It also distributed 15,000 buttons to teachers that have "7 hours, 11 minutes" written prominently on them.
Teachers can't be forced or threatened into working longer than their contracted day of 7 hours, 11 minutes, Vellardita said during a Tuesday interview.
Union officials previously have said one example of a "work action" could be working only contracted hours, which is often referred to as "work-to-rule."
If a teacher does decide to work only contracted hours, and a principal tells the teacher to work beyond that time, the union will file a complaint, Vellardita said. The union would also seek a class action grievance and make the district pay for every extra minute a teacher is forced to work, he said.
But the union — which represents about 18,000 licensed employees — is letting teachers decide whether they want to put in extra time. Vellardita acknowledged it's a "very conflicting" decision for educators.
"That's why we're leaving that up to teachers," he said.
A provision under the 2021-23 collective bargaining agreement — with terms remaining in effect until a new one is ratified — states that licensed employees will find it necessary to work additional time to "fulfill the full scope of their professional responsibility" without additional compensation, unless otherwise addressed in the collective bargaining agreement.
"That's a provision in the contract we agreed to," Vellardita said. But, he noted, the union is saying it cannot be abused.
If there's anything instruction-related that teachers must do beyond their contracted hours, the district must pay them, he said.
Working only contracted hours could mean some teachers wouldn't be available to do things before and after school, such as giving extra one-on-one academic help to students or meeting with parents. It could also affect extracurricular activities such as clubs.
CCSD responds
The district said in a statement to the Review-Journal on Tuesday afternoon that the union hasn't told the district that its members are engaging in any "work actions."
"If they are, it's disappointing that the CCEA would resort to such tactics that have a direct negative impact on the District's students," the district said. "We would hope that the CCEA would reconsider their strategy of using students as leverage for their bargaining demands."
The district said it will continue to advocate for "paying teachers what they deserve within the means allocated by the Legislature while ensuring that the interests of students, parents, and the District's overall operations are not disrupted."
The union had set a Saturday deadline to reach a two-year collective bargaining agreement with the district, saying that members would consider "work actions" if a contract isn't in place.
During last Saturday's meeting — which about 3,500 members attended — there was a unanimous decision to affirm the union's contract proposals and reject what the district is bringing to the table, Vellardita said.
Asking Lombardo to intervene
The union is also asking Gov. Joe Lombardo to intervene, Vellardita said. "We're not asking the governor to come in to mediate."
The governor and state Legislature did their part with a significant investment in public education, he said.
The Legislature appropriated more than $2 billion in new K-12 public education funding for the next two years, as well as $250 million for school districts for employee raises.
Vellardita said the governor can help hold CCEA and the district accountable in terms of whether the money behind proposals is in alignment with what the state passed.
He said he thinks there will be discussions, noting the union is an open book and he thinks Lombardo is someone who tries to find solutions.
Members also decided Saturday to continue with community responses such as rallies at school campuses and at school board meetings.
An addition: School board trustees and Superintendent Jesus Jara are public figures, "so they're fair game," Vellardita said, noting there may or may not be teachers at public events they're attending in order to exercise their First Amendment rights.
At this point in negotiations, either party could also decide to declare an impasse, Vellardita said, which would lead to arbitration.
That has happened three times in the last 12 years, he said, noting it's a long process that has lasted between about 8 ½ months and 1 ½ years each time.
He said they've basically lost a school year if they go that route.
The "CCSD Parents" Facebook group held a question-and-answer session Monday night with the union.
Addressing the topic of what's expected in the coming weeks, CCEA President Marie Neisess said: "We're not going to do something that's illegal." She said a strike isn't on the table.
The district filed a lawsuit in late July against the union seeking an injunction to prevent a future teacher strike.
Last week, a District Court judge denied the request, but said she found comments made by Vellardita concerning and that she could reconvene court on a one-day notice if something were to change.
Contact Julie Wootton-Greener at jgreener@reviewjournal.com or 702-387-2921. Follow @julieswootton on X.