Updated lawsuit by CCSD Trustee Kevin Child targets harassment accuser
September 10, 2018 - 5:56 pm
Updated September 10, 2018 - 6:39 pm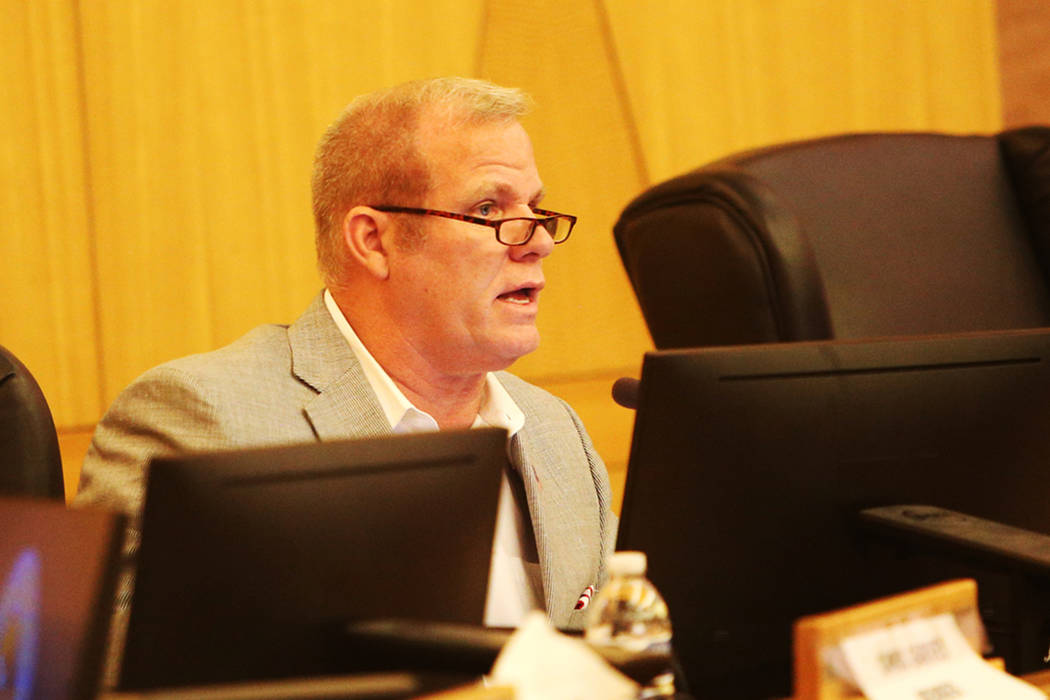 An updated copy of a lawsuit announced last week by embattled Clark County School District Trustee Kevin Child includes half a dozen more defendants, including a former district official who filed a harassment complaint against the district over Child's behavior.
On Friday, Child and his lawyer Craig Mueller announced they were suing the district, two School Board trustees and several former officials alleging civil conspiracy, defamation and a number of other causes of action. During a news conference, copies of the lawsuit were provided to members of the news media.
But an updated copy provided to the Review-Journal on Monday by Mueller's law firm included half a dozen additional defendants and new allegations. It's unclear why the copy provided Friday differed from the one provided Monday.
Neither copy was stamped with the official court seal, and neither version showed up in the District Court's online case-tracking system on Monday, though Mueller and Child said on Friday that the suit had been filed.
Neither Child nor Mueller could be reached for comment Monday on the new version of the complaint.
Additional defendants
The updated complaint lists former Deputy Superintendent Kim Wooden, the woman who filed and settled a harassment complaint with the district over Child's behavior, as a defendant.
Other new defendants are district spokeswoman Kirsten Searer; Cedric Cole, the executive director of the district's diversity and affirmative action program; John Vellardita, head of the Clark County Education Association, the local teachers union; and trustees Lola Brooks and Linda Cavazos.
Chris Garvey and Linda Young are the only sitting trustees not named in the lawsuit. The first version included Deanna Wright and Carolyn Edwards as defendants.
The second version also omitted former district employee Donald "Doc" Harris, who was named as a defendant in the first version. Harris wrote a letter to the School Board in April laying out a number of allegations against Edward Goldman, an associate superintendent who also used to be the district's chief contract negotiator.
It was unclear why Harris is no longer a named defendant.
Cause of action
The lawsuit touches on a number of recent hot-button issues involving the district in an effort to establish reasons why the defendants had it in for Child, including a lawsuit filed by Goldman; an issue with Wright's husband, who is a teacher in the district; and questions stemming from the handling of negotiations with the teachers union by former Superintendent Pat Skorwkowsky, also a defendant in Child's lawsuit.
The new version adds a claim that a number of the defendants worked with Wooden to persuade her to file the claim against Child, including a "Lola Cavazos," possibly a melding of Brooks' and Cavazos' names.
Wooden's claim led Skorwkowsky to ban Child from going onto school campuses or other district facilities without permission, the lawsuit alleges.
"Defendant's restrictions have and are continuing to inhibit Trustee Child's lawful duties as a Clark County School District Trustee," the lawsuit reads.
Child was banned from campuses twice by Skorkowksy, who cited an October 2016 report from the Office of Diversity and Affirmative Action as a reason for the actions.
Child has long maintained there are no problems with his behavior and that the complaints are the result of a conspiracy against him because he asks tough questions about the district's financial practices.
Contact Meghin Delaney at 702-383-0281 or mdelaney@reviewjournal.com. Follow @MeghinDelaney on Twitter.