Card skimming on rise in Henderson, police warn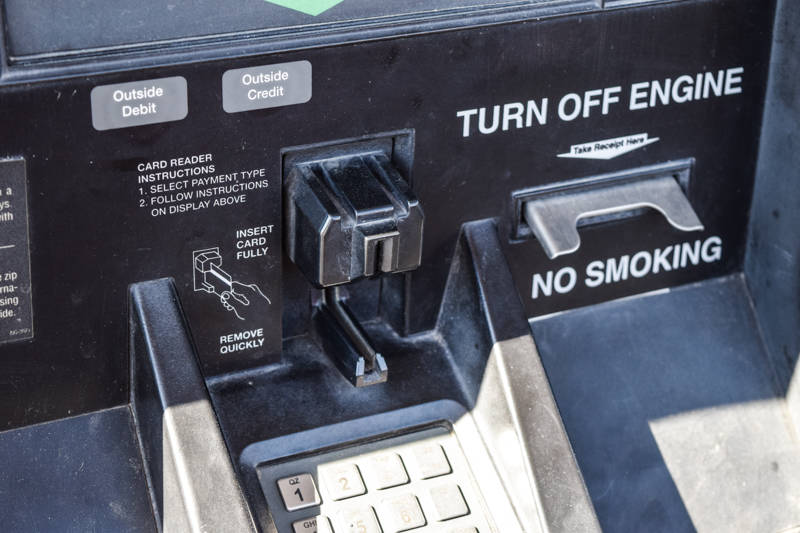 A credit card fraud tactic known as skimming is spiking in Henderson, the Police Department warns.
Police have uncovered evidence of it at gas pumps citywide. The crime involves stealing debit or credit card information by putting a hidden card-reading device on a credit card-reading machine, such as an ATM or gas pump reader.
People sometimes use the devices in tandem with hidden cameras above the card reader that record a customer's PIN or ZIP code. Thieves use that information to drain money from the victim's bank accounts.
"We're noticing now that these criminals are going up and parking in the parking lots, and all the data that's been swiped through the day is being transmitted to their phones via bluetooth," said Police Department public-relations officer Scott Williams. "They don't even have to break back into the machine once they hook it up."
Thieves pass the information via bluetooth to an accomplice in another location, who creates a credit card in the victim's name and uses it shortly thereafter, Williams said.
Also according to Williams:
Henderson police work with Las Vegas-area and out-of-state agencies, but the process can be difficult because thieves typically work in crews.
Thieves purchase skimming devices on the "dark web," along with security tape that matches the kind gas stations use to protect their card readers. The dark web refers to content on overlay networks that use the Internet but require specific software, configurations or authorization to access. It's not uncommon for thieves to break into a machine, insert a skimmer and seal it with identical tape.
Thieves tend to install skimmers on the gas pumps farthest from convenience stores, as that can keep security cameras from capturing clear images of their faces. If the gas pump displays a message saying, "Error, swipe again," it could be a sign that the card reader has been compromised.
"If you really want to prevent yourself from being a victim of card skimming, go inside to pay anytime for gas, or at least use a credit card (instead of a debit card) on the gas pump so it's easier to detect fraudulent activity," Williams said.
Henderson respiratory specialist Tamara Gerdon said she was halfway to San Diego in summer 2015 when she became a victim. While at a gas station, Gerdon went inside and used her debit card to buy snacks, thinking she was safe.
"I had just bought a home, so it was the worst time that it could happen to somebody," Gerdon said. "I went to check my bank account and over a three-day period, big chunks of money were being taken out. They went right for my savings, and my bank's fraud department said, 'If they're going through your savings, they've got a card somehow and a PIN number.'"
The thieves drained $1,000 in cash from Gerdon's savings account, then took $1,200 and continued raising the amount each time until they had stolen a total of $3,800.
Gerdon was reimbursed a month later, and she continues to check her daily credit limits and subscribes to email alerts in case it happens again.
She also covers her hand when typing in credit card information.
"Now I keep my eyes on that card at all times," Gerdon said. "I watch whoever's got it like a hawk."
FICO Card Alert Service, which monitors ATM activity for bank clients, reported a sixfold increase in the number of U.S. machines compromised by thieves in 2015 compared with 2014. The service states it's contractually barred from disclosing numbers.
In Henderson, Williams said, police are seeing fewer skimming devices at ATMs since banks in the area have installed tamper-resistant machines. However, the number of compromised gas pumps continues to rise, he said.
"If you think you're a victim of skimming, please contact us right away" at 800-935-9935, said JPMorgan Chase media-relations contact Maura Cordova. "The sooner you notify us, the sooner we can try to help you."
Williams added, "This is a situation where the criminal is a step ahead of us, and that's why it's important for the citizen, for the consumer, to do what they can to avoid it at all costs."
Contact Alex Meyer at ameyer@viewnews.com or 702-383-0496. Follow @alxmey on Twitter.