Henderson animal shelter works toward 'no-kill' status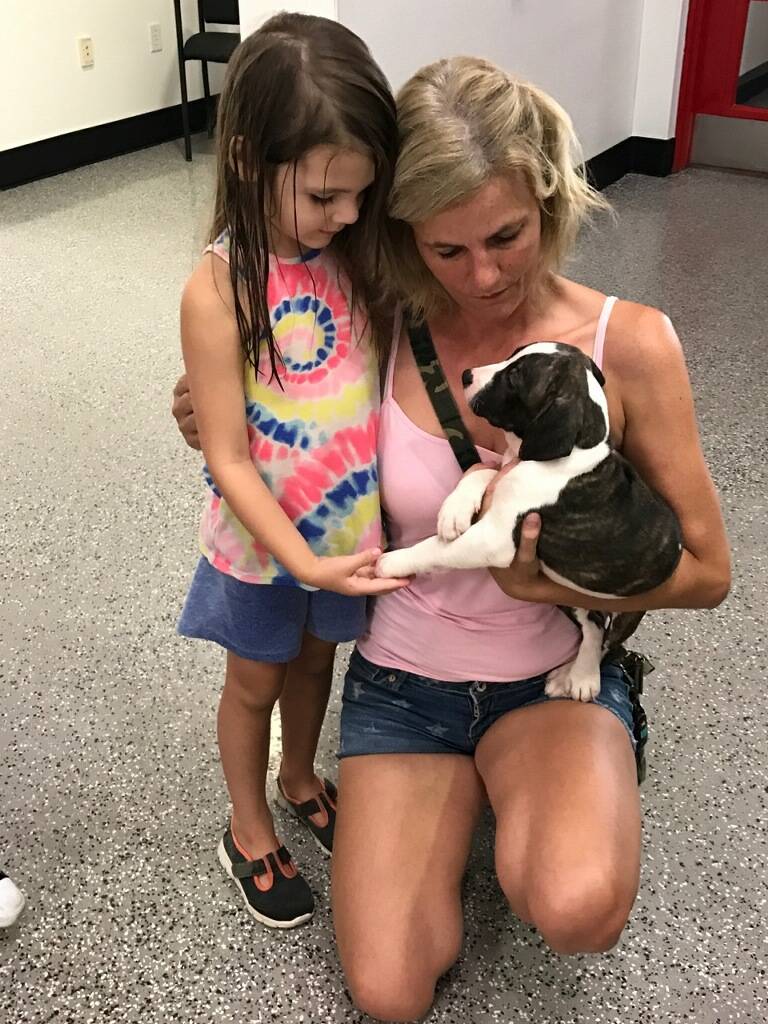 The Henderson Animal Care and Control Facility oversaw the adoption of 213 animals in July, making the save rate 87.7 percent for 2017.
There must be a 90 percent save rate in order for a facility to be considered a no-kill shelter, and they're "almost there," said senior animal control officer Danielle Harney.
The shelter at 300 E. Galleria Drive helps reunite lost pets with their owners, cares for animals brought to the shelter and handles pet adoptions. It houses dogs, cats, hamsters, guinea pigs, rats, rabbits, ferrets, gerbils, snakes, bearded dragons, tortoises, water turtles and fish.
"Pretty much anything that's nonhuman that needs a home comes to the shelter," Harney said.
The shelter houses up to 200 animals at a time. There are 72 cat cages and 90 dog kennels, as well as isolation and medical kennels for newly spayed and neutered animals. The facility also keeps an emergency supply of portable pop-up kennels.
The facility is staffed 365 days a year, Harney said, with a kennel attendant present seven days a week. The kennel attendants wash the animals' kennels out morning and night, feed the animals and give them medication.
The shelter's volunteer staff helps "almost on a daily basis," Harney said. Those individuals walk and groom dogs and socialize with scared animals.
The facility is an open-admissions shelter, meaning it doesn't turn away any animal because of age or health . Approximately 100-200 pets are adopted each month.
"If you want to turn in your 14-year-old dog, we would take it," Harney said.
Adoption fees are $80 for cats, $90 for dogs and $70 for ferrets. The fees include the animal's medical care, microchip insertion and registration and a rabies tag or Henderson license, depending on where the new owner lives.
The shelter's animals are most often brought in after being found by residents or following phone tips to the Animal Control officers.
Once an animal is caught and secured, officers scan it for a microchip to see if it is a registered pet. If the animal isn't wearing a collar or tag or is not microchipped, it is impounded and vaccinated. They are put in kennels for a minimum of three days before being put up for adoption.
Animal Control officers also perform welfare, cruelty and neglect investigations, animal-bite processing and rabies quarantines.
Cases of neglect could be something as simple as an owner forgetting to groom their pet, Harney said. Animals with fur matted down to the skin are seen at the shelter "on a weekly basis."
The facility also cares for animals that have been hit by cars, attacked by coyotes or neglected by owners.
After the animals are found, they're vaccinated and given medical care. If an animal is in need of emergency care, they're transferred to VCA Black Mountain Animal Hospital.
Those that find a home are spayed or neutered and inserted with a microchip for identification . They're then photographed and listed on the PetHarbor website as well as the shelter's Facebook page.
Henderson resident Kim Oglethorpe has adopted three dogs from the shelter over the past decade, one of which had to be put down.
Oglethorpe has an anxiety disorder, and the dogs help keep her calm, she said.
"Both watch out for me all the time," Oglethorpe said. "I love them, and my husband trusts them to take care of me."
Animal care is emphasized in months of extreme temperatures. Dogs who get loose in hot weather will often end up with burns on their feet from the pavement, Harney said.
The shelter urges pet owners to walk their dogs early in the morning, before the ground gets hot, or after sunset and to always carry water for their animals. Harney suggests putting kiddie pools outside or utilizing misters for pets that have to be left outdoors.
The shelter tells owners never to leave dogs in a vehicle for any period of time.
"It's like an oven even with the windows rolled down," Harney said.
Oglethorpe keeps her dogs inside during extreme heat or cold. If they wish to go outside, they have a mattress under a covered patio and a 3-gallon water bucket changed daily to help keep them cool.
Owners of lost pets are encouraged to search the online database, call the facility, contact nearby veterinarians and check the lost and found sections of newspapers. Individuals interested in adopting a pet must complete an adoption application.
The facility plans an adoption event, Clear the Shelter, Aug. 19-20.
Contact Alex Meyer at ameyer@viewnews.com or 702-383-0496. Follow @alxmey on Twitter.