Henderson flag football team to play for title in Florida
November 27, 2018 - 2:59 pm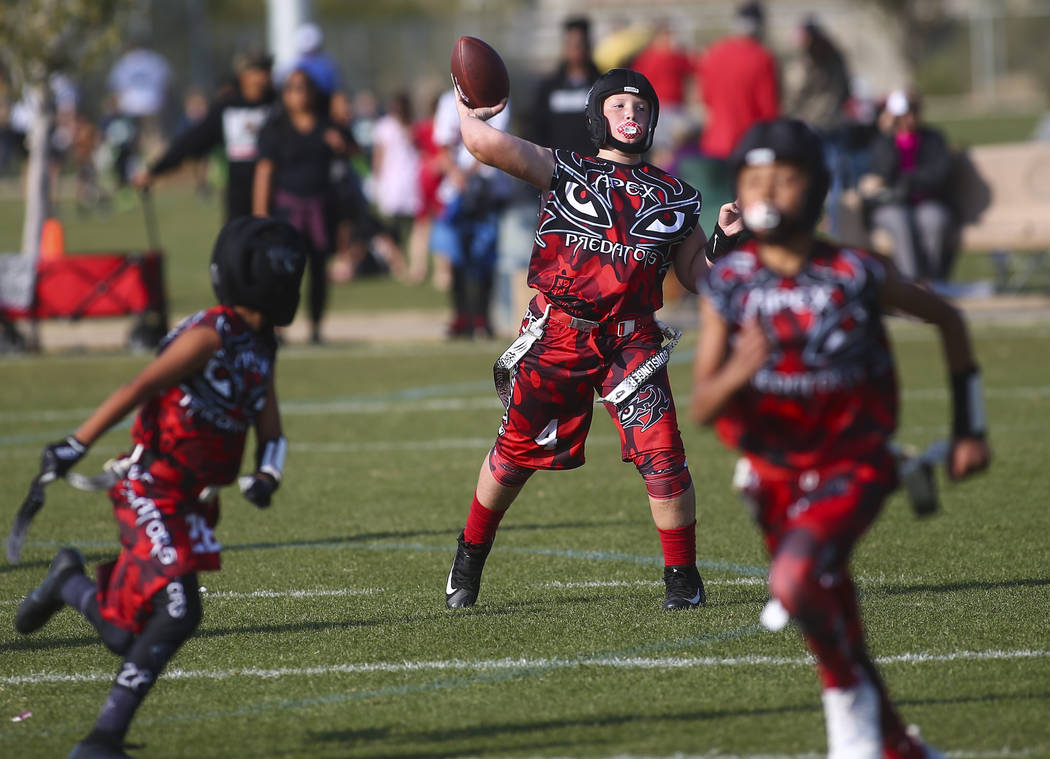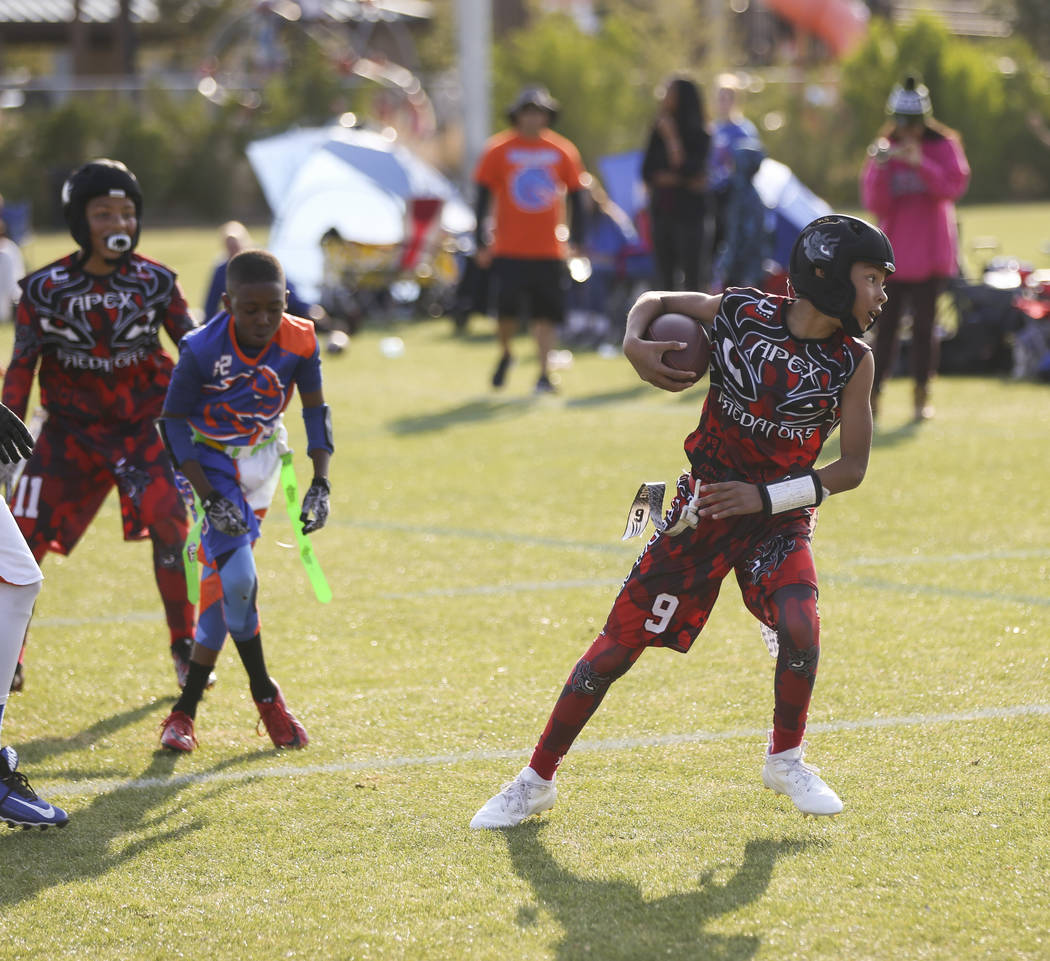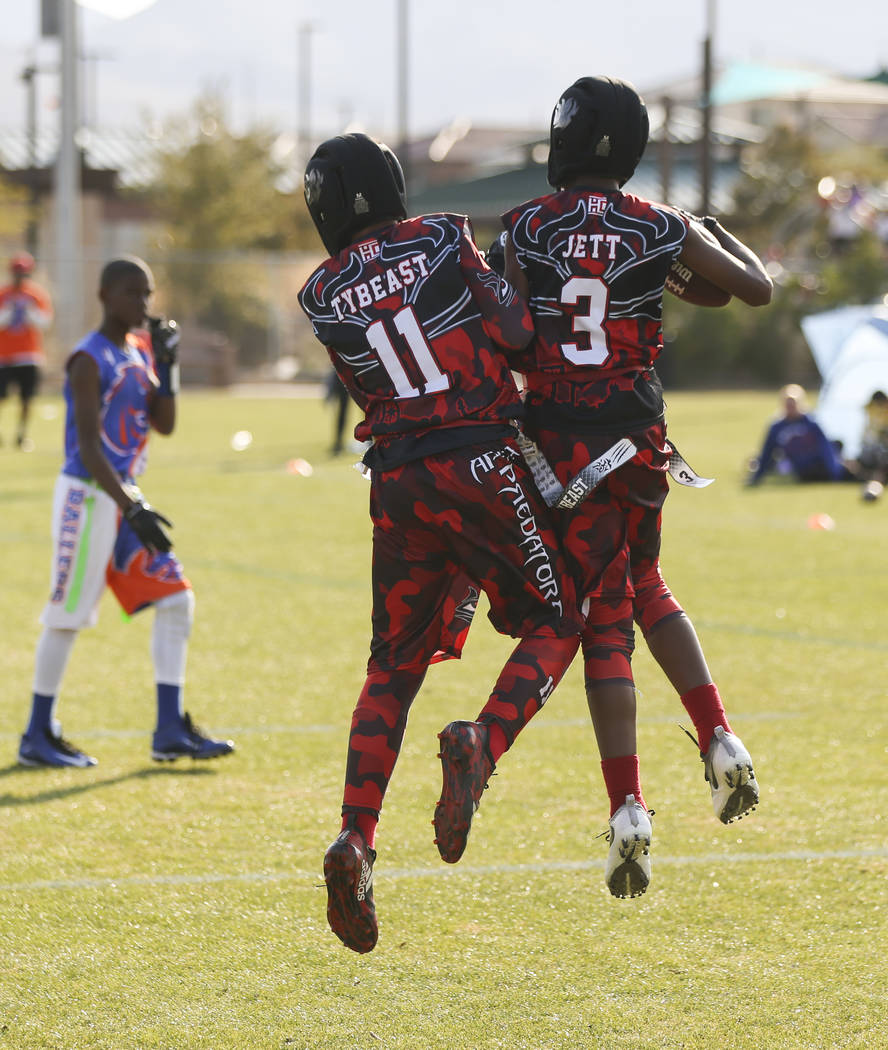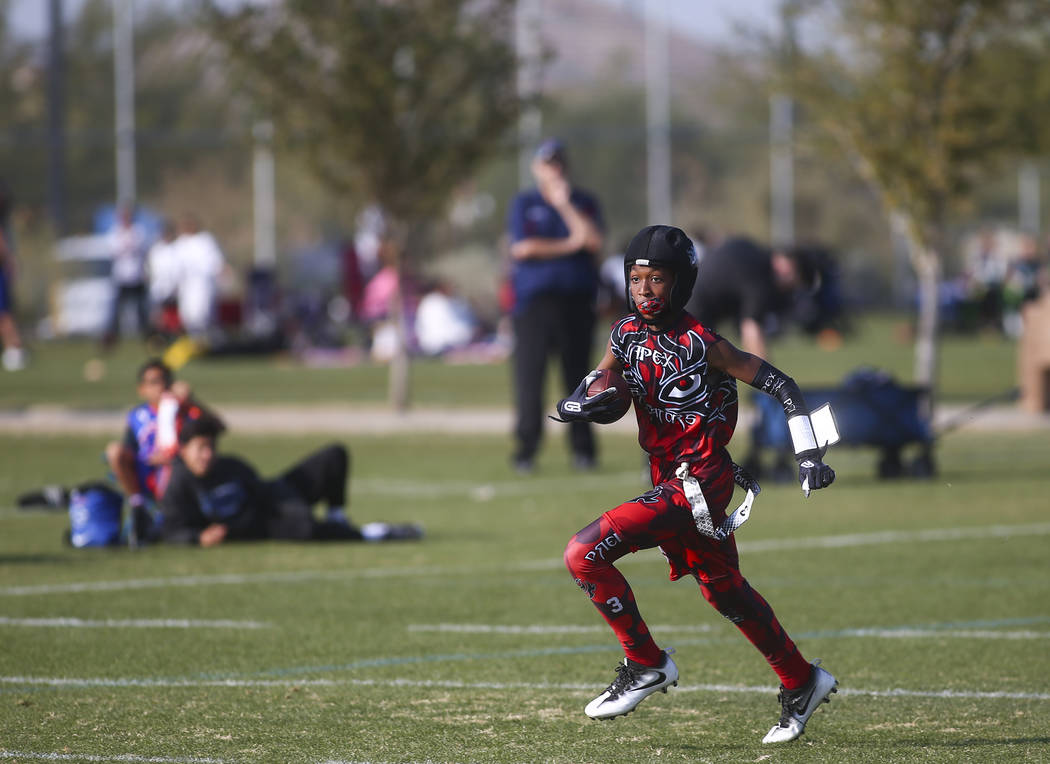 Omar Smith of Henderson estimates he has put in over 20 hours a week, in addition to frequent overtime shifts at the Las Vegas City Jail, while coaching two flag football teams to the NFL Flag National Championships.
Smith is the president of the Apex Predators Flag Football Club, a competitive travel club made up of three teams: 8U, for ages 7-8; 10U, for ages 9-10; and 12U, for ages 11-12 (and 13-year-olds who were born after Aug. 1). Smith, a correctional officer, coaches the 10U and 12U teams. This year, those two teams prevailed at the NFL Flag Regional Tournament on Nov. 3 at All American Park in Las Vegas, securing a spot in the national championships in late January in Orlando, Florida.
It's the culmination of a long season in which the Apex Predators played 80 games and took part in nine regional tournaments. The teams last played Nov. 17 in games organized by National Youth Sports Nevada. Smith's 12U team won a game against local rival the Ballers at Aventura Park in Henderson.
Humble beginning
Smith built the Apex Predators from the ground up in 2016. That spring season, the team, then called the Packers, attended its first tournament. After "getting their butts kicked," according to Smith, he decided to step it up a notch and make the team a competitive club travel program. The difference: A local team plays eight league games and does not attend tournaments statewide; as a travel team, the Apex Predators play in tournaments as far away as San Diego, San Francisco, Los Angeles and Phoenix.
The Predators' regional tournament wins were a breakthrough, Smith said.
"I had other coaches emailing and texting me to tell me that we're known now," he said.
Tyrese Smith, Omar's 13-year-old son, plays quarterback on the 12U team.
Tyrese said it is amazing to be coached by his father.
"It is fun, but also very competitive," Tyrese said.
Kory Villarreal, 11, who plays wide receiver and quarterback, said that with so many good players, one's spot is never guaranteed.
"You have to give it your all; you have to deserve to be here," Kory said.
It is that humble, hardworking attitude that Smith wants to instill in his players.
"Everything is team, team, team," Smith said. "It's not about the name at the back of the jersey, but the logo on the front."
Jett Washington, 11, a wide receiver, safety and backup quarterback, said he thinks Smith "puts in as much work as any NFL coach."
Before coaching children, Smith played high school football at Antioch High School in the Bay Area. After serving in the Army, he coached a competitive adult football team called the Force in the LV Gridiron Flag Football league.
"I do this for the passion of it," Smith said. "I work in the correctional facility, I was a veteran, I work in the jail; I know it is important when kids have a good thing to do to keep them busy."
Contact Rachel Spacek at rspacek@reviewjournal.com. Follow @RachelSpacek on Twitter.
About flag football
The game is played under American football rules, but instead of tackling a ballcarrier, a defender must pull off a flag hanging from the ballcarrier's waist. Players are not allowed to touch one another.
About NFL Flag
It's part of a National Football League campaign to encourage children to be active for an hour each day. Players can sign up for any team in their local NFL Flag league. NFL Flag has 12 regional tournaments nationwide and sends the top placers to the national championships in January.
Twenty-nine teams faced off in the Oakland Raiders Regional Tournament at All American Park on Nov. 3, said Apex Predators coach and founder Omar Smith.
About the name
Omar Smith's team originally was called the Packers. He adopted the name Apex Predators based on his love of lions, tigers and other top predators.