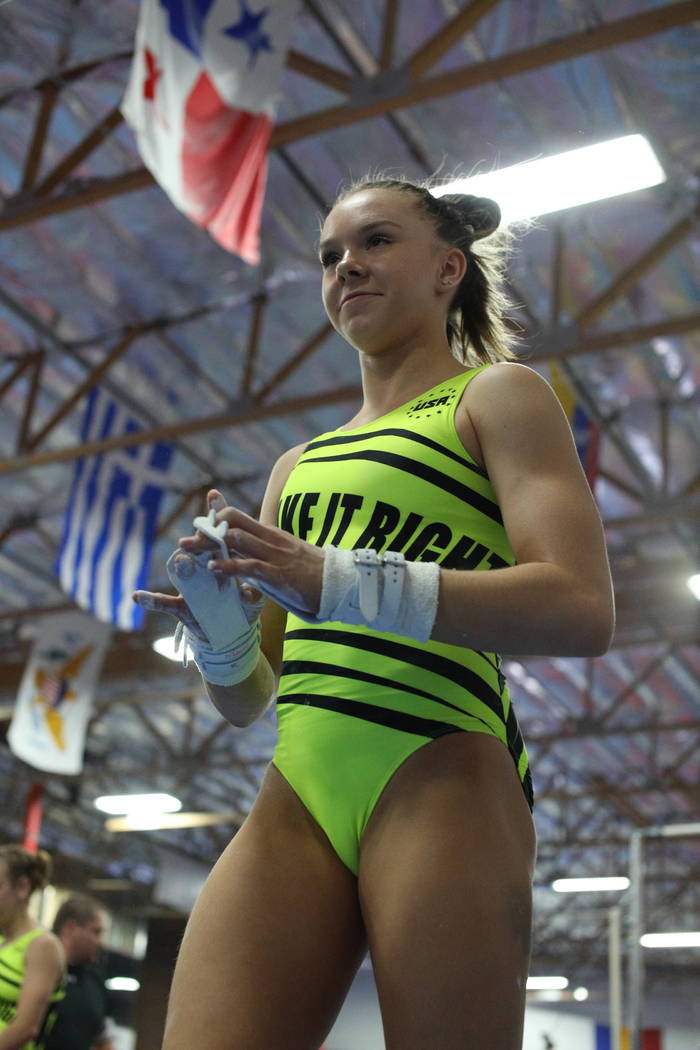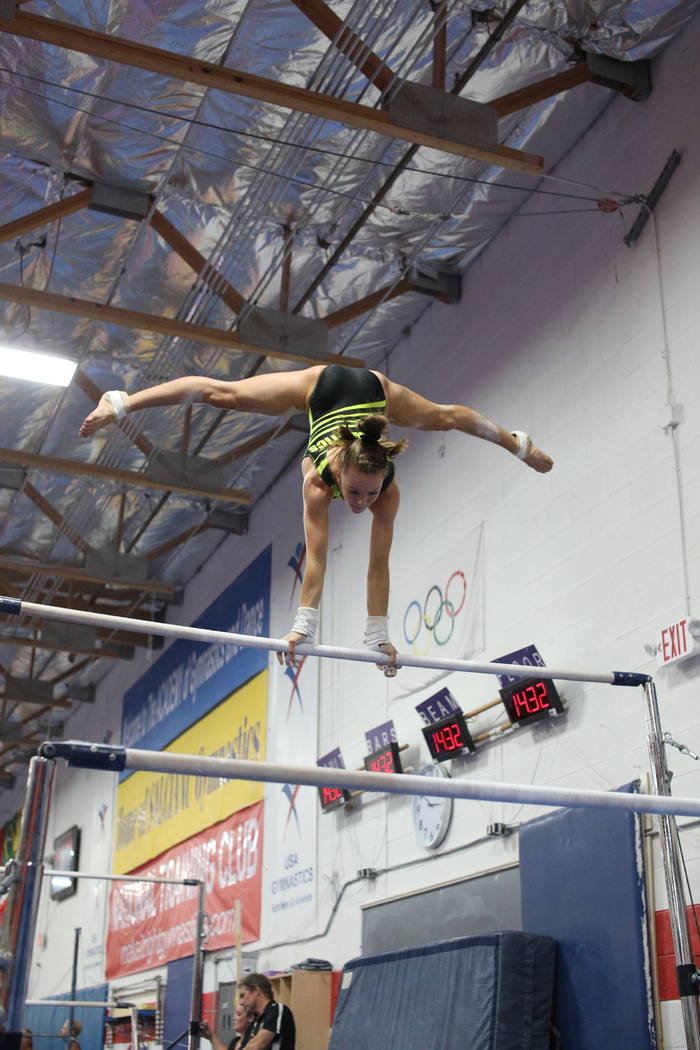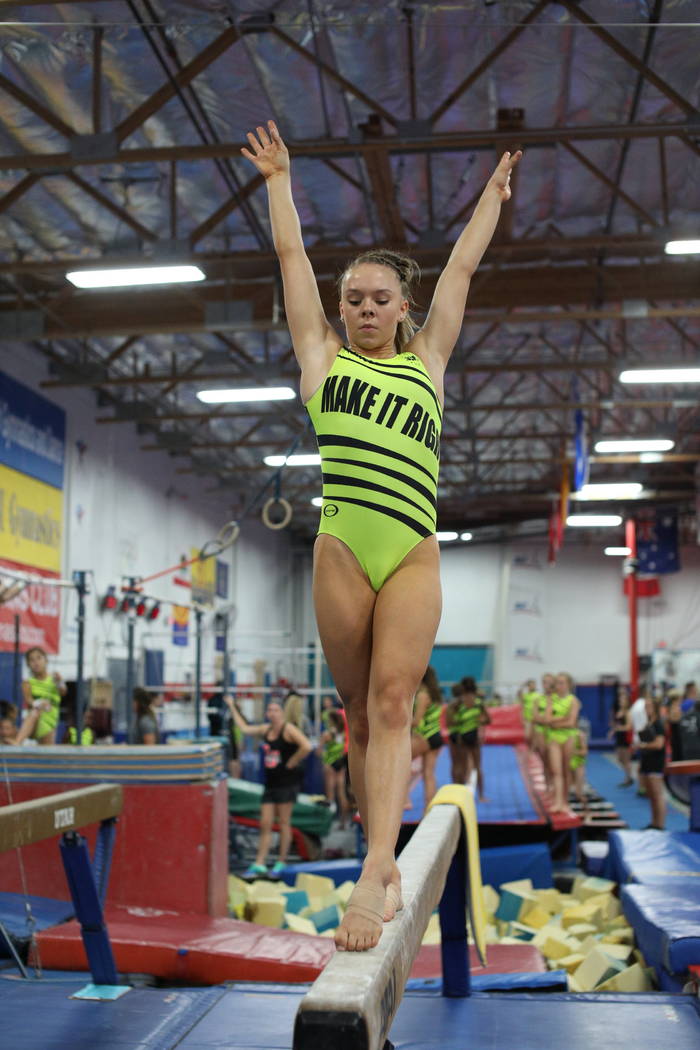 Chalk powder forms a dissipating cloud around her hands as Maile O'Keefe approaches the training bars at Henderson's Academy of Gymnastics, home of the Salcianu elite team.
Her coach of more than 10 years, Tammy Salcianu, keeps a watchful eye on the 15-year-old national champion as she swings through the air and completes a pirouette.
"She was three and a half, almost four," Salcianu said of when she met Maile at the Academy. "She was everywhere, and I was like, 'Look at this little bundle of energy and enthusiasm.'"
Since her first cartwheel on the Salcianu tumbling mats, Maile has worked to make a name for herself in the world of gymnastics. She strived to be the best competitor at every level until "she came to the top," Salcianu said. Maile attends multiple nationwide competitions each year and, after proving her worth on the scoreboard, is an American junior elite national team member.
The senior and junior national elite teams are selected from the USA Championships each year to represent the United States in international competitions. The junior team member slots are determined from the rank order established at USA Championships. They range in age from 11-15.
There are six team members, including Maile.
Maile's entry into gymnastics came by way of a Christmas present from her aunt and uncle; they gifted the then-toddler a one-month membership to the Salcianus' gym.
Tammy Salcianu co-owns the Academy, at 1000 Stephanie Place, Suite 1, with her husband, Sorin. She is a gymnastics choreographer and beam specialist, and he is a former national gymnastics team member for Romania and part of a high bar/trapeze act for Cirque du Soleil's "Mystère."
Together, the duo trains up-and-coming Olympians.
Maile, an incoming 10th-grader at Odyssey Charter School, a home-school program, has dedicated the majority of her life to training at the Academy. She spends six days a week practicing bar, beam and floor routines.
Her favorite pastime is to help coach the Academy's younger members, just as she has been helped by gold medalists at national training camps. This spring, she worked on her skills at the USA Gymnastics National Team Training Center in Hunstville, Texas, alongside Olympic competitors Simone Biles, Gabby Douglas and Aly Raisman, among others.
Maile's current goal is the 2020 Summer Olympics in Tokyo.
"During my first national team camp, Aly (Raisman) was kind of looking out for me," Maile said. "It's nice working out with them because you think, 'Wow, they must have good days every day,' but you see them struggle, so it's kind of nice to know you're not the only one."
Maile's latest gymnastic achievements are listed on the many posters of her displayed throughout the Academy. Her resume of accomplishments dates to 2008, when she started competing at age 6. She has traveled to competitions in Jesolo, Italy, and Montreal in 2017.
It was her June 2016 performance at the P & G Gymnastics Championships in St. Louis that Maile did her best routine yet. She placed third in vault, sixth in bars and first in beam, floor and all around, racking up the most points of any P & G competitor at her level.
Maile's mother, Tori, had not been able to attend her daughter's elite competitions until the 2016 P & G because it wasn't financially feasible. Standing in the wings as Maile's scores lit up the arena last June, Tori was speechless. She attributes Maile's success to the determination she's had since childhood.
"We've always known she had that ability," she said. "The maturity had kicked in and she'd been really consistent in her practices, so I knew it was going to be something special, that meet. I just didn't realize how special."
Maile is readying to attend the 2017 P & G Gymnastics Championships in Anaheim, California, this month. With the Salcianus at her side, it's as if O'Keefe has "two sets of parents," her mother said, to make sure she's happy, healthy and willing to put in the effort.
"Sometimes there are really hard days," Maile said. "But I know it'll be worth it, and I just gotta keep working because I'm pretty much almost there."
Contact Alex Meyer at ameyer@viewnews.com or 702-383-0496. Follow @alxmey on Twitter.
Elite team
The Salcianu Elite Gymnastics Program is the only elite gymnastics program currently offered in Nevada, according to its website. Maile O'Keefe is also the only national elite team member from Nevada.