Henderson man dies after lighting fire while killing bugs with torch
Updated May 21, 2019 - 9:20 pm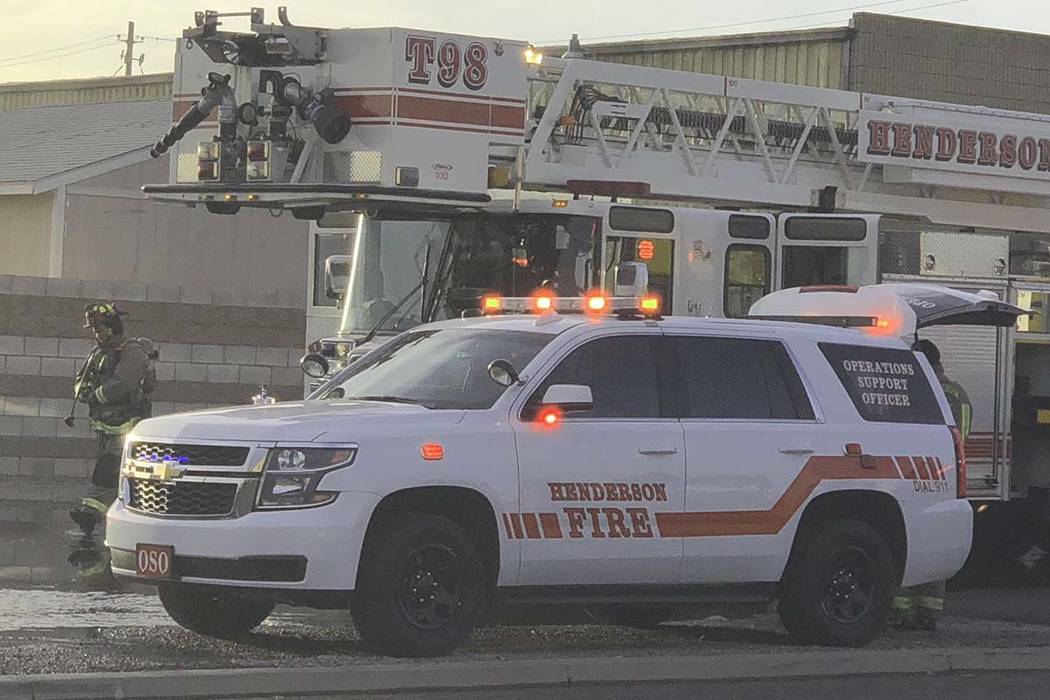 Jeff Long died in a house fire Monday night, only a day before he was set to celebrate his 25th wedding anniversary.
"I need to have some noise going on in my head so the memories aren't the ones that come in," his wife, Joy Long, said Tuesday. "… Especially this being our anniversary today, that just adds to it."
Jeff Long, 63, was using a torch in an attempt to exterminate bugs in his Henderson home's crawl space when the fire broke out, fire officials said. He was pulled from the crawl space in the basement after the Henderson Fire Department arrived about 6:10 p.m. at his one-story home on the 1600 block of Palomino Drive, near Appaloosa Road and Equestrian Drive, according to city spokeswoman Kathleen Richards.
Light smoke was pouring out of the home by the time crews arrived at the scene.
Long was taken to Henderson Hospital for treatment but was pronounced dead at 7:27 p.m., the coroner's office said. His cause and manner of death had not been determined as of Tuesday.
The Fire Department determined that the blaze was caused by Long, who accidentally ignited combustible materials in the crawl space with the propane torch he was using to kill bugs.
'Rough and rugged'
Joy Long described her late husband as a kind man who loved fishing, off-roading, boating and kayaking. He owned a Harley-Davidson motorcycle and a dirt bike, and frequently rode into the nearby mountains with their dog, Moxie, close behind.
"He was rough and rugged sometimes, but he was a dear, sweet man," Joy Long, 68, said.
Twenty-five years ago on Tuesday, the two walked into a Clark County courthouse and married quietly, taking off for their honeymoon in Jamaica soon after. The two met at the end of 1992 at a holiday party in the Las Vegas Valley, Joy Long said.
They didn't have children together, but Jeff Long had a stepdaughter from a previous marriage, and Joy Long had two sons, also from a previous marriage. Jeff Long, a Tuscon, Arizona, native, dreamed of moving away from Henderson, but he stayed so Joy Long could be close to her family, she said.
"He was very good to me, a very good husband," she said. "And a good friend to people who knew him well."
One of his older brothers, 68-year-old Dale Long, said Jeff Long considered himself the "black sheep of the family."
"He got himself into a few bits of trouble here and there where he shouldn't have," said Dale Long, who lives in New Mexico. "He was just a little crazier than the rest of us."
Before he retired, Jeff Long worked installing carpet and fixing vehicles to resell them, his brother said.
He said that whenever he visited Jeff Long, he would find him fixing a dune buggy or building things for people. Jeff Long would often take off on his dune buggy or motorcycle to explore desert areas and abandoned mines, bringing back pieces of metal he found as souvenirs.
"I wasn't quite as crazy as him," Dale Long said. "He'd run his equipment pretty hard, hence he was always working on it."
'We were happy'
Joy Long said she was home when the fire broke out Monday night. When the fire alarm went off, she yelled into the crawl space, which was accessed through a bedroom, and asked if he was on fire.
She thought her husband said "no." Moments later, she saw more smoke and flames coming from vents near the floor, Joy Long said.
She tried pouring water on the fire. Then, her house phone didn't work when she tried calling 911.
"I picked up my cellphone, and I was in such a panic I couldn't remember how to use it," she said. "I ran out the front door and yelled for a neighbor, 'Please call 911.'"
The fire caused an estimated $60,000 in damage. Joy Long said she hasn't been able to go inside to see the extent of the damage or retrieve any photos of her husband.
She's barely slept since the fire, she said. She doesn't want to dwell on memories of baking tamale pie for her husband, traveling with him and spending time together raising Moxie, who survived the fire.
"We didn't have an exciting life," she said. "A lot of it might seem boring to a lot of people, but we were happy. A lot of people who have a lot of things don't have friendship in their relationship. That means a lot."
Contact Katelyn Newberg at knewberg@reviewjournal.com or 702-383-0240. Follow @k_newberg on Twitter. Review-Journal staff writers Rio Lacanlale and Mike Shoro, and reporter Jessica Terrones, contributed to this report.
Fire safety and prevention
On Tuesday, Henderson spokeswoman Kathleen Richards urged the public to avoid using open flames to remedy any indoor problems.
"In general, one of our leading causes of house fires is open flames, and if there's any take away from this it's that people underestimate how quickly an open flame can catch combustible materials and overwhelm them," she said. "I think any firefighter would advise not to use open flames within their house, especially in incidents where it would be difficult to control a flame."
The fire also brings to light the importance of an escape plan in the event of a fire or emergency, Richards said.
"Know how to get out of the house and where outside to meet your family and practice this information," she said. "If you are trapped in a house and you're panicking, if you've thought about this ahead of time, you're more likely to follow the plan from memory."
Rio Lacanlale/Las Vegas Review-Journal