In Las Vegas area, ultimate disc tossing a growing sport with an edge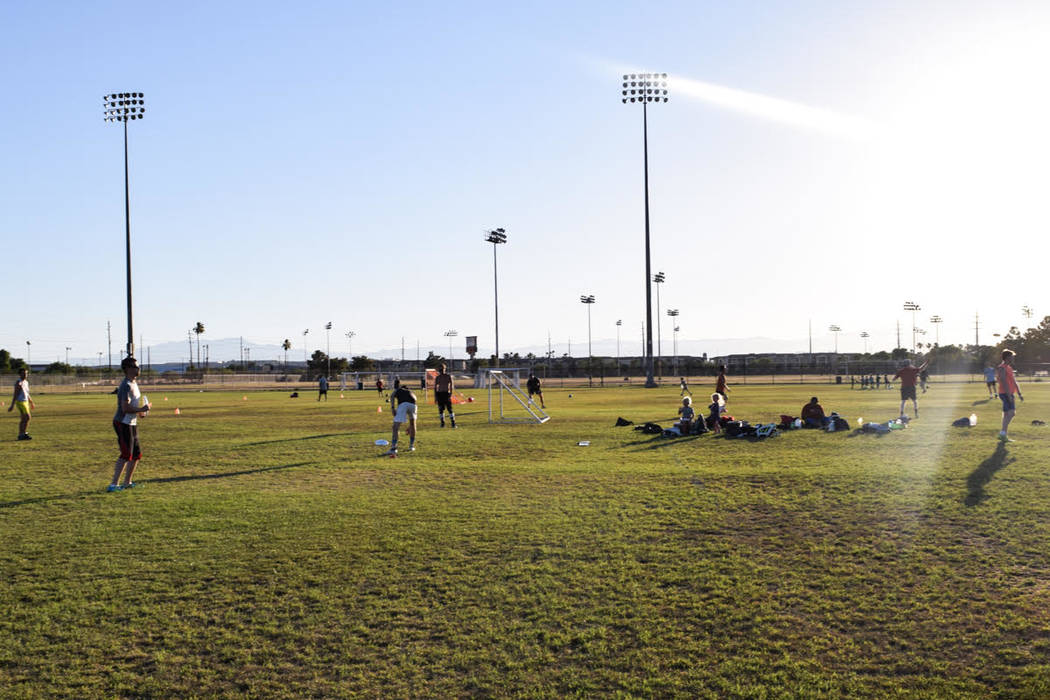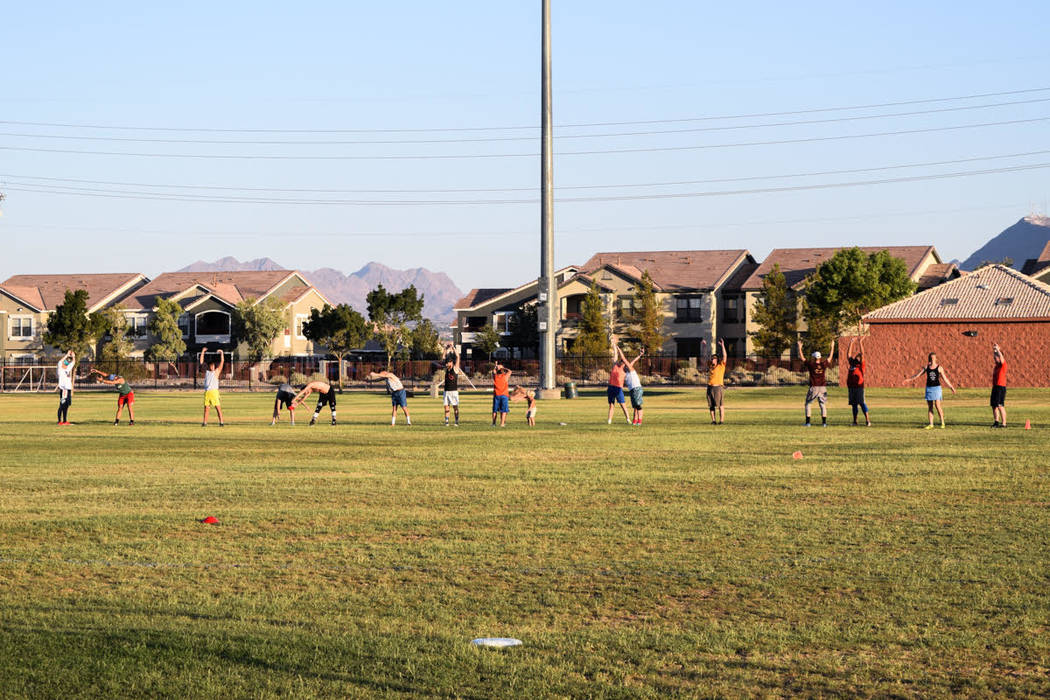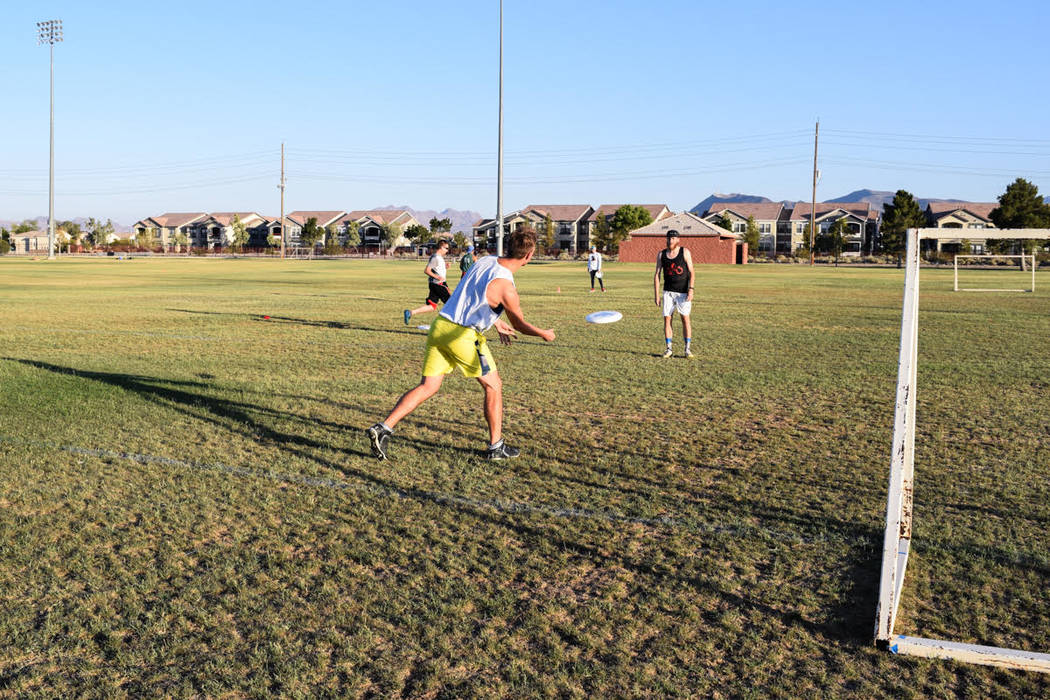 Collegians, young professionals and other adventure-seekers rummaged through their sports bags in preparation for a dusk warm-up on the Silver Bowl Park field.
Late-arriving Las Vegas Ultimate Frisbee team members trickled onto the portion of the field claimed for their weekly practice, stretching and exchanging hellos. They began with a few quick laps, followed by a Frisbee toss at their 7 p.m. start time, with more than 40 people pairing off into twos across the green.
Their public Facebook page, Las Vegas Ultimate Frisbee, has 551 members.
Cole Obsorn, the aquatics coordinator at the UNLV Student Recreation and Wellness Center, said he has spent the majority of his adult life playing Frisbee.
He started in his hometown of New Era, Michigan, a village near Lake Michigan, and continued throughout college at Western Michigan University in Kalamazoo and Morehead State University in Kentucky. He moved to Las Vegas less than a year ago for his job at UNLV and found Las Vegas Ultimate via its Facebook page.
"I've played in every city I've lived in," Osborn said. "I'm from the Midwest, so I'm not used to this heat, but that's why we play at night. It cools down a bit."
Las Vegas Ultimate is a mixed ultimate group, meaning men and women can play. They typically gather at 6:45 p.m. Mondays at Acacia Park and 7 p.m. Thursdays at Silver Bowl Park or the Russell Road Sports Complex.
There is no minimum age limit to play, but younger players have a different set of rules in tournaments, Osborn said.
Minors in state championships or qualifying events must have a medical authorization form completed prior to participation along with an approved, background-checked chaperone listed on the team's official roster, according to USA Ultimate.
Many people in Las Vegas Ultimate bring their children to practice.
Ultimate Frisbee began to popularize in American culture in the late 1960s. The term "Frisbee," often used to describe any kind of flying disc, is a registered trademark of the Wham-O toy company, so the sport is not officially called "Ultimate Frisbee" despite its common use among players.
Enthusiasts have resisted use of referees, opting to rely on the spirit of the game and individual sportsmanship to ensure fair play.
Players score points by passing the disc to a teammate in the opposing end zone. The rules forbid taking steps while holding the disc. Turnovers, or immediate changes of the team in possession of the disc, occur following interceptions, incomplete passes or passes out of bounds.
Aside from the independent ultimate Frisbee groups organized by Las Vegas Valley residents, the UNLV Intramural Sports Program gives students, faculty members and staffers the opportunity to register for intramural ultimate Frisbee each fall.
Teams can register at the Student Recreation and Wellness Center for $45 before the Sept. 13 deadline.
Shannon Dana, a physical education teacher for the Clark County School District, said she has played Frisbee since high school in Oregon.
"It's becoming a worldwide sport because anyone can do it," Dana said. "I've see people out here bring their older parents to play. It's very community-oriented."
Ultimate players at the highest level are attempting to make it an Olympic sport, Dana said. The International Olympic Committee recognized the sport's global governing body in 2015, making the World Flying Disc Federation eligible for inclusion in a Summer Olympics program.
Skeptics cite the lack of extreme exertion or competitive rulings typical of popular sports, but Dana said there's more to it than most people think.
"There are several different ways you can toss (the Frisbee). There's the backhand," Dana said, demonstrating. "Or you could do the flick. Then the hammer."
Most of the Las Vegas Ultimate players used the backhand in their warm-up, similar in some respects to the backhand in tennis. It involves flicking one's wrist forward while keeping the Frisbee parallel to the ground as it moves toward an opponent. The hammer is a forceful overhead toss.
Players on the Las Vegas Ultimate team vary from 10-plus-year veterans to relative beginners, but they're more than just teammates, they say.
"I've been coming here for years," said Las Vegas Ultimate team member Mike O'Brien. "I've watched people grow up and go away to college then come back to play."
Contact Alex Meyer at ameyer@viewnews.com or 702-383-0496. Follow @alxmey on Twitter.
Las Vegas Ultimate Frisbee
More information: Facebook