Las Vegas a hotbed for high school mariachi
February 19, 2019 - 2:26 pm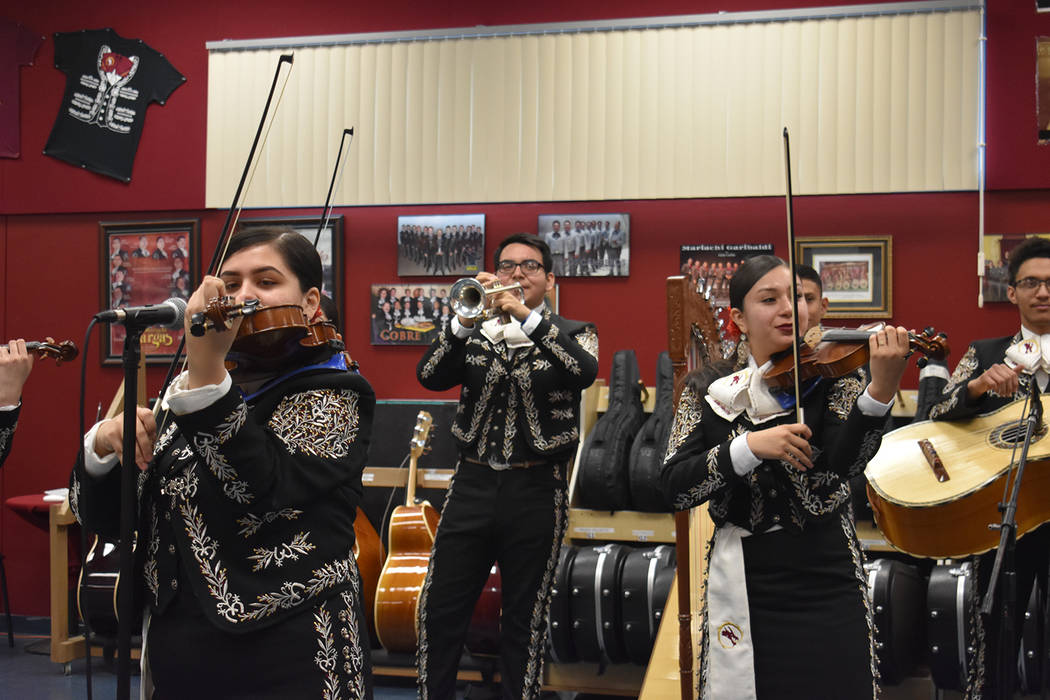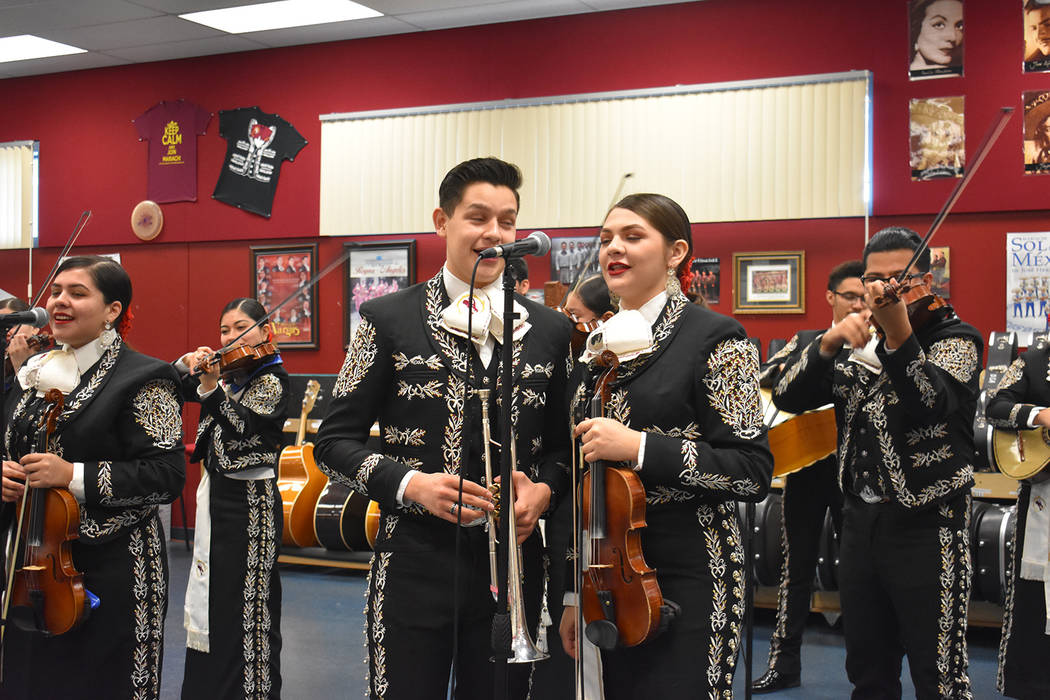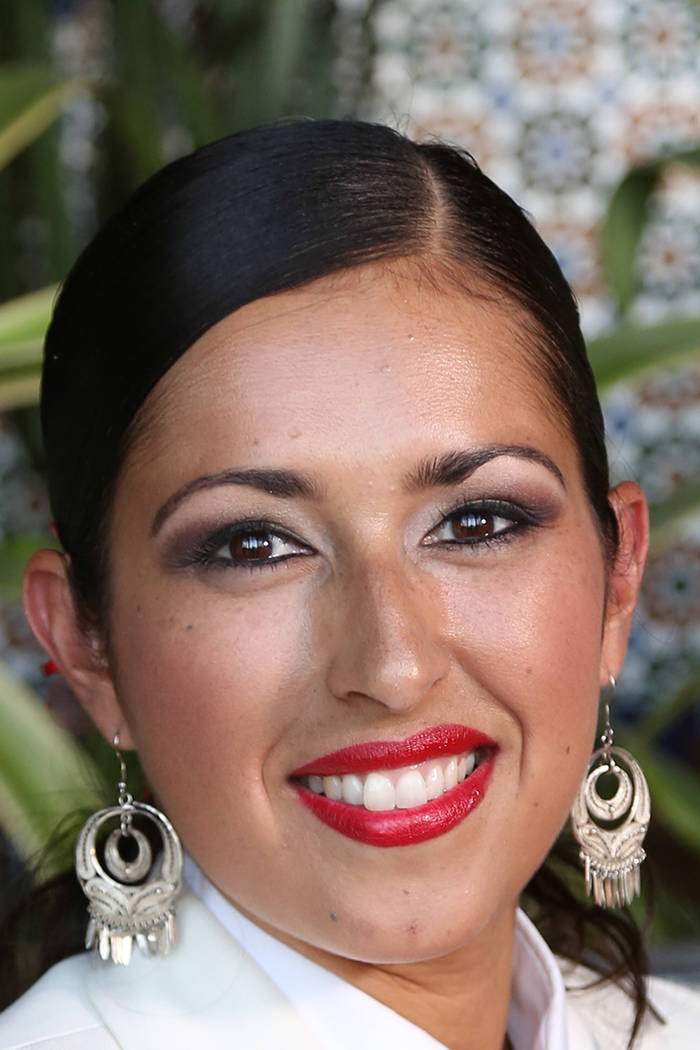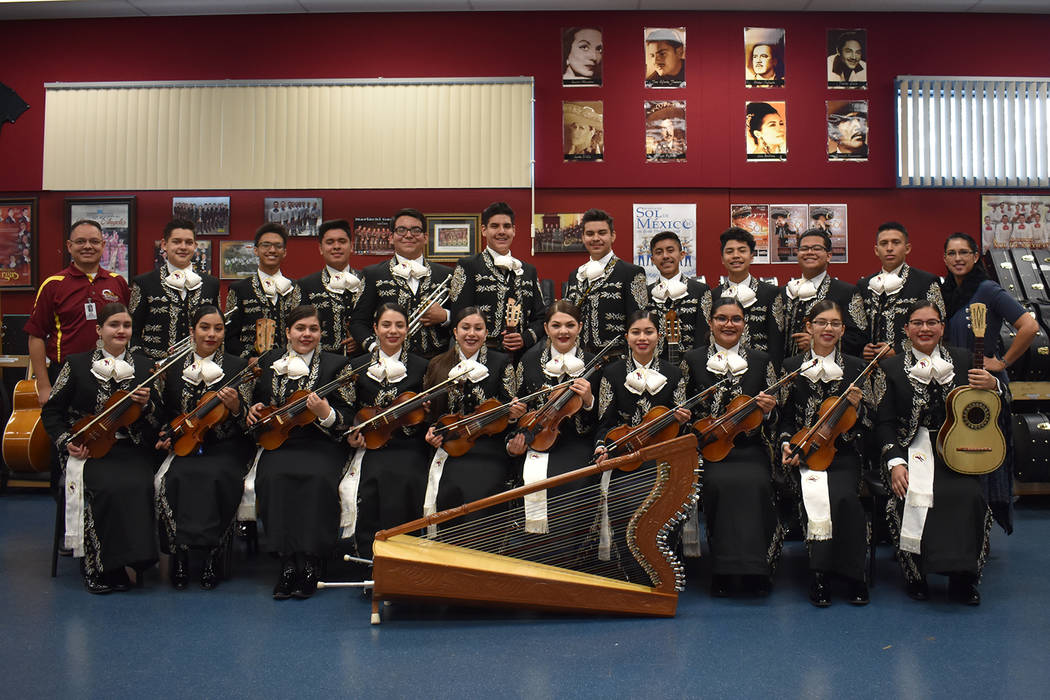 Haley Tiznado's left fingers move rapidly on the neck of her violin, as her other hand moves the bow gracefully over the strings. She tilts her head back slightly and begins singing into a microphone with two other young mariachi performers. While playing, she is brought back to her roots in Nayarit, Mexico.
Her uncles are mariachi musicians, and she said mariachi music is always playing at birthday parties and family gatherings. Tiznado's brother started playing mariachi when he was in middle school; she would see him going to school with his guitar and wanted to do the same thing.
Tiznado, a Del Sol Academy of the Performing Arts senior, learned to play violin when she was in middle school and joined the Del Sol mariachi group three years ago.
Married teachers Guadalupe and Fernando Gonzalez have run the mariachi program at Del Sol for nine years — since hearing positive things about the Las Vegas area's mariachi scene and uprooting their family from Southern California.
"Mariachi is poetry, storytelling and art," Guadalupe said, adding, "The beauty of mariachi is that it transcends through all cultures and socioeconomic backgrounds."
Guadalupe grew up surrounded by mariachi music in La Puente, a Los Angeles suburb, and has been playing since she was 8. Her father was a self-taught mariachi musician.
"While teaching mariachi in California, I fell in love with being able to teach what I enjoyed doing, what was my passion," Guadalupe said.
"Once you get bit by the mariachi bug, you don't want to do anything else," Fernando said.
For several of the students, like Tiznado, mariachi music has been passed down from earlier generations.
Ruben Villegas, a senior at Del Sol, followed his older sister through the mariachi program. She was taught how to play guitar by Villegas's father, a mariachi musician. Villegas chose trumpet when he was in sixth grade, saying he'd fallen in love with the sound.
Del Sol's mariachi group Encendido finished in the top five at the national mariachi competition in San Antonio in November 2017. The group just missed the top five at last year's competition, which featured 29 groups from 16 cities, Guadalupe said. Las Vegas Academy of the Arts in downtown Las Vegas placed third last year, behind two high schools in Texas.
Fernando said it's good to see Del Sol perform well in competitions, but the program is about something much simpler.
"There is always a sense of pride and an amazing feeling when you perform for other people," he said.
Contact Rachel Spacek at 702-387-2921 or rspacek@reviewjournal.com. Follow @RachelSpacek on Twitter.
If you go
Del Sol Academy of the Performing Arts mariachi performances are planned at the following locations.
Monaco Invitational
When: March 2
Where: Monaco Middle School, 1870 N. Lamont St.
Gala del Sol festival
When: March 15
Where: Del Sol Academy, 3100 E. Patrick Lane
Clark County School District Advanced Mariachi festival
When: April 5
Where: Desert Pines High School, 3800 E. Harris Ave.
Mariachi in Clark County
Del Sol Academy's mariachi group is part of the Clark County School District's mariachi program, the largest of its kind in the nation. The high school mariachi program has 2,995 students, and the middle school program has 4,424 students.
Schools with mariachi programs generally have a higher population of Latino students, said Filipe A. Ortiz, a member of the steerling committee of the Latino Network of Southern Nevada. He said the programs strengthen participants' communications skills and increases their chances of graduating.
About mariachi
Origins: Del Sol Academy mariachi instructor Guadalupe Gonzalez said no one is certain where mariachi began. Some documentation suggests it originated in the state of Jalisco, west of Mexico City.
Clothing: Typically, a mariachi band is made up of at least four musicians, who wear the three-piece charro suit, traje de charro. It can cost at least $500 — not including ornaments and accessories that often adorn the suit. Every traje de charro has botonadura — silver and silver-plated buttons that adorn the sides of the pants and the jacket. The uniform is accompanied by accessories like boots, a mono, or neck tie; a white shirt; and a sombrero. The entire uniform can cost $800 to $1,000, Guadalupe Gonzalez said. Del Sol student uniforms cost about $850.
Instruments: They typically include at least two violins; a guitar; a guitarrón, which is a large bass guitar; a vihuela, which is guitar-shaped but has a rounded back; trumpets; and sometimes a harp.
Mariachi styles: There are several musical styles, Guadalupe Gonzalez said. Bolero songs are typically about love, relationships and obstacles in relationships. Son songs typically focus on Mexico and Mexican pride.
Going pro
Del Sol Academy has two mariachi ensembles: the advanced Encendido and the beginning/intermediate Fuego.
Mariachi students hoping to become professional musicians can choose from a few paths. Teacher Guadalupe Gonzalez said students can continue to practice mariachi in college where classes are offered. The College of Southern Nevada has a mariachi class, taught by Guadalupe and her husband, Fernando. UNLV does not offer mariachi classes.
Guadalupe also said students can join professional mariachi ensembles, though they are rare and difficult to get into. Students can also be hired as mariachi teacher assistants. Guadalupe said a few Del Sol mariachi alumni have followed that path.
Online
For more information about Del Sol Academy's mariachi program, visit facebook.com/DSAMariachi.