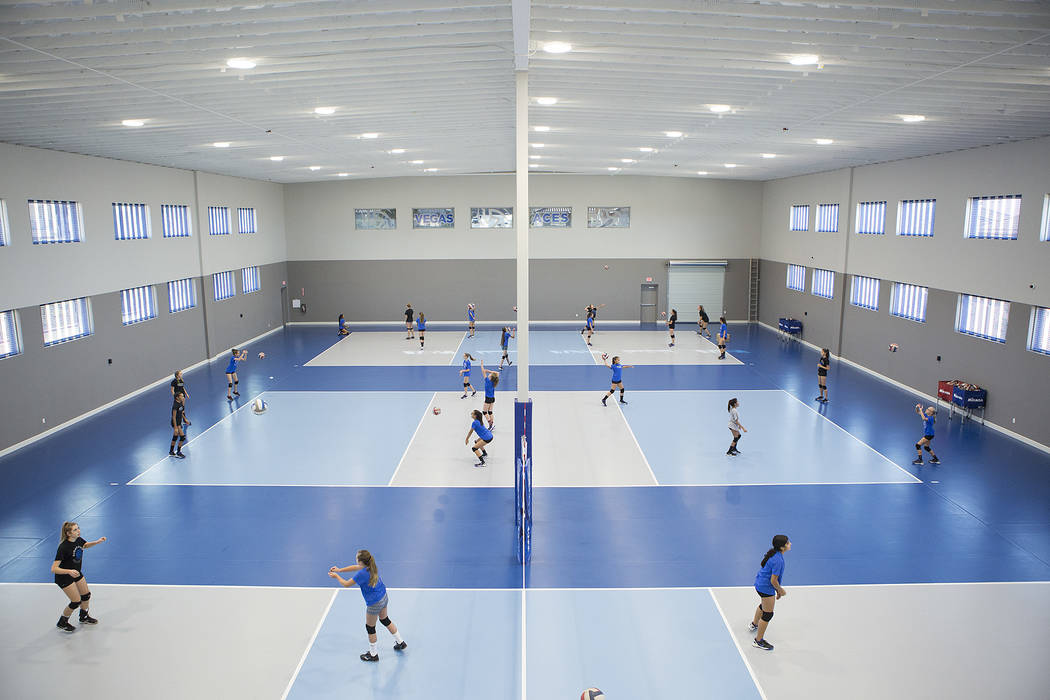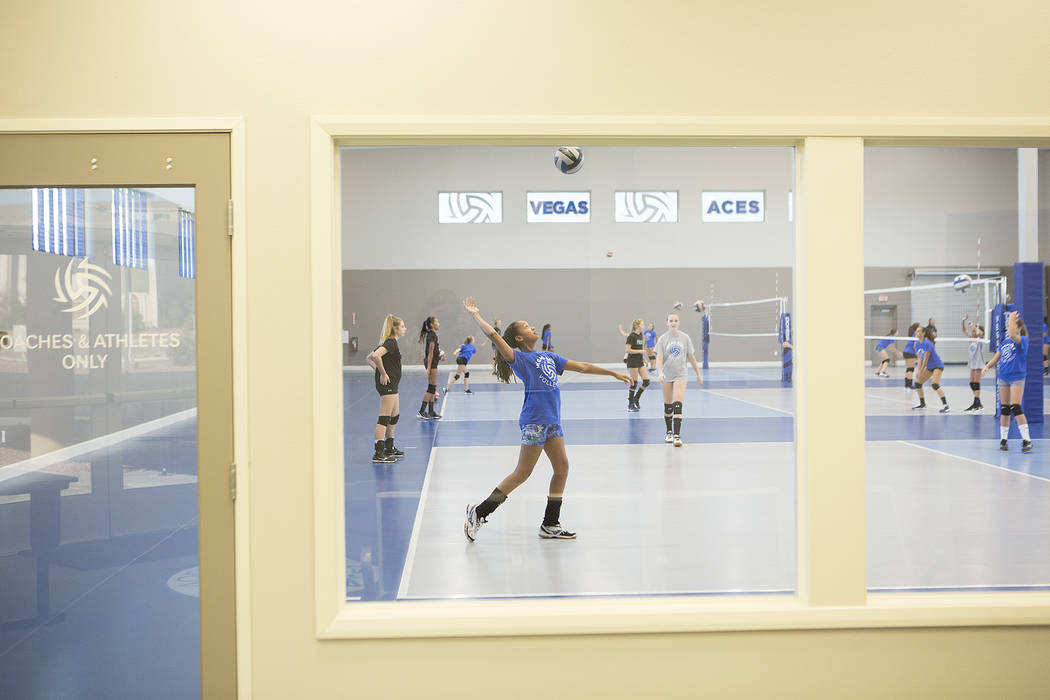 One of Southern Nevada's top youth volleyball clubs is set to host the grand opening of its training center in Henderson on Oct 21.
Construction on the two-story facility off of West Horizon Ridge Parkway, just east of Gibson Road, began in October 2016, after Vegas Aces club founders Brian and Angela Edgeworth chose to move the team out of a warehouse near Stephanie Street and American Pacific Drive where they had fashioned a court for the team to practice on.
It is the first training center in Southern Nevada dedicated only as a volleyball facility, according to the Vegas Aces website, with the cost of construction totaling $2.3 million. Coaches at the facility said finding a gym space to practice could be challenging, but the new building will allow the club to take on more players and teams.
Club programs are offered for girls ages 12-14. Because public middle schools in the Las Vegas area don't have volleyball teams, girls often don't start playing until high school and are underdeveloped and disadvantaged in the hunt for college athletic scholarships, Ruben Herrera, Vegas Aces coach and club director, said.
"If you want to start volleyball, you have to start it young; you have to start them at 12, 13, 14, even younger," said Herrera, a former coach at UNLV, the University of New Orleans and the University of Virginia. "We're changing the landscape. I think it's unfair that we don't have junior-high volleyball in this town, and I think we have the infrastructure."
The club also has traveling teams for ages 15-18 and "fall ball" for ages 5-9 who want to develop but do not travel. The club's travel teams compete in the Southern California Volleyball Association.
"Now (Herrera) is going with 6-year-olds. They hadn't done that in Vegas until now," said Faryn Duncan, a Vegas Aces coach and former player under Herrera. "In Texas, California, they do that. They start (players) young; they breed them into volleyball. We didn't have that, so he is giving them a chance to start young and fall in love with this sport young."
The training center features three courts with Teraflex flooring, which is easier on player's knees and joints, Errica Starck, another Aces coach and former University of Texas player, said.
"This is such a great floor for the kids to practice on, and they don't realize how good they have it," she said. "This is such a great facility; having three courts, we'll be able to have more teams."
The building also has office space, a second-floor viewing deck, cameras that record practices and a study room where players can watch film of practice and games. Herrera said he also plans to put in a players lounge.
Duncan said. "More than just this club, it is growing Vegas volleyball, and it's establishing us….we're lacking in any volleyball presence, so something like this is what's going to build it, and plant us and actually give us a home, rather than hopping around gyms."
Last season, four of the club's five teams finished in the top 7 in each age group in the SCVA. The club's 14-and-under team placed fifth out of 277 teams in Southern California, and finished 5th at the 2017 USA Volleyball junior national championships held from June 25-July 4 in Minneapolis, according to the Vegas Aces website.
"I want to change the mentality of the national perspective that volleyball in Vegas sucks," Herrera said. "They look at us like, 'Oh we're going to play a Vegas team? Oh, that's an easy win.' I want to change that mentality."
Contact Diego Mendoza-Moyers at dmendozamoyers@reviewjournal.comor call 702-383-0496. Follow @dmendozamoyers on Twitter.
Vegas Aces Training Centre
Where: 123 Pancho Via Drive
Contact: 702-592-3182 or info@vegasacesvolleyball.com
Website: vegasacesvolleyball.com
Cost: Prices were not provided
Schedule
Oct. 14-16: Tryouts for ages 10-14
Oct. 21: Grand opening for the Vegas Aces Training Centre
Nov. 1: Practice begins for 14-or-younger teams
Nov. 4-7: Tryouts for girls 15 or younger
Nov. 12-15: Tryouts for ages 16-18
Nov. 20: Practice begins for 18-or-younger teams