Whitney Mesa BMX track home to lofty leaps, lofty goals
Updated August 20, 2018 - 12:00 am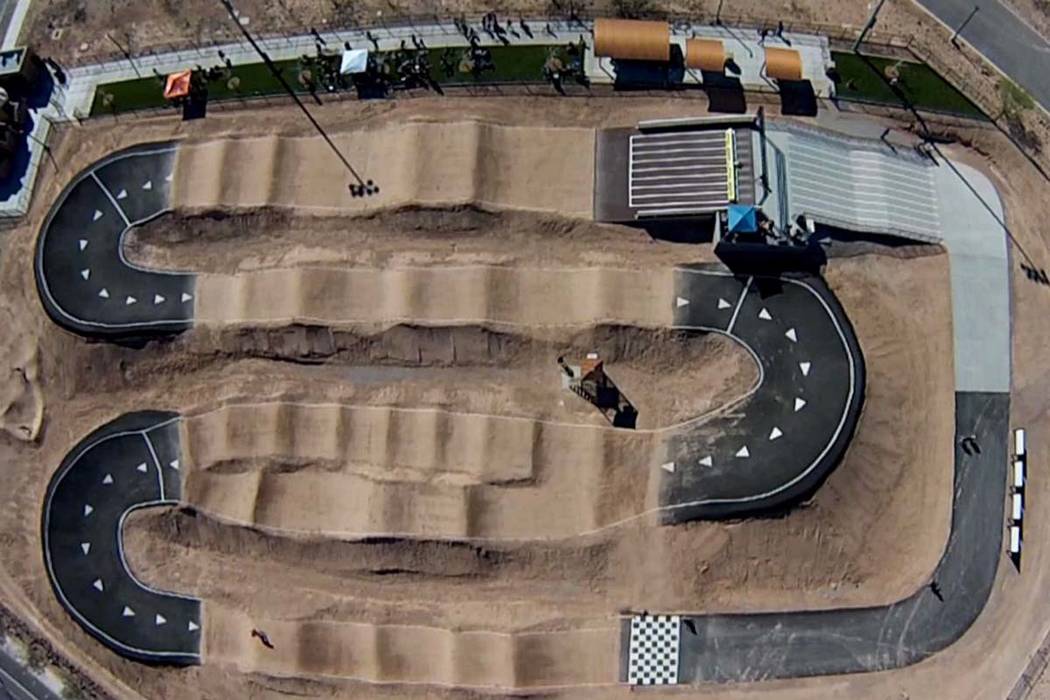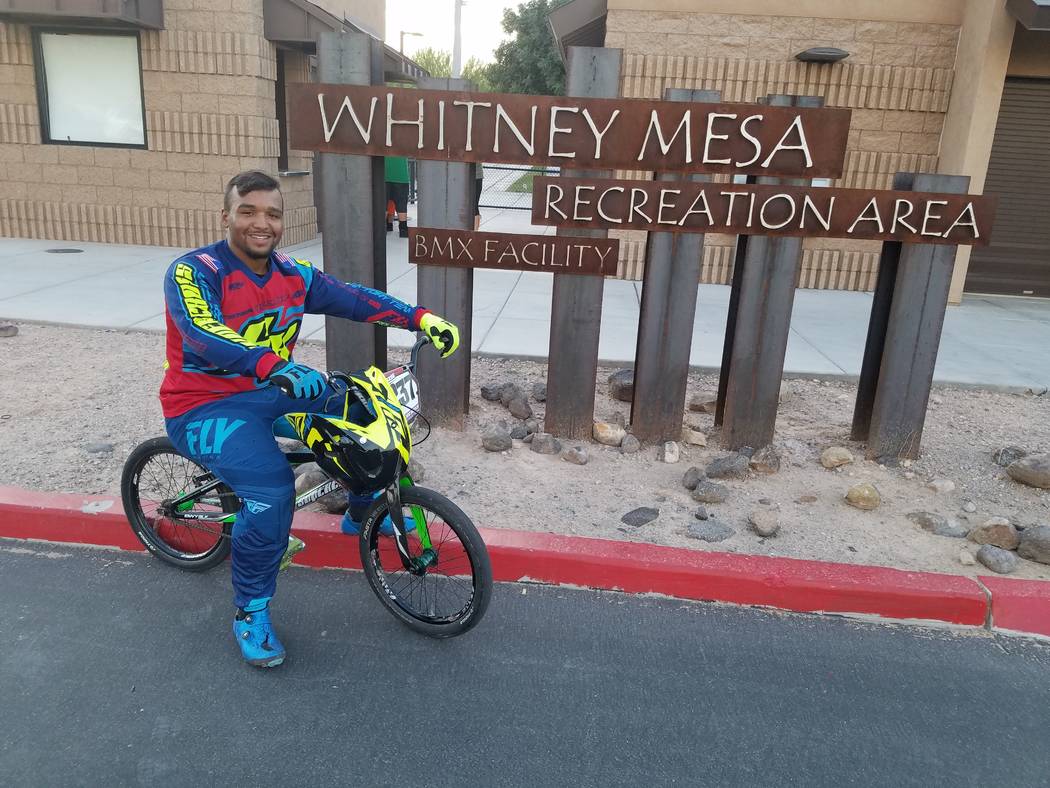 The Whitney Mesa Recreation Area BMX Facility doesn't look like much from the street — dirt berms surrounded by a chain-link fence in a residential neighborhood.
But stop by on a Sunday, Monday or Tuesday and enter the gate, and you're likely to see kids as young as 1 year old — and maybe their parents and grandparents — zipping down the contoured hills of the only left-hand-turn BMX track in Southern Nevada.
Kathy Blaha, a marketing information officer for the city of Henderson, said a BMX facility has existed at the city park at Galleria Drive and Patrick Lane since late 2012. In spring 2015, the 3-acre dirt park was enhanced, with the track reconfigured, asphalt installed in some turns and improved drainage, and a new starting gate and announcer area added.
On Saturday nights, an average of 65 racers gather, many with their families. The youngest, 5 and younger, ride balance bikes in an area separate from the main track. After age 5, classes go up yearly, to 17 to 20, then 21 to 25. Each class starts at novice level, then intermediate and then expert.
Logan Hadley, 5, has been racing since he was 3, and just made expert. His mom, Jen Hadley, said she likes that the sport teaches balance, coordination and camaraderie.
"Everyone gets along," Hadley said. "They treat them like family."
That sentiment is shared by Layla Massey, 13, who cites "the people" as among the big attractions for her. Layla, who has been racing for about a year and a half, said she was more into soccer until her stepfather got her into BMX.
"They always help me if I need help," Layla said of the other racers. "I'm intermediate, and the people who are experts help me."
Makieva Hopson, 20, said he'll mark his 16th year racing in October. He likes that it's a family-oriented sport.
"It's cool," Hopson said. "You push yourself as hard as you want to push yourself. Or you can come out and just ride.
"I'm definitely the determined, motivated one. I like to push myself."
Hopson's in his first year as a professional.
"My current goal is to be a competitor and compete at this level," he said. "Of course, the Olympics is always the next goal, and to be the top BMXer out there."
He's got plenty of inspiration. Whitney Mesa is the home track for Connor Fields, a Green Valley High School graduate who in 2016 became the first American to win an Olympic BMX gold medal. Jessica Schwieger, a representative of the group of volunteers who run the track and Hopson's mother, said Fields sometimes comes out for track events.
"The kids get super-excited," she said.
"He's such a big inspiration to these babies," said Patty Haythorn, Logan's grandmother.
Schwieger said the track is sanctioned by the USA BMX sanctioning body, although she said people who aren't members can ride there.
"It's a beautiful facility, definitely one of the new tracks," she said. At the Tangent Pro Am Series in July, she said, people who have participated in the Olympics competed.
"People from France, the U.K., they came to that race and they knew about Whitney Mesa," she said.
But she said it's one of the city's best-kept secrets.
"I hear that all the time," she said, "that people don't know it's there."
Contact Heidi Knapp Rinella at Hrinella@reviewjournal.com or 702-383-0474. Follow @HKRinella on Twitter.