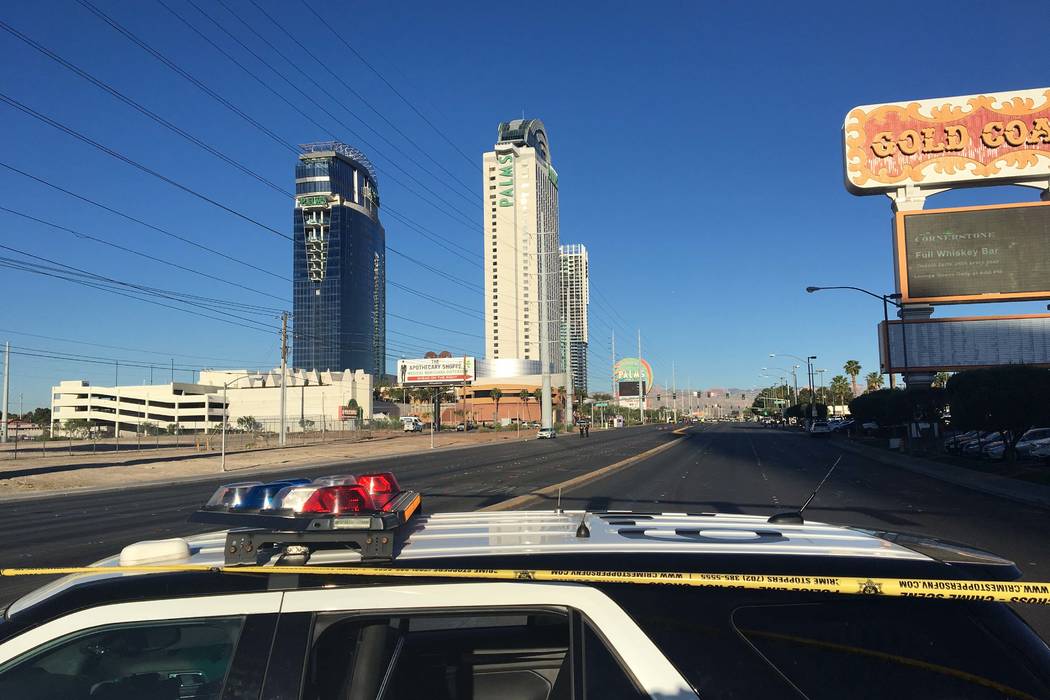 Las Vegas police are investigating a fatal crash involving a pedestrian Monday morning near the Gold Coast, 4000 W. Flamingo Road.
The crash occurred about 4 a.m. at the intersection of West Flamingo Road and Hugh Hefner Drive, according to the Metropolitan Police Department.
Flamingo has reopened between Valley View Boulevard and Arville Street.
The preliminary investigation shows a 2017 Honda Accord was traveling east on Flamingo Road as the pedestrian was crossing the intersection, Metro Sgt. Robert Stauffer said. The car hit a 60-year-old man using a walker, who was thrown to the roadway. He was taken to University Medical Center where he died, he said.
Stauffer said other pedestrians were crossing from the opposite side of the intersection, which could signal whether the pedestrians or vehicle had the right-of-way.
Police said the intersection is painted and has signals since pedestrians are expected to cross here.
The Honda 's driver remained at the scene and cooperated with police, showing no signs of impairment, police said.
Shortly after the crash, a man drove through the road closure and was stopped by police. He was arrested on a DUI charge unrelated to the crash, Stauffer said.
This is the 44th traffic-related fatality in Metro's jurisdiction for 2017.
Contact Mike Shoro at mshoro@reviewjournal.com. Follow @mike_shoro on Twitter. Contact Lawren Linehan atllinehan@reviewjournal.com or 702-383-0381. Follow @lawrenlinehan on Twitter.