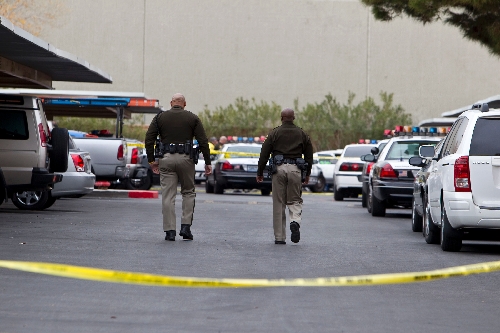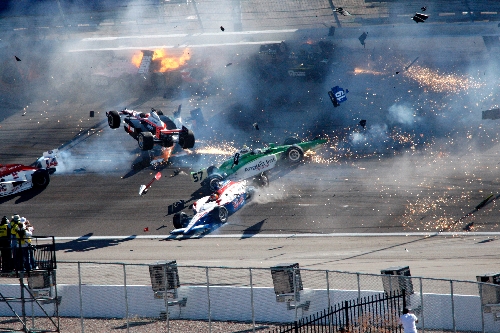 There is exactly one "good news" story on the Review-Journal's list of the Top 10 news stories of 2011.
And it's about shoes.
Can we all sigh together now?
Sigh.
You could almost sum up the whole darn thing with two words: death and taxes.
Also, you should probably add politics.
Sigh.
It gets no better when you go past the Top 10 and into the teens. More death. More taxes.
Just missing the Top 10 were the terrible string of pedestrian deaths; the Bellagio bandit; the closing of the Sahara hotel; the twin woes at CityCenter, claims of construction defects and an outbreak of Legionnaires' disease; the city of North Las Vegas' flirtation with bankruptcy, and the conviction of Michael Jackson's doctor on an involuntary manslaughter charge.
Look elsewhere in Nevada and it was pretty much the same.
Up north, a gravel truck crashed into an Amtrak passenger train killing six, five people were killed in a shooting at a pancake restaurant, a plane crash at an air show killed 11, and a wildfire burned 35 houses.
Anyway.
Next year will be better.
Unless the Mayans were right, after all.
Sigh.
1. OFFICER-INVOLVED SHOOTINGS
Las Vegas police shot and killed a dozen people in 2011, a record for the department.
The latest involved an unarmed, disabled war veteran who had committed no crime.
There was also one fatal shooting in 2011 by officers in North Las Vegas.
The week after Thanksgiving, the Review-Journal published a series of stories analyzing two decades of shootings by officers from the Las Vegas Valley's five major law enforcement agencies. The investigation focused on the Metropolitan Police Department, Nevada's largest law enforcement agency with 2,700 officers policing 1.3 million people in the city of Las Vegas and un­incorporated Clark County. The news­paper found an insular police department that is slow to weed out problem officers and slower still to adopt policies and procedures that protect both its own officers and the residents they serve.
The series found that the department is an agency that celebrates a hard-charging police culture while often failing to learn from its mistakes.
Las Vegas police have fought reforms to the investigative process, though the sheriff has embraced calls by the NAACP and the ACLU for a federal investigation into the department's shootings.
The calls for an investigation and the sheriff's turnaround came after the R-J's series and the latest deadly police shooting. Police shot and killed Gulf War veteran Stanley Gibson this month. He was off his anxiety medication and confused. Officers had him trapped in his car, but officer Jesus Arevalo fired on him, perhaps confused when other officers shot out Gibson's windows with beanbag shotguns.
2. RECORD UNEMPLOYMENT
Nevada's unemployment rate was 13 percent last month, 4.4 percent higher than the national rate.
That's the good news.
It was even higher than that for most of the year, and was always several points higher than the nation as a whole.
The figures were similar for Las Vegas, which consistently had one of the highest unemployment rates in the nation throughout 2011.
The unofficial unemployment rate in November, which includes the under­employed and unemployed people who had stopped looking for work, sat at 23.3 percent. Looked at another way, nearly one in four people who want to work full time are not working full time.
The high number of jobless people renewed calls for the state to diversify its economy instead of relying so heavily on gaming and development.
For now, though, the experts expect Nevada to continue leading the nation in unemployment.
3. MORTGAGE CRISIS
More than three-quarters of Las Vegas homeowners found themselves underwater in 2011 as home prices dropped to 20th century levels.
That's almost three times the national rate for underwater homes. The state's mortgage delinquency rate is twice the national average, with 13 percent of mortgages being at least 60 days late.
Experts estimated that more than 100,000 local homes had been foreclosed on since housing prices started falling in 2007. A recent federal report seemed to blame speculators for much of the problem here. The report noted that one-third of all mortgages issued in 2006 nationally went to people who already owned. Nearly half of the mortgages issued in Nevada during the housing boom went to people who already owned a home.
While falling prices lowered property tax bills — and revenues to local governments — what was left behind was mostly a mess. Financial ruin, of course, but also neighborhoods, sometimes brand new ones, half empty or worse.
Las Vegas had the largest drop in housing prices of any metro area in the country, and it is continuing.
The terrible housing crisis in Las Vegas brought a slew of national headlines, including this classic from CNN: Is Las Vegas the New Detroit?
4. ENSIGN AFFAIR
Lightening things up a little was the continuing saga of How Ensign's World Turns, the tragicomic soap opera that's been playing out in public since 2009.
To recap: Then-U.S. Sen. John Ensign, R-Nev., engaged in an extramarital affair with a staffer for years, finally acknowledging it after it appeared that the news would get out.
As the sordid tale leaked out bit by bit, investigations were launched, including one by the Senate Ethics committee.
Despite repeatedly refusing to resign, even setting lofty fundraising goals for his re-election campaign, the senator finally conceded defeat, resigning in April of this year. Sen. Barbara Boxer, D-Calif., chairwoman of the Ethics Committee, said the committee's evidence was "substantial enough to warrant the consideration of expulsion" if Ensign had not resigned.
Republican U.S. Rep. Dean Heller was appointed to the vacant seat, which set up Republican Mark Amodei's defeat of Democrat Kate Marshall for Heller's House seat.
It has also set up an election showdown next year between Heller and U.S. Rep. Shelley Berkley, D-Las Vegas.
5. EDUCATION WOES
Hundreds of new teachers across the Clark County School District could be unemployed as the cash-strapped district faces an impasse with its teachers union over cost saving measures.
The district, the fifth-largest in the country, is bracing for about 1,000 possible layoffs of licensed staff. The ax will fall if an arbitrator sides with the union, the Clark County Education Association. District officials say they need to cover a $78 million hole in the budget.
If they happen, the teacher layoffs will follow massive layoffs of support staff positions in the last school year.
Likewise, the state's higher education system has seen budget cuts lead to hundreds of jobs lost, smaller enrollments, the elimination of programs and tuition and fee hikes.
At the University of Nevada, Las Vegas, 48 professors, many of them tenured and receiving high salaries, accepted a buyout offer, saving the university $5 million per year.
Despite that, the overall cut to higher education was $85 million in each of the next two years.
To help make it up, tuition was raised again this year and will be raised next year. Students next year will pay nearly three times what they were paying 10 years ago.
6. SPEEDWAY CRASH
IndyCar driver Dan Wheldon, a two-time Indianapolis 500 winner, was killed during a fiery crash in October at the Las Vegas Motor Speedway.
The crash included 15 cars. Wheldon's car came upon the wreck from behind, launched over the other cars and flew more than 300 feet into a fence post.
Wheldon's death sparked criticism of IndyCar for allowing 34 cars to race on the wide track in Las Vegas, which features more racing grooves than a typical Indy track. It was the first IndyCar race in Las Vegas since 2000. Most of the drivers were not experienced on the variable banking and wide surface.
Speedway officials have pledged to work with IndyCar officials, hoping that future races will be held here, though none are scheduled for next season.
7. LEGISLATIVE BUDGET BATTLE
After battling for the whole session over the budget, Republican Gov. Brian Sandoval and the Democratic-controlled Legislature were forced into a compromise after a Nevada Supreme Court decision put a stop to the governor's plan to use local government funds to help shore up the state budget.
The two sides agreed to a $6.2 billion general fund that reduced government spending but avoided more drastic cuts to education and social services that Sandoval had proposed.
The two-year budget was balanced in part with about $620 million in taxes that Sandoval and other Republicans hoped would expire.
The compromise budget was forged after five days of round-the-clock negotiations and months of fighting between lawmakers and the governor, an on­going confrontation that included student protests outside the Legislative Building and heated confrontations in hallways and private meeting rooms.
8. ZAPPOS MOVE
Online retailer Zappos.com solved an empty building problem in downtown Las Vegas. Officials will move into a new City Hall early next year, leaving the old one vacant.
Zappos agreed to a 15-year lease to move its corporate headquarters from Green Valley and into the old City Hall building. The deal will move 1,200 jobs downtown, too.
City officials have praised the deal, which is expected to help revitalize what can charitably be called a struggling downtown area.
A lease was agreed to between Zappos and an offshoot of Resort Gaming Group called City Hall, LLC, both of which are led by Andrew Donner. Changes to the deal described as "nonmonetary" and not increasing financial risk to the city will still need approval from the City Council, possibly next month.
The firm will buy the City Hall building for $18 million, a deal scheduled to close April 1, and lease it to Zappos.
"I'm really excited that it is not going to be imploded, because that was my first thought years ago when Oscar said they were going to build this new City Hall," Mayor Carolyn Goodman said in response to the signing, referring to her husband, Oscar Goodman, who was mayor when Zappos hatched its plan to move from Henderson to downtown.
9. SICK LEAVE
Two Clark County firefighters were fired and a dozen more were investigated after it came to light that the county's sick leave policy was being abused.
Battalion Chief Renee Dillingham and firefighter Donald Munn were fired. Officials would not reveal the punishments handed out to other firefighters.
In addition to the dozen cases, some firefighters suspected of misusing sick leave quit or retired before an investigation could be finished.
Many firefighters were accused of using sick leave instead of vacation for time off when they were not, in fact, sick. That violates the county's policy.
Firefighters' sick leave can be costly, because tight staffing often requires those who fill in for co-workers to be paid overtime, and usually for 24-hour shifts.
10. VIDEOTAPED BEATING
Las Vegas police officer Derek Colling, who was accused of beating a man for videotaping police, was fired after a lengthy inquiry into his actions.
Internal investigators concluded that Colling, a six-year veteran, violated several Metropolitan Police Department policies in the confrontation with video­grapher Mitchell Crooks.
Crooks, 37, was videotaping police from his driveway as officers investigated a burglary across the street from his home, near East Desert Inn Road and South Maryland Parkway.
Crooks said that when he refused to stop filming, Colling beat him, with much of the altercation recorded by the camera.
Crooks was arrested for battery against an officer, trespassing and resisting arrest, but the charges were later dropped.
Crooks' video went viral on the Inter­net, and local activists and national "cop watch" blogs scrutinized Colling's actions.
Contact reporter Richard Lake at rlake@reviewjournal.com or 702-383-0307.
2011Year In Review