$500k bail set for Las Vegas man involved in police chase after shooting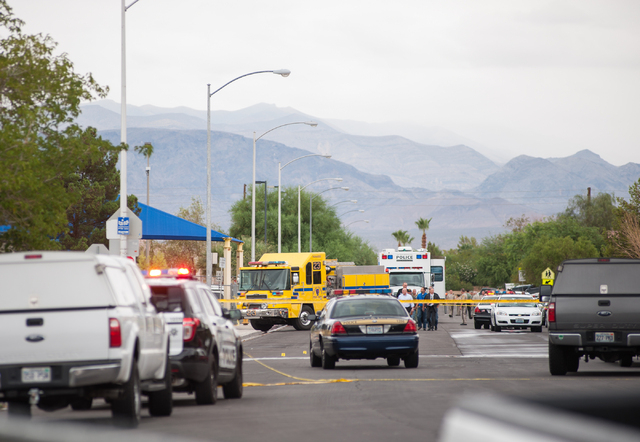 A judge set bail at $500,000 on Thursday for a man accused of running from police after a shooting in the northeast valley this past weekend.
Authorities said Kevin Lay Jr., 23, and DeAnthony Brown, 24, left the scene of a shooting in the 4800 block of Cleopatra Avenue on Sunday in a red Ford Mustang.
On Thursday, Justice of the Peace Eric Goodman set bail for Lay, a day after ordering Brown held on the same amount.
When police tried stopping the Mustang near Alexander Road and Lamb Boulevard, Brown, who was driving, took off, police said.
The Mustang nearly hit a wall near the Timberlake Drive and Trout Lake Avenue intersection, and Brown and Lay then ran in different directions, police said.
As he was running from two officers, Brown took out a weapon and turned toward them, police said. He was shot and wounded by a Metro sergeant.
Lay ran into a house in the 3800 block of Clear Lake Court and eventually turned himself in to Metro "a short time later," police said. The family in the house escaped unharmed.
Brown served time for two gun-related felonies in 2009, records show.
The two men face charges including two counts each of attempted murder, battery with a deadly weapon and running away from police.
Contact reporter David Ferrara at 702-380-1039 or dferrara@reviewjournal.com. Find him on Twitter: @randompoker.