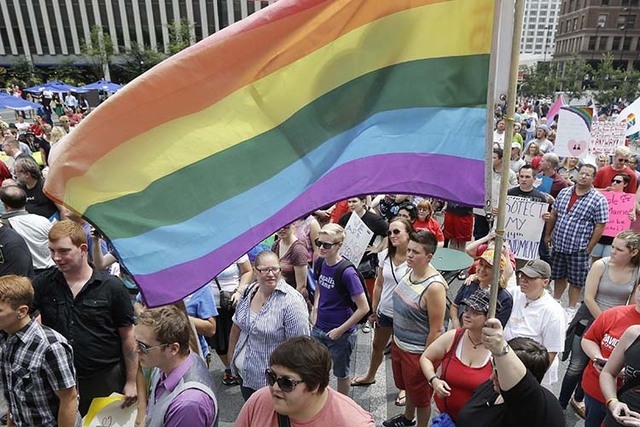 CARSON CITY — The issuance of same-sex marriage licenses in Nevada's rural counties is getting off to a slow start even though county clerks contacted on Monday said they are ready for applicants.
A survey of clerks from Churchill to White Pine counties has identified only a few licenses issued to same-sex couples so far, one in Elko County and two in Nye.
But clerks or their staff have all said they are ready to issue the marriage licenses should a couple request one. No issues or concerns have been reported by the clerks.
Several clerks said they do not issue more than a few licenses in a year because of the population base in the counties.
Nye County Clerk Sandra "Sam" Merlino said two licenses have been issued by the county, both in Pahrump.
"We didn't have any issues but we didn't know what to expect," she said. "We just wanted a smooth transition and so we're happy with that."
Bev Conley, clerk-treasurer of Eureka County, said her office saw only 10 marriage licenses issued in 2013 in total. But the office has received a call from a same-sex couple so there may be a license issued soon, she said.
The community is fairly conservative, and there may be some residents who are uncomfortable with the court decision, but there have been no issues with the process, Conley said.
Douglas County District Attorney Mark Jackson said the county has received no requests for marriage licenses from same-sex couples yet, which is a bit of a surprise since the county issues licenses at its Lake Tahoe offices.
The county's Tahoe office does a big business with wedding licenses because of the location, which is popular for weddings, he said.
Carson City had seen four same-sex marriage licenses issued through midday Monday, with two of the couples getting married in the District Court offices on Saturday.
Washoe County had issued 27 licenses to same-sex couples through midday, while Clark County was up to 141.
Contact Sean Whaley at swhaley@reviewjournal.com or 775-687-3900. Find him on Twitter: @seanw801.