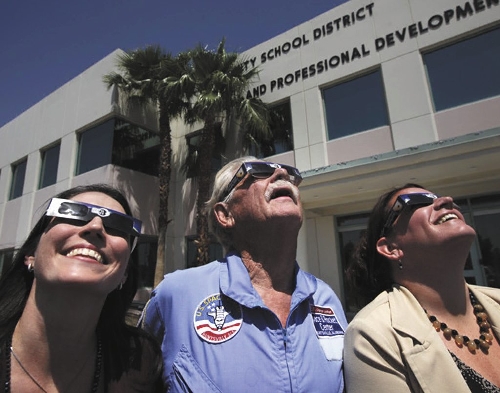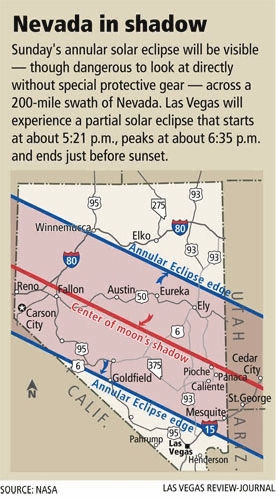 A wide swath of Nevada will enjoy a rare front row seat Sunday afternoon as the moon passes in front of the sun, creating a ring of fire in the sky.
The eclipse will be visible – though dangerous to look at with the naked eye – in the Las Vegas Valley starting at just after 5:21 p.m., but the prime viewing will take place farther north.
The center line of the moon's shadow is expected to pass across the state in a diagonal, southwesterly line from Pyramid Lake, north of Reno, to Caliente in Lincoln County.
For 100 miles on either side of that line, the eclipse will be annular, a phenomenon that occurs when the moon lines up perfectly with the sun but is too far from Earth to completely cover our closest star as it does during a total eclipse.
Sunday's celestial event will peak at about 6:35 p.m. and end about an hour later, just before sundown.
This will be the first solar eclipse visible in Las Vegas since May 1994. There won't be another annular eclipse over the United States until 2023.
Local stargazers are excited.
The Las Vegas Astronomical Society is keeping a running countdown to the eclipse on its website. Members of the organization of amateur astronomers plan to watch the event from Cathedral Gorge State Park, north of Caliente.
Rob Lambert, the society's vice president and webmaster, said people are coming from as far away as England, Canada and Washington. D.C., to join their eclipse-watching party.
"Unless you've got the money to chase one like the eclipse chasers do, you don't get to see these things all that often," said Lambert, who plans to be in Idaho on Aug 21, 2017, for the next total eclipse over the United States. "If you have the opportunity to see one, you really should try to see it."
Lonnie Hammargren is an eclipse chaser. He also is a former lieutenant governor, a retired brain surgeon and curator of what has to be the state's largest and most bizarre collection of random backyard artifacts.
Over the past 40 years, he has traveled to Siberia, Australia, Mexico and Africa – twice – to see the moon cross paths with the sun.
"That's been sort of my hobby, chasing those," he said.
This time, Hammargren doesn't have so far to go. He's headed to Cedar City, Utah, to witness what will be his second annular eclipse. Before he goes, though, he is giving away 5,000 eclipse shades he had specially made for Sunday's event.
Hammargren said he passed out a bunch of them at the high school and middle school near his well-known home, then left boxes of them with the Clark County School District for distribution to science teachers.
The special, dark-filtered glasses are printed with words "Compliments of Dr. Lonnie Hammargren" and also are meant to be used to watch an even rarer celestial event on June 5. That's when the planet Venus will pass directly between the Earth and the sun, appearing – through protective filters – as a period-sized black dot on the sun's face.
The solar transit of Venus, as it is known, happens twice every century or so. It last occurred in 2004 and won't happen again for 105 years.
A number of events are planned in Nevada along the path of Sunday's annular eclipse, from Reno to Great Basin National Park.
The College of Southern Nevada's planetarium and observatory, on the Cheyenne campus in North Las Vegas, will mark the occasion starting at 4 p.m. with presentations and a viewing party.
The eclipse won't be quite annular in the Las Vegas Valley, but it will be "right at the hairy edge," Lambert said.
He recommends getting out of the valley – preferably to the north – for a better view.
If you can't do that, you should try to move east, away from the Spring Mountains, so the sun doesn't set before the eclipse is over, Lambert said.
"If you're in Summerlin, you're probably not going to see it," he said.
UNLV astrophysicist George Rhee tends to focus on things like the origin of stars and the universe, so he doesn't consider himself "a big eclipse guy." But he said celestial events like the one on Sunday are important because they get people interested in science and the natural world around them.
"We do lose track of nature in our daily lives," Rhee said, adding of the eclipse. "It should be spectacular."
Contact reporter Henry Brean at hbrean@reviewjournal.com or 702-383-0350.
Astronomical Society
The Las Vegas Astronomical Society has an animation on its website showing what the eclipse will look like through a filtered telescope in Las Vegas and at Cathedral Gorge State Park, near the center line of the moon's shadow.
Safe viewing
It's never a good idea to look directly at the sun, and an eclipse is no exception. You can cause real and permanent damage to your eyes without the proper protection.
And that does not mean regular sunglasses, either. You need dark-filtered glasses such as No. 14 welder's goggles or a specially filtered camera or telescope.
The safest way to "watch" a solar eclipse is indirectly using a pinhole to form an image of the sun on a screen placed a few feet behind the opening.
This can be done using a piece of cardboard with tiny hole in it, a loosely woven straw hat, or even interlaced fingers to cast a pattern of solar images on the screen.
Or better yet on a hot afternoon in Las Vegas, seek out a broad-leafed tree in the sunshine and look at the ground beneath it.
The many "pinholes" formed by overlapping leaves will create hundreds of images of the moon crossing in front of the sun.
And while you're there, you can enjoy a little shade.