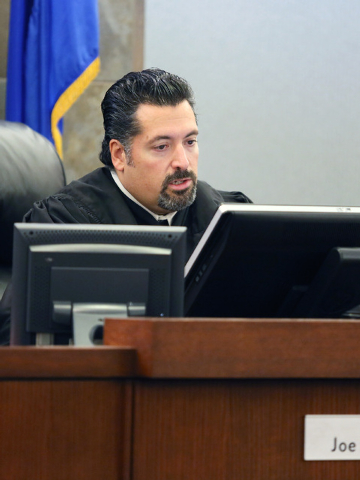 Scott Carmitchel, a Kansas felon charged in the robberies of the Bellagio casino and a Las Vegas bank, refused to leave his Clark County Detention Center cell for hearings in two separate criminal cases Thursday.
His absence prompted Justice of the Peace William Kephart to order that Carmitchel appear next week in a case involving battery charges "by any means necessary."
Justice of the Peace Joe Bonaventure postponed another hearing on extradition of Carmitchel to Kansas on a parole violation after jailers reported, "he is not responsive. Once officers enter his cell he becomes combative."
In Justice Court on Wednesday, Carmitchel also refused to appear to answer charges of robbery with the use of a deadly weapon, burglary while in possession of a firearm and grand larceny. He was eventually wheeled in, his head covered in a spit mask and a beige blanket draped around his body. He did not speak or open his eyes.
Carmitchel, who is accused of spending stolen money on prostitutes and a shopping spree, also is charged as a John Doe with one count of interference with commerce by robbery at the Bellagio and one count of armed bank robbery at a City National Bank branch on East Tropicana Avenue.
He was to make an initial appearance before U.S. Magistrate Judge Peggy Leen on Thursday but that hearing was also postponed.
Carmitchel is alleged to have stolen $43,500 in the Bellagio heist on July 25 and $4,355 in the July 22 bank robbery.
According to the FBI complaint, the bank robber put a small backpack on a counter, took out a gun with an orange muzzle, pointed it at a teller and said, "I want you to put all your money in this backpack."
Three days later at the main casino cage of the Bellagio, the robber pulled a gun with an orange tip from a backpack and said, "I'm going to need you to give me all your money," the complaint alleged.
Police linked the two robberies through surveillance video.
After the Bellagio robbery, Carmitchel spent at least $10,000 to rent a room at the Hard Rock resort and on "socializing" with four prostitutes for whom he bought high-end clothing, a police report said.
Police found $10,000 cash, a BB gun matching the description of the weapon used at the Bellagio, clothing and store receipts at the hotel.
Contact reporter David Ferrara at dferrara@reviewjournal.com or 702-380-1039. Find him on Twitter: @randompoker.
Contact Jeff German at jgerman@reviewjournal.com or 702-380-8135. Find him on Twitter: @JGermanRJ.