Booze and busker battle underway in downtown Las Vegas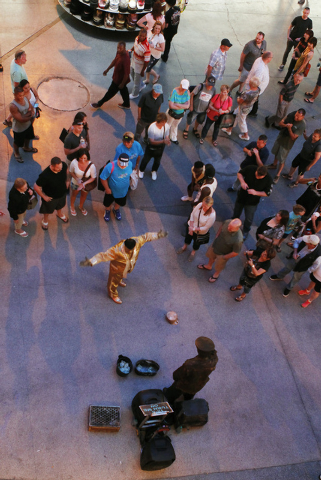 The Las Vegas City Council's version of the blame game went on for three hours last week, as the big boys and the little guys argued over who is to blame for the drunken follies occurring at the Fremont Street Experience.
The problem is readily observed: too much booze and overly aggressive buskers demanding $20 if you want your picture taken with them. If you turn them down, you might find yourself hearing about it in a not so pleasant way.
Who is to blame for the problems under the canopy? The casinos providing free drinks to gamblers? The six souvenir and gift stores that sell cheap and potent liquor in packages?
There is no doubt there is a problem.
Derek Stevens, the CEO of the D Las Vegas and the Golden Gate, told the council, "I am on the front line. I don't want to belabor what we're seeing on TripAdvisor." He was referring to comments from people who say they'll never return to such a sleazy downtown and advising others to stay away.
But he said downtown is losing large significant groups who say they won't bring their groups to Fremont Street. "We've got to put a stop to this continued degradation."
Boyd Gaming lobbyist Russell Rowe echoed Stevens. The Main Street and the California Club cater extensively to Hawaiians.
"The bottom line is our Hawaiian guests are not flying back and if they do, they're not staying downtown," Rowe said. "If there are no tourists, there is no Fremont Street."
The council is well aware of the problems. It's been trying to get a grip on it for a year.
While most of the stories are anecdotal about people who won't return downtown, the annual gaming figures for downtown lag behind the Strip as well as the statewide percentages. From March 2013 to this March, downtown's gaming revenue increased by 1.15 percent compared to the Strip's 2.66 percent increase and the state's average, which has gone up 1.65 percent.
"It's a fact that it's mass chaos on Fremont Street," acknowledged Councilman Stavros Anthony, a retired police captain. "There are bums eating out of garbage cans; people are really drunk. Ma and Pa Kettle from Iowa are not going to go back to Fremont Street.
"There are a bunch of problems under the canopy. The first one is packaged liquor. There's enough packaged liquor stores under the canopy and since packaged liquor stores are not following the rules, we need this ordinance."
Over the strong objections of packaged liquor store owners and employees, the council approved an ordinance Wednesday during a 13-hour meeting saying no more permits will be granted for those businesses under the canopy.
The six souvenir stores already there can stay, but that did not satisfy their mostly Hispanic employees waving signs saying "Casinos are pushing city to pass their laws" and "Don't treat us like 2nd class citizens" and "Casinos vs. Small Business."
Other aspects of the ordinance:
■ No single servings of alcoholic candy, jello shots or other products not considered beverages can be sold.
■ No containers of malt liquor and beer larger than 32 ounces can be sold.
■ No beer higher than 11 percent alcohol can be sold.
■ No hard liquor less than one pint, known as "minis," can be sold.
■ Advertising restrictions were established.
■ Signs must be posted saying that package liquor cannot be consumed on Fremont Street.
A three-minute video showed cashiers telling people they can take their drinks and imbibe on Fremont Street, despite an ordinance saying you can't possess an open container of alcoholic beverage within 1,000 feet of the store.
The next ordinance up for future consideration will require that alcohol must be served in plastic containers, creating a plastic-only zone.
"We'll deal with this a bite at a time," Anthony said.
The toughest bite, and the one causing the most indigestion, will be the buskers.
The most difficult challenge will be crafting an ordinance reining in the street performers, the buskers, some barely clothed. Previous legal decisions have said they cannot be banned from Fremont Street because of the First Amendment right to free speech. The American Civil Liberties Union has won case after case defending free speech rights on the Fremont Street Experience.
Buddy Rose, who owns a caricature sketch kiosk, said his artists find it's "no longer safe to put their backs to people. They are hustled, bums are trying to get money, and it's even happening in the daytime."
He told of a mom with two kids trying to get a caricature when two "nuns" with exposed breasts covered only with pasties walked by.
"Stop package liquor sales and do something about the buskers," he pleaded.
Two attorneys for ABC Stores, which have not created problems under the canopy, spoke against the ordinance.
"The only way to resolve this is to get rid of all beer on Fremont Street," said Chris Kaempfer, who doubts that stopping single sales will stop the issue of drunkenness.
Bob Gronauer, another ABC attorney, said the big issue is not packaged liquor "but the atmosphere of strip clubs on Fremont Street," referring to the casinos with outdoor bars with sexy entertainers.
"The patrons of those bars come into our stores and harass our employees. Intoxicated patrons like to shoplift. They come in with footballs of liquor," Gronauer said. "The environment allows all this to happen."
He questioned why the city allowed the Fremont Street Experience managers to tell mall businesses how to operate.
Jeff Victor, president of the Fremont Street Experience, said it's not true he doesn't like liquor stores, but said the mall has reached a saturation point, going from one to six and now four more want permits, bringing it to 10 in the four-block mall.
He said it's wrong to blame the outdoor bars in front of casinos, because there are no more of them than there were in 2002.
There was an ironic twist. The council, which doesn't want any more packaged liquor stores, carved out an exception for 12,000-square-foot or larger grocery stores or pharmacies to allow them to sell liquor on the mall. There is talk that CVS is interested in having a store on the mall and a grocery store might be interested.
Golden Gate's Mark Brandenburg pointed out that the exception for a grocery and pharmacy was "inconsistent with the purpose of the ordinance."
But lobbyist Mark Brown said bringing in a national drug store and a national grocery store is an opportunity to bring in Fortune 500 companies. Anthony and Councilman Steve Ross voted against the exceptions, but five others voted for them.
Ross noted the situation has gotten so bad that Stevens has his customers transported by limo between the D and the Golden Gate, so they don't have to walk through the mall and will feel safe.
"I, for one, plan to take appropriate action for this problem," Ross said.
City Attorney Brad Jerbic pointed out that similar party places such as Times Square in New York and Bourbon Street in New Orleans don't allow packaged liquor sales. But he also admitted, "This may be a situation that no matter what you do, you may not be able to regulate it."
He might be saying the same thing about the buskers when the time comes for that ordinance, which he will write.
In a way, it's reminiscent of the era when hookers were so openly aggressive on the Strip until John Moran was elected sheriff in 1982 and showed police could be aggressive, too.
But it's easier to regulate hookers soliciting a crime than buskers hawking for tips. The hookers may have their pimps for protection, but buskers have the ACLU.
Contact Jane Ann Morrison at jmorrison@reviewjournal.com or 702-383-0275.