Boy who accidentally shot himself will recover, father says
January 27, 2015 - 5:51 pm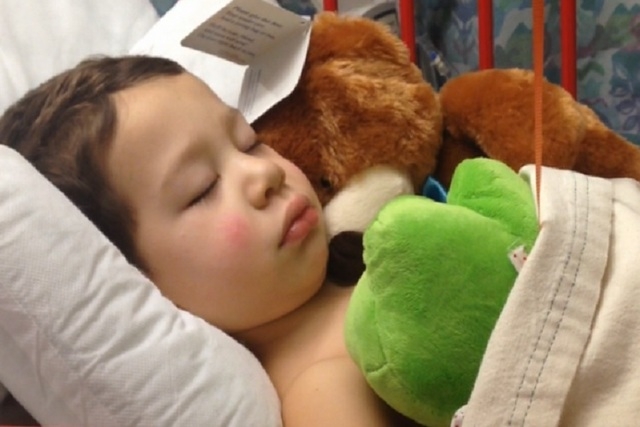 The boy who wounded himself in what police have called an accidental shooting is expected to make a full recovery following a successful surgery, his father said Tuesday.
Sammy Rosas, 3, was fetching a shirt for his dad from an upstairs bedroom when he found a pistol in a dresser drawer and fired a round through his right leg, said his father, Ed Rosas.
The bullet shattered Sammy's femur, but Rosas said doctors were able to reset the bone without complications.
Sammy, his father said, is back to his cheery self, albeit with some discomfort. Doctors also told the father that because of his son's youth and the location of the break, the injury shouldn't stunt his growth.
"I'm just very grateful," Rosas said.
The toddler's father called the accident "horrible." The boy had been upstairs for only two minutes when the gun went off. Rosas said he was getting ready to go look for his son when he heard what sounded like a TV falling onto the floor.
But when the family ran upstairs, they saw the gun, the blood and two holes in Sammy's right leg, Rosas said.
The father said he has taught his older children about gun safety. Sammy didn't know the weapon was in the dresser.
"I should have assumed that it could happen," he said. "I've always been the protector. Now because of my stupidity, my child is hurt."
Rosas said he plans on getting a fingerprint-encoded gun safe that only he and his wife will be able to open.
A Metro spokesman said the investigation by the department's abuse and neglect division is still open. No arrest has been made.
Clark County Department of Family Services has not commented on the incident.
Firefighters and police responded Sunday about 7:20 p.m. to the two-story house in the 9100 block of Sparklewood Court, near the intersection of Fort Apache and Gowan roads. The boy was taken to University Medical Center.
The father offered slightly different details from Metro's investigation. Police reported the boy's age as 4 and said he found the gun under a pillow.
Rosas, a bail bondsman, said his family had been insured through his wife's work until she was laid off in the fall. She was supposed to start a new job Monday, but Sammy's accident delayed that, and their new insurance coverage.
Friends of the Rosas family set up a GoFundMe account to help pay medical bills. The account had eclipsed $1,000 in pledged donations Tuesday afternoon.
Contact reporter Colton Lochhead at clochhead@reviewjournal.com or 702-383-4638. Find him on Twitter: @ColtonLochhead.