Brrr! Cold snaps that made history in Las Vegas.
Updated January 21, 2023 - 10:39 pm
Other states may laugh when they hear about "record-low temperatures" in Las Vegas. But temperatures in the single digits have caused trouble for pipes and vehicles in the valley over the past eight decades.
8 degrees on Jan. 25, 1937
This date marked the earliest-recorded official low temperature for the Las Vegas Valley.
8 degrees on Jan. 13, 1963
Las Vegas saw a record minimum temperature of 8 degrees on this day according to National Weather Service records, although the Review-Journal reported a low of 10 degrees.
Power outages impacted thousands of residents and exploding water lines were reported after nearly 48 hours of below-freezing temperatures.
The Las Vegas Valley Water District received a record number of calls for emergency crews. An unnamed appliance store said it had "the darndest run on portable heaters you've ever seen."
The R-J wrote, "From the way leotards were being purchased it would appear every woman in Las Vegas was going to start ballet lessons, but the gals were well aware of the warmth provided by the stocking-pant combination."
Elko reached minus 25 degrees while Battle Mountain and Ely reached minus 19 degrees. Reno dropped to minus 5 degrees, according to R-J reports.
9 degrees on Jan. 22, 1937
January 1937 saw several record-low temperature days, including an 8-degree low on Jan. 25, and 11 degrees on Jan. 9 and 10.
Las Vegas had a shortage of coal, and schools reported low classroom temperatures.
"For the first time within the memory of the oldest old-timer, a general epidemic of frozen water pipes was reported and many heating plants, installed for warmer minimum temperatures were proving inadequate to meet the cold wave," the R-J reported.
The paper noted at the time that the previous record low was set on Feb. 10, 1933, but was unofficial.
On Jan. 9, C.P. Squires, who owned the Las Vegas Age newspaper for several decades and also served as an unofficial weather observer in the early 20th century, reported a record low of 10 degrees, differing from the weather service's official record.
The R-J reported, "Both in Las Vegas and Boulder (City), shallowly buried water pipes all over town froze and many homes, service stations and business houses were without water.
"The winter supply of anti-freeze compounds for automobile radiators had run out in both communities and motorists were protecting against the results of freezing radiators by draining their cars."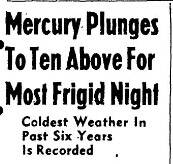 10 degrees on Jan. 19, 1943
The U.S. Weather Bureau, now known as the National Weather Service, reported 10 degrees on this day after a cold wave entered Nevada from California after temperatures reached the low 70s several days earlier.
The R-J reported people in North Las Vegas and other parts of the valley poured hot water on their pipes using teakettles to thaw them out.
Pipes at the El Rancho, which closed in 1992, froze in the laundry room. Several power transformers went out across the valley as homes tried to keep warm.
11 degrees on Dec. 23, 1990
The "Arctic Express" had no mercy as it traveled from Alaska to Southern Nevada.
This day marked a record low temperature for December in Las Vegas. The water district received 1,206 calls about frozen or broken pipes, and plumbers were swamped with repair calls.
Homeless shelters were crowded, as that Sunday marked the fifth day of a cold snap that spread to Nevada from Alaska.
Saturday saw a 12 degree low that left the Red Rock Canyon scenic loop closed due to snow and ice. A six-car pileup on State Route 160 near the conservation area left one child injured.
Heat tape and foam insulation was nowhere to be found at local hardware stores, and even apartment complexes that prepared their pipes for the freeze experienced bursts.
Reno experienced a minus 13 degree low, which was a record low for the day. Ely and Elko recorded minus 29 and minus 33, respectively.
12 degrees on Jan. 5 and 6, 1950
Pipes, once again, fell victim to a cold wave that fell over the valley and Southern California on these dates. Temperatures reached 12 degrees at 5:30 a.m. Jan. 5 in Las Vegas. Citrus groves were hit by frost in and around Los Angeles.
Citrus ranches burned smudge posts during the night to preserve their crops, and other farmers reported heavy damage to squash, tomato and peas.
The cold continued into the next day in Southern Nevada and California. The R-J reported, "Southern Nevada was still cold today! It might be a little warmer tonight, but not much!"
Reno reported a 2 degree low, with Elko reaching 9 degrees and Ely dropping to 4 degrees.
12 degrees on Jan. 6, 1971
A cold front from Oregon brought low temperatures to Nevada on this day. Ice clung to bushes and jungle gyms across the valley.
12 degrees on Jan. 3, 1974
While most of the valley saw a 12 degree low, Sunrise Manor reached as low as 8 degrees.
This record-low temperature followed a record snow day for the valley on Jan. 1, when 4.4 inches of snow fell.
The Nevada Department of Transportation sanded U.S. Route 95 from Las Vegas to Tonopah to combat icy road conditions, according to the R-J.
Nevada Power (now NV Energy) depleted its oil reserves as valley residents used more oil for heat. The company had been without natural gas for two days by this day, and a spokesman for the company urged residents to conserve energy by keeping thermostats at 68 degrees.
Thankfully, no power outages were reported during the storm. However, many residents' car batteries died and pipes froze over, according to an R-J survey.