Bullying becomes problem when buskers compete for spots — VIDEO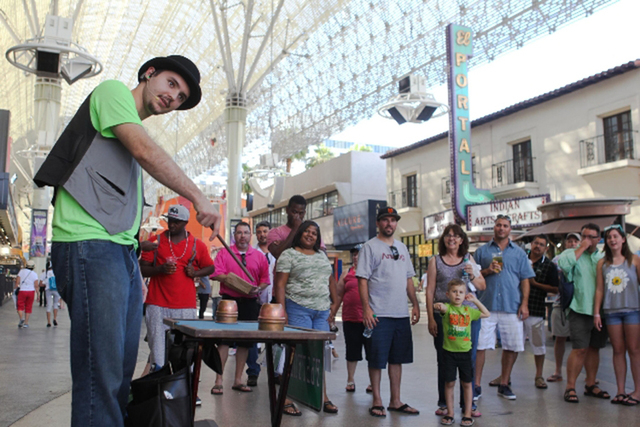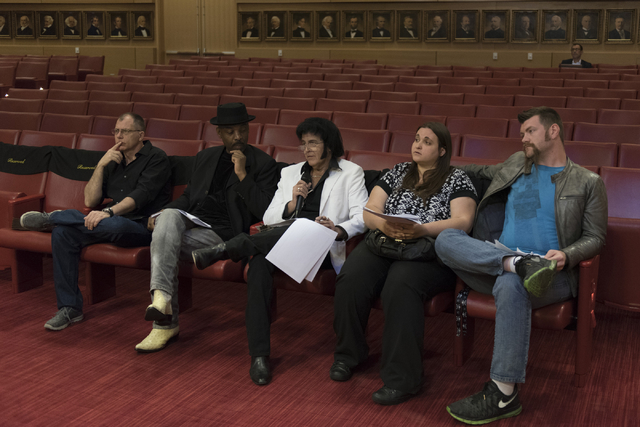 It hasn't been a happy song and dance in downtown Las Vegas as buskers adjust to the new laws and poker-chip performance zones.
During a meeting Thursday at City Hall, downtown performers told Las Vegas City Attorney Brad Jerbic that bullying has become an increasing problem as people vie for the busiest and most profitable spots to perform.
That bullying reached a breaking point recently, Jerbic said, when Las Vegas marshals arrested one of the buskers.
The incident started as a dispute over a vacant zone, Jerbic said, but ended with an arrest after authorities claim the man destroyed the audio equipment of a magician who was performing inside a performance circle.
The new regulations, which took effect in November, corral performers on Fremont Street to a 6-foot performance zone painted to look like an oversized poker chip on the pavement. Buskers enter a daily lottery for two-hour stints in the spots.
Most nights, not enough people put in for the lottery to fill all 38 zones, leaving several vacant. Those vacant zones are then up for grabs to whoever nabs it first.
Kelvin Gordon, a box contortionist who performs on Fremont Street, said bullying often starts with intimidation.
Gordon has had other buskers crowd around his circle while he was performing, trying to force him out. When he ignores them, he said, they tell him he needs to leave.
And when that doesn't work, Gordon said the bullies resort to trying to interrupt the performance, by either yelling or trying to distract his crowd.
Jerbic admitted busker bullying isn't a rare occurrence downtown.
"I would say it's persistent," Jerbic told the Las Vegas Review-Journal after the meeting. He added that both Fremont Street security and city marshals are patrolling the areas watching for disputes and disruptions. Marshals have issued six citations and made one arrest for violating the busker ordinance.
Besides the bullying, Gordon said the new zones have been "excellent" for him and his shows, and have "cleaned up the image of downtown Las Vegas."
Contact reporter Colton Lochhead at clochhead@reviewjournal.com or 702-383-4638. Follow @ColtonLochhead on Twitter.