California man says falling parachutist just missed I-15
February 23, 2015 - 8:30 pm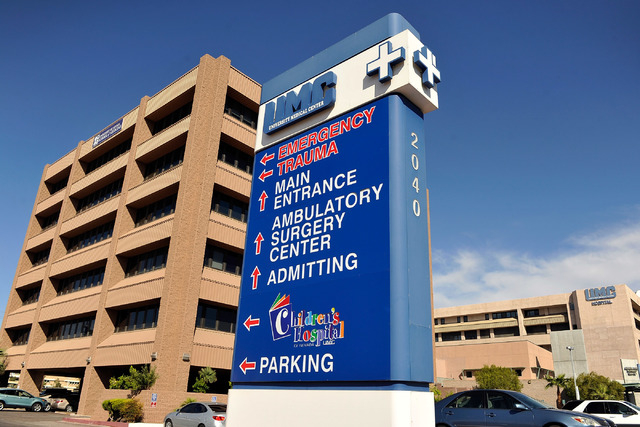 A California man heading home from Las Vegas said he saw a wayward parachutist drift just 20 feet over Interstate 15 on Sunday before crash landing near Primm.
"He could've been hit by a semi at this point," Eric Martinez of Rancho Cucamonga, Calif., told the Review-Journal on Monday.
Three parachutists had been descending, going in circular motions, when one split from the group, Martinez said.
"It didn't seem like he was in control any longer," Martinez said. The man landed about 25 feet from the freeway.
His parachute was fully opened, Martinez said, but his body appeared "lifeless" as he fell.
Las Vegas police say they received the call to I-15 near mile marker 7 just before 11 a.m. Sunday.
Nevada Highway Patrol trooper Chelsea Stuenkel said troopers responded to direct traffic in the area so a helicopter could rescue the fallen parachutist, who was taken to University Medical Center.
Authorities have not identified the male parachutist. His condition was not available Monday, but Las Vegas police said the day before that he had broken his back.
It wasn't clear where the other two sky divers landed.
They were jumping with Las Vegas Extreme Skydiving, based in Jean, Stuenkel said.
Employees who answered the phone for Las Vegas Extreme Skydiving refused to talk Monday.
It is unclear whether the injured sky diver works there, Occupational Safety and Health Administration spokeswoman Teri Williams said Monday. No report has been filed.
The company would not be required to file a workplace injury report unless three or more employees were hurt, Williams said, but that does not mean OSHA will not investigate if the agency determines the injured parachutist is an employee.
A post on Las Vegas Extreme Skydiving's Facebook page shows a group of eight were set to jump Sunday morning. A photo of the jumpers captioned "Sunday Funday" was posted to the page at 8:34 a.m.