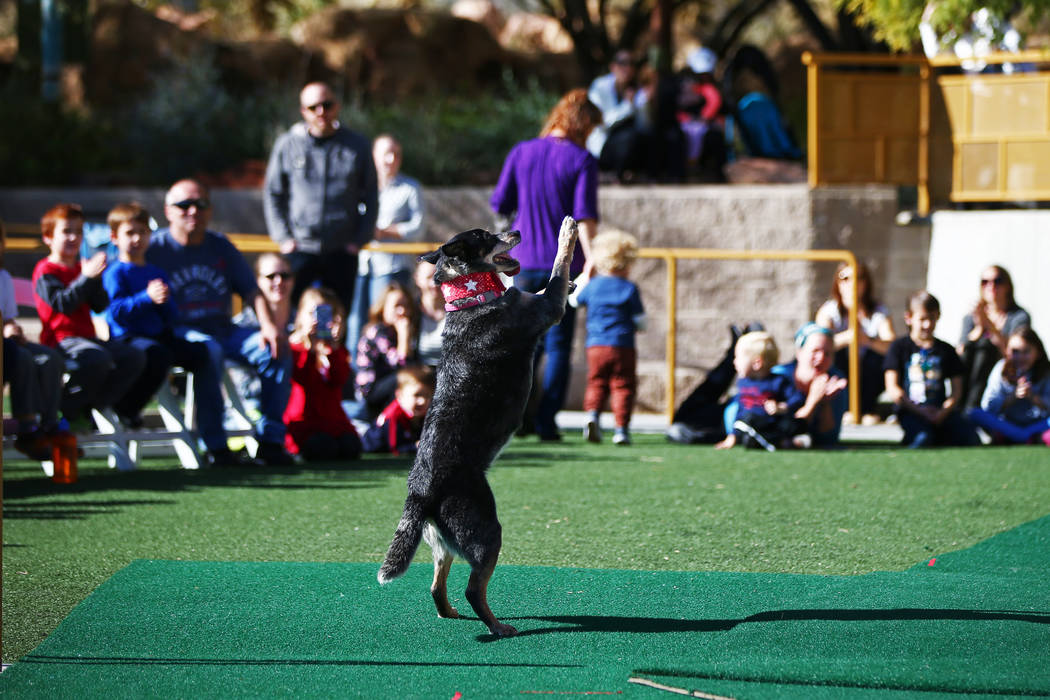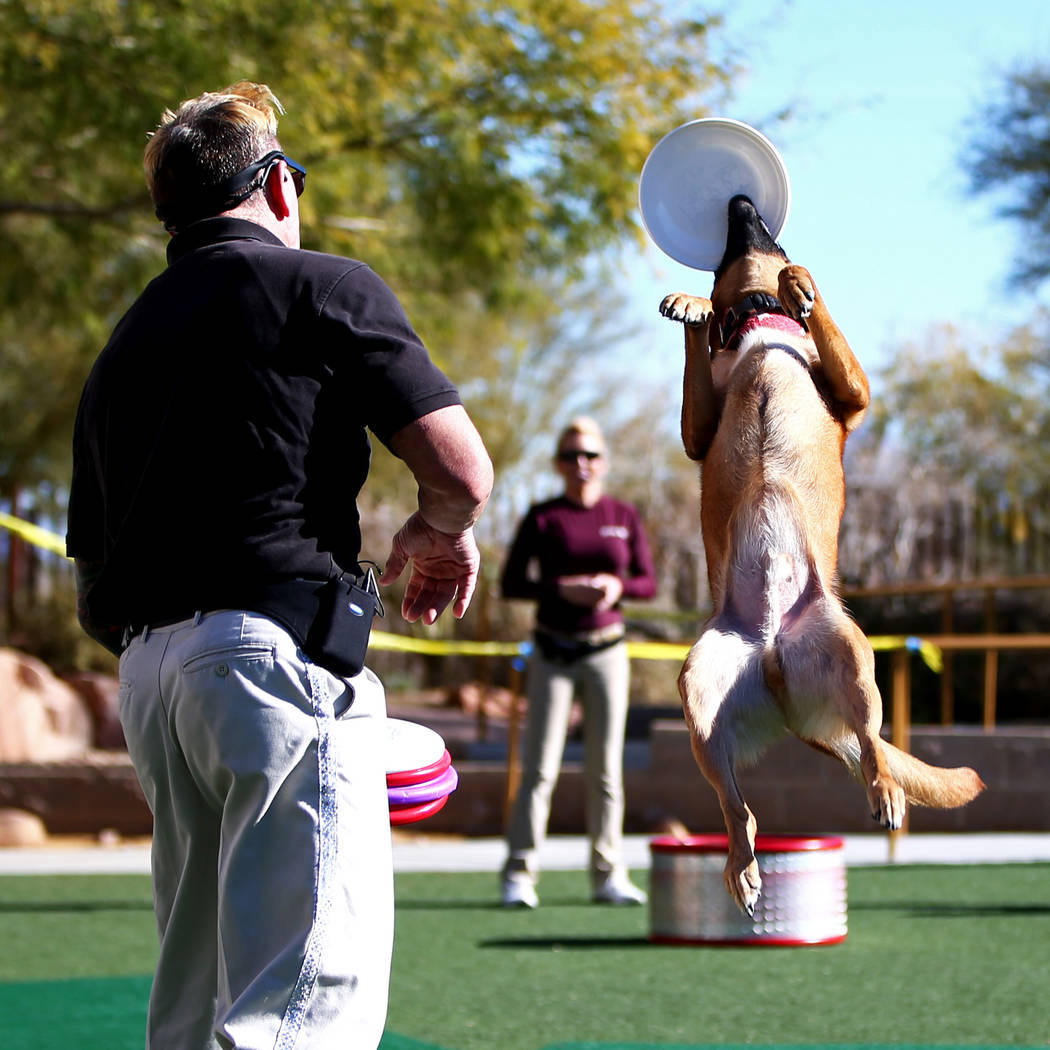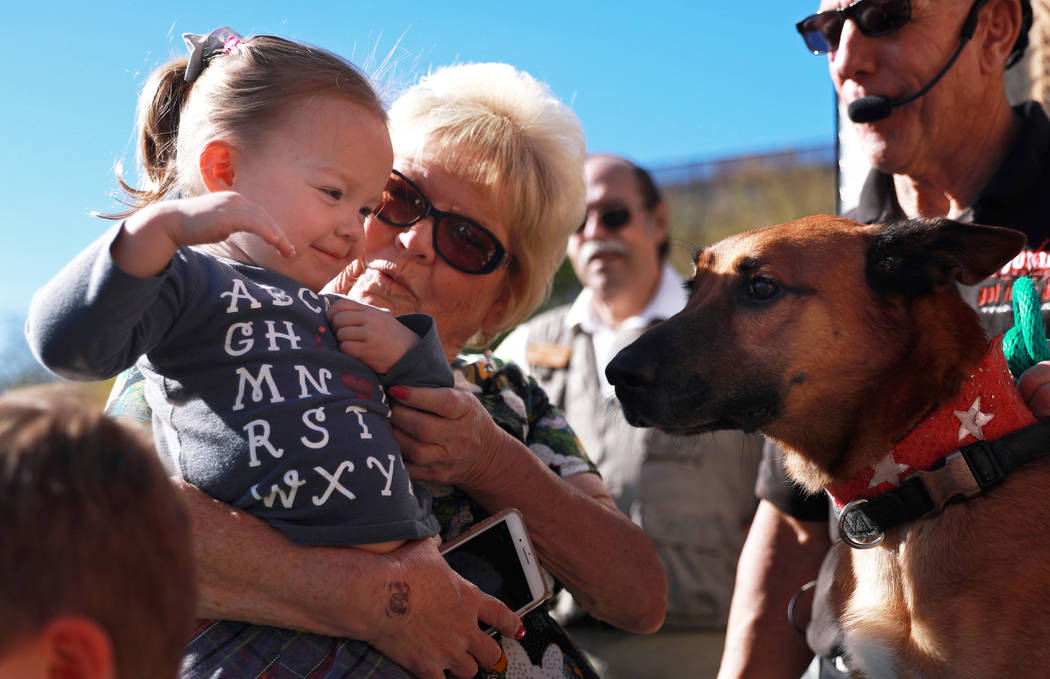 Kneeling children leaned eagerly toward the front of the lawn at the Springs Preserve Amphitheater to get a closer look at the four-footed airborne athletes leaping high hurdles and snatching flying discs in the midst of backflips.
In Jump! The Ultimate Dog Show, trainers Lou "Mack" McCammon and Mindi Lindsey guided seven dogs through a series of tricks, each stunt eliciting applause and awe from the audience.
Kids, many of whom had left chairs and parents' laps to get closer to the dogs, cheered and clapped with each canine feat. Their gasps and "whoas" grew especially loud when Kato, a Staffordshire terrier mix with black spots over her eyes, leaped onto a box and then soared over a 60-inch-high hurdle.
One small, nearly hairless dog perched on its two front paws on a trainer's outstretched hand.
"This is really fun, it's a great family activity," Springs Preserve spokeswoman Dawn Barraclough said. "We have live animal shows that switch about every three months and are a great way to learn about animals. And everyone loves dogs!"
The show had to be moved outside to accommodate large audiences, Barraclough said. The indoor theater where the show was originally held seats about 150 people and filled to capacity on both days of the show's first weekend, she said.
Barraclough said the Springs Preserve puts on shows that teach visitors about all sorts of critters, including bugs and venomous animals native to the Mojave Desert, and the venue's butterfly habitat will open in March.
"We try to really mix it up to give people a different experience every time they come, but the dog show has been extremely popular," she said.
Kyla Hall of Las Vegas brought her kids, 6-year-old Ashlyn Kidder and 1-year-old Bronson Hall, to the dog show and stood in line with them afterward to take their photos with Zee, one of the furry four-legged stars.
"We just wanted to get out of the house with the family," Hall said. "The kids think it's great, to see all the tricks."
Ashlyn said her favorite part of the show was "when the last dog jumped over that high bar." She has two dogs at her dad's house, but they don't know any tricks. "Yet," she added.
One of her dogs is a basset hound named Griswold. "Sometimes Griswold bites my leg or something. He doesn't know better. He's just 1," Ashlyn explained.
The squeaky toy test
As it turns out, Griswold might have just the right kind of energy that the show's trainers look for in their stars.
McCammon, who broke into the flying disc dog show circuit nearly 40 years ago, said he and Lindsey walk through shelters with a squeaky toy, searching for dogs with focus, drive and plenty of energy.
"They have that focus that beams right through you, and we like when they're jumping," said McCammon, whose Cooldog Productions is in Las Vegas. "That's usually why they end up in the shelters, because they're too energetic for the families. People will get a puppy and not understand that they grow up to be big dogs, so they end up back at the shelter."
Lindsey said many of the dogs that they've rescued from shelters, including from local groups such as the Animal Foundation, would have had to be euthanized because they couldn't be placed in homes with small children.
"We take all of that energy and we turn it around and train them with the disc, so they get to have a wonderful life that they're really made for," Lindsey said. "Now they're athletes and they're happy."
McCammon, 60, and Lindsey, 49, travel all over the country with a group of 15 dogs, all of them adopted from shelters and rescue groups, performing in competitions and at halftime shows at sporting events. Their work rescuing and training dogs wouldn't be possible without the support of Blue Buffalo, which provides the pair with high-performance nutrition for the young pups and senior dog food for the retired ones, McCammon said.
"We really like to teach people that any dog has what it takes to be an incredible dog with the proper exercise, proper training and excellent nutrition, big, small, young or old," he said.
"Or handicapped!" Lindsey added, referring to Nubs, the couple's three-legged, 3-year-old pit bull mix.
Contact Kimber Laux at klaux@reviewjournal.com. Follow @lauxkimber on Twitter.
Jump! The Ultimate Dog Show
Twelve remaining performances are scheduled. The show will be performed at 11 a.m. and 1 p.m. on Monday (Martin Luther King Jr. Day) and Saturdays and Sundays through the end of January.
The show is free with paid admission to Springs Preserve.
Springs Preserve is located at 333 S. Valley View Blvd., Las Vegas.
333 S. Valley View Blvd., Las Vegas