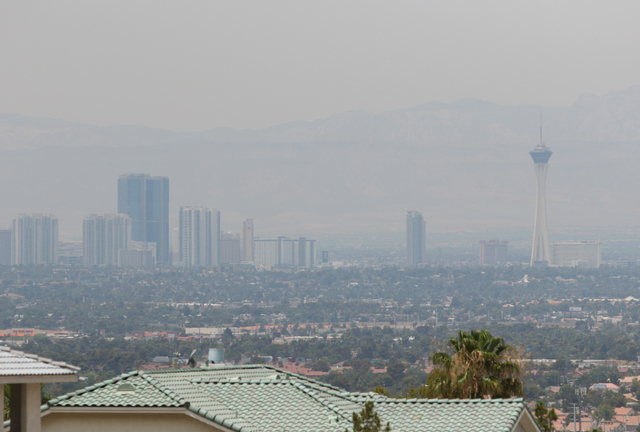 A season-long advisory for ozone pollution has been issued for Clark County through Sept. 30, according to the county's Department of Air Quality.
"We have made tremendous progress on improving air quality in the Las Vegas Valley over the years, but ozone pollution is a challenge for us, especially since the federal standard got more stringent," department Director Marci Henson said in a statement Tuesday.
Clark County was able to meet the previous standard of 75 parts per billion for eight-hour concentrations of ozone, but a new standard of 71 ppb was set by the Environmental Protection Agency in October 2015, according to the department.
The department offers the following ozone-related tips:
Reduce the time you are active outdoors when ozone levels are elevated, especially if you are engaged in a strenuous activity or have a respiratory disease.
Schedule activities for the morning or evening when ozone levels are usually lower.
Substitute a less intense activity. Walk instead of jog, for example.
Reduce driving; combine errands into one trip.
Don't idle your car engine unnecessarily.
Use mass transit or carpool.
Fill up your gas tank after sunset. Try not to spill gasoline when filling up, and don't top off your tank.
Keep your car well-maintained.
Consider landscaping that uses less water and gas-powered equipment to maintain it.
Turn off lights and electronics when not in use. Less fuel burned at power plants means cleaner air.
Contact Lawren Linehan at llinehan@reviewjournal.com or 702-383-0381. Follow @lawrenlinehan on Twitter.