Commission reprimands Las Vegas judge for false endorsements
Updated March 1, 2017 - 7:51 pm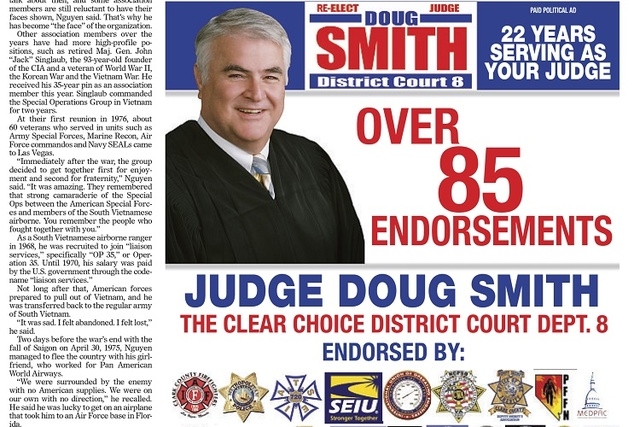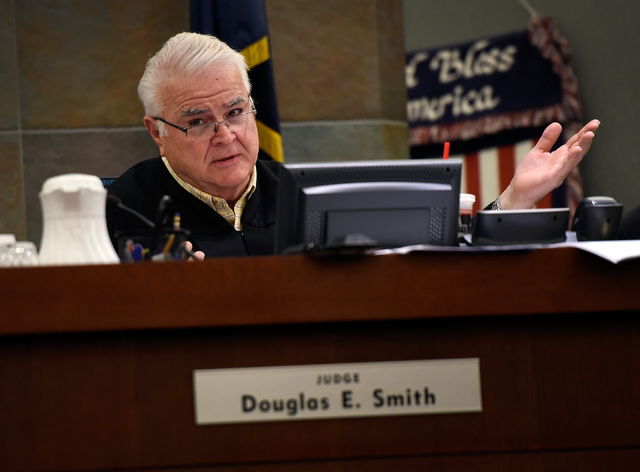 The Nevada Commission on Judicial Discipline issued a public reprimand this week against a Las Vegas judge who misrepresented endorsements from public agencies.
A 2014 campaign ad for District Judge Doug Smith indicated he was endorsed by the Nevada Department of Wildlife, the Nevada Gaming Control Board, the Nevada Department of Corrections and the Nevada Taxicab Authority.
But those agencies do not endorse political candidates.
According to the reprimand, Smith admitted he violated the first paragaph of the preamble to the Nevada Constitution, which requires him to "maintain the dignity of his office and avoid impropriety."
The judge also agreed that he neglected to take "reasonable measures" to ensure that no one else made false statements about his campaign.
At the time, Smith told a Las Vegas Review-Journal reporter that his campaign manager, Tom Letizia, was responsible for the ad, which ran four times in the newspaper, including Election Day of that year.
Smith was endorsed by the Nevada Association of Public Safety Officers, a union that serves several police associations, including the Nevada State Law Enforcement Officers' Association, Letizia told the Review-Journal. He did not explain why Smith's ad touted endorsements that the judge did not have.
Letizia told a commission investigator that Smith gave him a list of endorsements, according to the decision, "and he was certain he received (Smith's) approval for the ad in question."
Smith acknowledged to the commission that the "advertisement could be misleading" and that "he failed to monitor his endorsements and his campaign manager."
The judge could not be reached for comment on the reprimand.
Contact David Ferrara at dferrara@reviewjournal.com or 702-380-1039. Follow @randompoker on Twitter
Judge Smith Decision by Las Vegas Review-Journal on Scribd