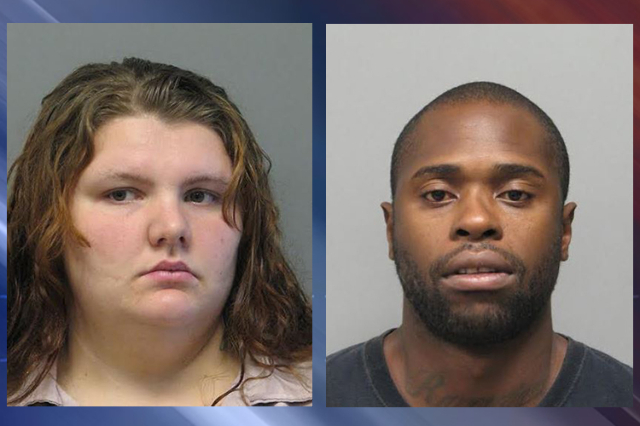 A couple in Las Vegas placed a plastic bag over 71-year-old Young Suk Sanchez's head and pulled out a cell phone, timing how long it would take for her to die, a prosecutor said Thursday.
After hitting Sanchez over the head and binding her body with duct tape, they watched and waited for nearly a half hour. When Sanchez's heart stopped, they stuffed her body in a travel bag and tossed it in an underground vault along Boulder Highway, authorities said.
Veronica Houck, 23, and Jamar Webb, 33, were indicted this week on murder, kidnapping, robbery, burglary and conspiracy charges in connection with the Aug. 20 killing, according to Chief Deputy District Attorney Marc DiGiacomo.
The couple first befriended Sanchez at a Motel 6 several weeks earlier.
"She had some concerns about them," the prosecutor said.
But Webb and Houck ultimately lured her to an apartment at Siegel Suites in the 4800 block of Boulder Highway, where Sanchez was killed, DiGiacomo said.
The prosecutor said a witness spotted Webb luring Sanchez to his apartment and hearing the victim fall, "and the victim is never seen again."
Around the time Sanchez was killed in August, court documents show, someone at an east valley 7-Eleven used her Chase debit card to buy an 85-cent beer. Her body was found about 1.5 miles away from the convenience store.
After the killing, the couple fled to Louisiana, where Webb had previously served nearly 17 years in prison on a first-degree murder conviction in which he killed a liquor store employee during a robbery, the prosecutor said. Webb had been free about four months before Sanchez was killed.
Sanchez' body was found Sept. 22 in an underground vault, when a Las Vegas Valley Water District crew was checking meters at the complex near the intersection at Flamingo Road. Webb and Houck were arrested in Louisiana less than a month later.
Houck and Webb arrested in Minden, La., on warrants issued in the killing of Sanchez, according to Las Vegas police.
Court records indicate that Webb's 1999 murder charge stemmed from Webster Parish, Louisiana, where he was arrested in connection with Sanchez's death.
Houck was arrested on a probation violation in Louisiana, where she "fully confessed" to the killing, DiGiacomo said. A woman with the same name as Houck has faced felony theft, identity theft, unauthorized use of an access card and check fraud charges from 2011 to 2013 in Webster Parish. She remains jailed in Louisiana, while Webb is scheduled to appear in Clark County District Court next week.
District Judge Jennifer Togliatti ordered both held without bail.
Contact reporter David Ferrara at dferrara@reviewjournal.com or 702-380-1039. Find him on Twitter: @randompoker