Deal clears way for Tule Springs Fossil Bed National Monument
December 3, 2014 - 1:10 pm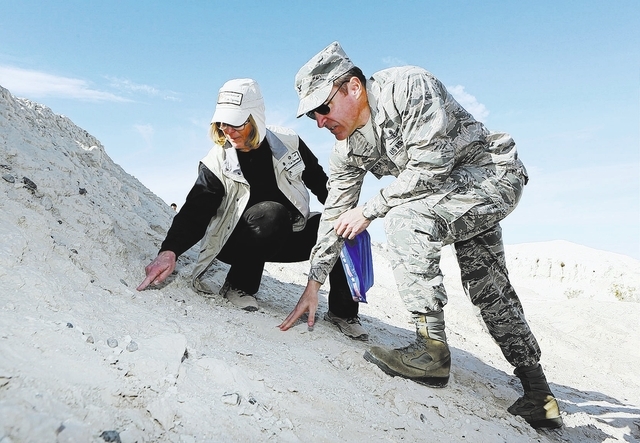 WASHINGTON — An agreement reached Tuesday evening on Capitol Hill clears a path for the creation of a 22,650-acre national monument in Southern Nevada, as well as a sweeping set of other federal land alterations that would establish new wilderness in the state and open thousands of acres to economic development, officials announced.
Western land legislation that would be cleared for passage in the final days of Congress would establish a Tule Springs Fossil Bed National Monument in the northern outskirts of the Las Vegas Valley.
It would grant long-sought protections to a patch of desert that has been prized by paleontologists for its trove of prehistoric artifacts, and by community leaders for its potential attraction to tourists.
The Tule Springs measure is in a group of five dozen natural resource initiatives that lawmakers agreed to attach to an annual defense program authorization bill — one of the few must-pass bills remaining before Congress adjourns.
The text of the bill was posted online Tuesday night in advance of final votes later this week and next week.
The national monument in Clark County was far from the only bill in the deal that would reconfigure public land in Nevada.
The proposals would:
■ Set aside 1,886 acres for use by the University of Nevada, Las Vegas for a new campus in North Las Vegas.
■ Allow the sale of 11,500 acres of land in Lyon County to the city of Yerington to support development of the Pumpkin Hollow Copper Mine, advertised as a major jobs generator in one of the poorer counties in Nevada.
■ Create the 49,000-acre Wovoka Wilderness in the largest remaining tract of wild country in Lyon County.
■ Create the 26,000-acre Pine Forest Range Wilderness in Humboldt County, one of the most highly visited outdoor recreation areas in the region.
■ Expand the Red Rock Canyon National Conservation Area in Clark County by 1,530 acres at the northwest corner of the Las Vegas Valley.
■ Convey 660 acres of federal land to the city of Las Vegas and 645 acres to North Las Vegas to establish "job creation zones."
■ Transfer 400 acres of Bureau of Land Management property within the Fallon Naval Air Station to the Navy for base housing
■ Release 10,240 acres along Sunrise Mountain for multiple uses. The property had been under study by the Bureau of Land Management but was rejected as possible wilderness.
■ Convey 1,211 acres within the BLM's Nellis Dunes Recreation Area to Clark County to be transformed into a park for off-roaders.
■ Grant 1,329 acres to the city of Carlin, in Elko County, for development while giving 1,745 acres to Storey County and 9,114 acres to Fernley in Lyon County.
■ Convey nearly 300 acres to the city of Elko for a motocross park.
The agreement was negotiated by a handful of senior House and Senate members, chairmen of the armed services and natural resources committees, and sponsors of the individual bills that included members of the Nevada congressional delegation.
"I'm pleased that important land bills for Nevada's economy have been included in the negotiated lands package," said Sen. Harry Reid, D-Nev. "Working with the delegation we are able to foster economic development while protecting Nevada's natural resources."
"It is a good day for Nevada and those who believe we can still do big things for our state," said Rep. Steven Horsford, D-Nev., a negotiator on Tule Springs and other Southern Nevada components of the package, and the provisions affecting Yerington.
"It was not an easy lift but the needs of Nevada were addressed, and I'm happy to achieve this goal," said Sen. Dean Heller, R-Nev. "As this legislation becomes law, it will not only spur economic development in our state but enhance national security as well. Those are things we should all be proud to accomplish."
One bill not covered by the agreement would require public land agencies to grant waivers allowing search and recovery teams timely access to federal parks.
The measure, called the Good Samaritan Search and Recovery Act, was sparked by incidents at Lake Mead National Recreation Area where families confronted red tape trying to recover the remains of loved ones within the park.
It was not immediately clear why that bill, which passed the House unanimously, was not in the package.
A Reid spokeswoman said the bill is considered noncontroversial and still could pass in the final days of the session.
Contact Stephens Washington Bureau Chief Steve Tetreault at stetreault@stephensmedia.com or 202-783-1760. Find him on Twitter: @STetreaultDC.