Developer has plans for Latino music venue downtown
October 30, 2011 - 1:00 am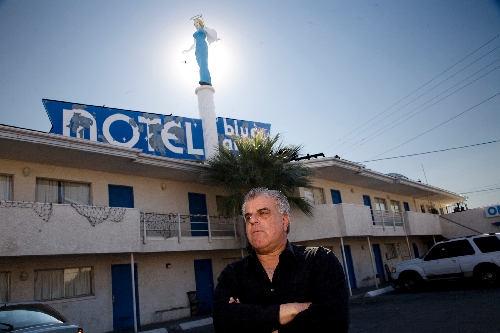 Arnold Stalk's plan to revive the rundown intersection at Fremont Street, Eastern Avenue and Charleston Boulevard is more than a redevelopment proposal.
It's redemption play.
Stalk, a longtime Las Vegas developer and former city housing chief who went bust when the banks crashed, wants to breathe life into a notoriously depressed neighborhood in a city that busted harder than anywhere when the economy unraveled beginning in 2008.
The idea is to replace what one city councilman called a longtime "no-tell motel" and several other dilapidated buildings with a restaurant and bar featuring live music, a large gas station and convenience store, and tens of thousands of square feet of retail space.
Stalk's first committed tenant is Saeed Shakeri, a naturalized American citizen from Iran who got a Nevada gaming license in 2005 and used his business acumen to turn the troubled Silver Saddle Saloon into a vibrant center for live Latino music. Stalk and Shakeri recently got City Council approval for an extension to reopen Club 2100.
"This is the hard part of redevelopment," Stalk said during a visit to the shuttered Club 2100, which is in the parking lot of the Blue Angel Motel.
The former resort-style motel with an iconic sign has devolved into little more than a flophouse in recent decades.
"The hard part is when you go into areas that have social problems, areas that have crimes, areas that have abandoned buildings," he said.
The master plan for the so-called Las Vegas Gateway Center was first approved last year by the City Council. The 2.7-acre Blue Angel property was acquired in 2005 for $6.65 million and is owned by Mary Bartsas 22 LLC. It's named for the late Mary Bartsas, a longtime real estate broker who, in addition to making deals for Howard Hughes and others, acquired a stockpile of real estate around the city.
Bartsas died in 2008. Her heirs hired Stalk as a development consultant. Other Bartsas properties on the same corner were acquired in transactions dating back to 1976 and valued at more than $1.5 million, according to Clark County property records.
Since the first Gateway approval, Stalk has been seeking to lure tenants like Shakeri and others willing to look past the boarded storefronts and see an intersection of several major streets with as many as 80,000 cars daily and a new express bus line between downtown and Henderson.
Stalk sees a supermarket, neighborhood shops, a pharmacy and restaurants eventually replacing the blighted properties.
The iconic Blue Angel sign, designed by Betty Willis, designer of the "Welcome to Fabulous Las Vegas" sign, would be incorporated into a sign welcoming people to the neighborhood.
Before the vote to give Club 2100 up to 12 months' breathing room to open for business, Ward 3 Councilman Bob Coffin, who represents the area, said the vote was more than a mere procedural hurdle.
"This may bring it back," he said. "This may give new life to this old soul."
Coffin, 69, who has lived much of his life in the neighborhood, remembers the area in more vibrant days when locals would visit the Blue Onion drive-in to bask in air conditioning piped into their cars and the Blue Angel welcomed visitors with less-than-angelic activities in mind.
"It was a 'no-tell motel' basically," Coffin said. "Many local people would use it as a little bedroom away from home."
More recently, the motel gained notoriety locally as a subject in the book "My Week at the Blue Angel," by Matt O'Brien, a compilation of stories about life in the seedy corners of Las Vegas.
O'Brien said Club 2100 didn't lack for business during his time in the neighborhood. It was closed because the previous owner didn't keep current on debts or control crime on the property.
"I think he's maybe onto something," O'Brien said of the plan to reopen the club with better management and a focus on Latino music. "It was totally packed in there, totally loud and doing really good business. There is clearly a market for that kind of clientele."
Whether the area can approach the vibrancy of Fremont East, as Stalk suggests, is another matter. The Las Vegas Gateway Center site is more than a mile east of Fremont East, where foot traffic from Fremont Street Experience tourists, El Cortez casino customers and hipster locals supports several bars and nightclubs.
"I think it is going to take a long, long time for that progress to trickle all the way east to literally the bottom of Fremont there," O'Brien said.
Although the proposal has skeptics — former Mayor Pro Tem Gary Reese said last year he was "pessimistic" anyone could finance such a plan — Stalk and Shakeri are undaunted.
Stalk has firsthand experience with rebuilding. His résumé contains several pages of development and redevelopment projects in Las Vegas and Los Angeles dating back decades. Yet he was wiped out and forced to file for bankruptcy in 2009 after Community Bank of Nevada, where his company, Metro Development LLC, had an $800,000 loan, went under.
According to Stalk, the Federal Deposit Insurance Corp. called in his loan when it took over the bank. Because of the real estate crash, he didn't have assets to cover the debt. Court records show the parties settled, with Stalk agreeing to pay $25,000.
The experience cost Stalk his home and much of his personal property, but he says the experience of diving back into a development project, especially one in a troubled area, is gratifying.
"There has been such a mood of negativity out there," he says of the development community. "There just needs to be a real positive message of, 'It is going to be OK.' I think if some people heard that their whole outlook would change."
Shakeri also has experience rebuilding businesses.
In 2005 he got a gaming license and for $5.5 million bought the Silver Saddle, a longtime bar and casino plagued with crime. He described drug dealers sitting down at low-roller blackjack tables and peeling off thousands of dollars in cash to play.
He installed new security systems, pushed out drug dealing and focused on creating a Latino music venue where customers could feel safe partying all night long.
Shakeri said it was difficult at first, because gambling revenue fell from as high as $20,000 on a weekend night to as little as $2,000. But it paid off .
"I lost some major business," Shakeri said. "But, believe me, I would rather have it that way than a gang war in there."
Shakeri sold the property in 2008 for more than $10 million, and the subsequent owner, Lumax Gaming, couldn't keep the good times rolling. Lenders foreclosed on the subsequent owners and hired an operating company to run the club.
Club 2100 is an opportunity for Shakeri to re-create what he built at the Silver Saddle, only better, because the new bar has a full kitchen that will allow him to sell food to customers hungry from singing and dancing all night.
At the Silver Saddle, "we didn't have a restaurant. If I had had breakfast, it would have been great," Shakeri said.
In addition to tight security, Shakeri and Stalk are installing a new fire sprinkler system and cleaning out the entire club. Shakeri said he learned from the Silver Saddle that a robust Latino music lineup will play well with working-class Hispanic customers in the area.
"We had a good relationship with the bands. I don't think the Saddle is providing the service these guys like," said Shakeri, who wants to open by Dec. 31. "I would like to get this place open and get them the service they deserve."
Jack Crane, manager at the Silver Saddle, said the club still has Latino music every night and would be ready to compete.
"We'll just have to see how they do it up the street," he said.
Contact reporter Benjamin Spillman at
bspillman@reviewjournal.com or 702-229-6435.