Dog owners sue North Las Vegas police over pet shootings
September 12, 2014 - 5:41 pm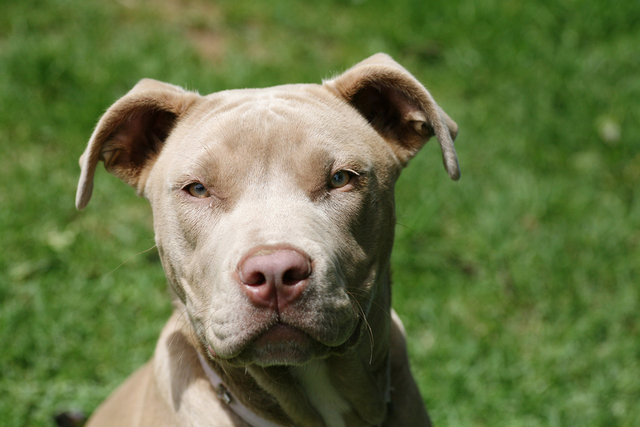 A Las Vegas couple claim North Las Vegas police violated their civil rights in 2012 by fatally shooting their dogs.
Thomas Walker and his live-in girlfriend, Cathy Cataldo, filed a federal lawsuit Thursday against the North Las Vegas Police Department and two officers involved in the shooting, Paul Maalouf and Travis Snyder.
According to the lawsuit, the Police Department unlawfully permits its officers "to shoot pet dogs during the execution of search warrants even though there are no reasonable justifications to shoot the dogs."
Walker and Cataldo were living at 6253 Rocky Mountain Ave. with their two pit bulls, Pinky and Blue, when North Las Vegas SWAT officers served a drug search warrant on Sept. 14, 2012, at the home near Carey Avenue and Hollywood Boulevard, according to the lawsuit.
The lawsuit claims the dogs were running toward the backyard, away from the officers, when they were shot. It describes Pinky as "just a puppy."
"The dogs did not bark, approach, or come into contact with the officers at any time," the document alleges.
In an email Friday, North Las Vegas police Sgt. Chrissie Coon said 2.3 grams of methamphetamine and a stolen handgun were recovered during the search, and one person was arrested on three felony counts in connection with the investigation.
"When officers are serving a court ordered search warrant, they are faced with the challenge of providing safety for the neighborhood, the officers involved, the dwellings' occupants, and any animals involved during dynamic, high risk situations," Coon wrote.
Attorney Maggie McLetchie, who represents the plaintiffs, said Walker was arrested at the scene. She also said police had conducted surveillance of the home, which had a "Beware of Dog" sign posted outside, before the SWAT raid.
"The police officers knew and should have taken better precautions," she said.
According to the lawsuit, North Las Vegas police used force on dogs 10 times in 2012 and killed eight of them. Through Oct. 31 of last year, according to the lawsuit, North Las Vegas police used force on dogs seven times, and all seven died.
"On a personal level, I have two pit bulls, and my heart goes out to anyone whose dogs have been shot by officers," McLetchie said.
The lawyer said she understands that officers need to protect themselves and the public, but many incidents "appear to indicate that there's a shoot-first-ask-questions-later approach to dogs, especially pit bulls."
"Just because a dog's a pit bull doesn't mean it's vicious and should be shot on sight," McLetchie said.
Several incidents are listed in the lawsuit, including one on Feb. 8, 2008.
On that date, North Las Vegas SWAT officers served a search warrant at the home of Louisa Thurston, whose husband was wanted on armed robbery charges. Her mastiff and pit bull were fatally shot.
The Las Vegas woman filed a civil rights lawsuit, which is pending in U.S. District Court, against the Police Department and six officers.
State Sen. David Parks, D-Las Vegas, has requested legislation to require police training that would help them avoid shooting dogs. McLetchie said she supports such legislation.
Contact reporter Carri Geer Thevenot at cgeer@reviewjournal.com or 702-384-8710. Find her on Twitter: @CarriGeer.