Dog that killed Las Vegas boy had fought with another dog in July, wasn't deemed dangerous
August 19, 2016 - 6:42 pm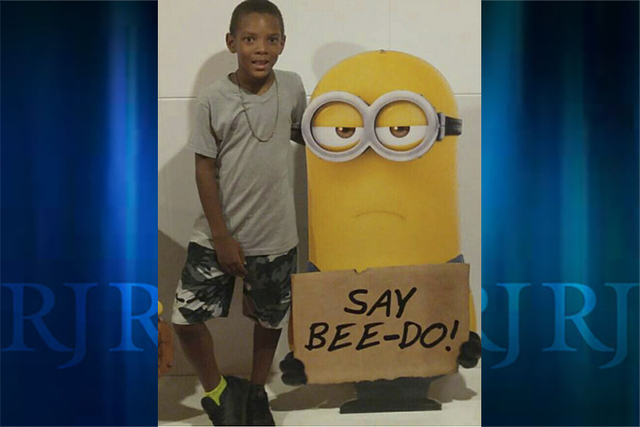 The pet "pit bull mix" that mauled and killed a 9-year-old Las Vegas boy Wednesday had been involved in a fight with another neighborhood dog in July, but Clark County animal control didn't deem the animal dangerous or vicious at the time, county officials announced Friday.
The day of the dog fight, the pet's owner was also cited for not neutering it and ordered to do so. When the boy was killed, the dog still hadn't been neutered — a procedure veterinarians say can make a dog less aggressive.
The boy, Derion Stevenson, died at Sunrise Hospital and Medical Center late Wednesday after the dog, named Left Eye, attacked Derion while he was visiting a friend's house about 3:35 p.m. in the 6400 block of Duck Hill Springs Drive, near Desert Inn Road and Hollywood Boulevard.
Police haven't confirmed if the dog slipped out the front door or was intentionally let out before the quick, fatal attack. The dog was euthanized early Thursday.
The dog fight announced Friday happened July 11, county spokesman Dan Kulin said. A neighbor told animal control she had been walking her Labrador retriever that day — in the same neighborhood where the boy was killed —when Left Eye attacked the Labrador.
Left Eye's owner told animal control the Labrador initiated the fight. At the time, both dogs were scratched, but neither suffered significant injuries.
"County Animal Control has the authority to declare a dog dangerous or vicious, which could result in a dog being removed from a home," the county said in a statement Friday. "However, the July incident was not serious enough to warrant a dangerous or vicious declaration."
In order to deem a dog dangerous or vicious, "the victim animal would have to sustain substantial bodily harm or die as a result of the altercation," the statement clarified.
Still, on the day of the dog fight, animal control officers cited Left Eye's owner for failing to neuter the dog, as well as failing to vaccinate it for rabies.
"Dogs who are not neutered do tend to be more aggressive," said Orlena Tampira, a veterinarian with Craig Road Animal Hospital. All valley dog and cat owners are required to spay or neuter pets 4 months or older under ordinances that were originally meant to help lower shelter euthanasia rates, she said.
But Tampira said "there are other advantages" to neutering pets.
"When you do neuter a dog, they can become more docile," she said. That's because after a dog is neutered, the dog has no testosterone, and the presence of testosterone makes dogs more inclined to "act as an alpha" and be disobedient, she said.
It's unclear if Left Eye's original owner will face consequences for not neutering the dog. Though the July dog attack was in the same neighborhood as Derion's fatal mauling, the dog owner cited then was not the same person in custody of the dog Wednesday, when Derion died.
It's unclear if Left Eye had been moved to a different, nearby house with his new owner sometime in the last month, or if Left Eye's previous owner moved out.
As of Wednesday, animal control had responded to 196 dog-versus-dog altercations, according to the county. In five cases, the dogs involved were deemed dangerous. None was deemed vicious.
As of Friday, detectives still hadn't determined whether Left Eye's current owner will face charges in connection with Derion's death. Police said the investigation is ongoing.
Contact Rachel Crosby at rcrosby@reviewjournal.com or 702-387-5290. Find @rachelacrosby on Twitter.