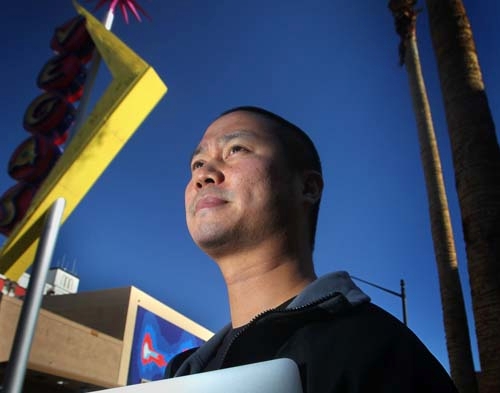 Add another prominent piece of Las Vegas real estate to the Downtown Project inspired by Zappos CEO Tony Hsieh.
Fremont LV Blvd. LLC., a company that lists Hsieh as its sole officer, recently closed a $4.1 million transaction to acquire the former 7-Eleven building just east of the Fremont Street Experience and at the gateway of the Fremont East entertainment district.
Hsieh and others involved with the Downtown Project envision the building, now largely empty and marred by graffiti, as a future gathering place for community groups, entrepreneurs and others who want to work in downtown Las Vegas.
"We're still working on the details, but the idea is to provide more space for different community groups to gather in," Hsieh said in an email.
In addition to the former 7-Eleven, the building houses the Downtown Cocktail Room and the Griffin, which are taverns, a kabob restaurant and pizzeria.
Michael Cornthwaite, a friend of Hsieh's who urged him to move Zappos downtown, owns the Downtown Cocktail Room.
Zach Ware, a Zappos employee who coordinates much of the Downtown Project, said that the focus will be on the former 7-Eleven and that there are no plans for changes to the operating businesses.
"We just know there is a big empty space in the middle that needs some activity," Ware said.
Since the online shoe and apparel retailer announced plans to take over the former City Hall building at 400 Stewart Ave., interest in the area has surged, especially within technology and creative communities.
Ware said attendance has been strong at community-organized Tech Jelly events, informal meetings for technology entrepreneurs, which shows demand for more space for people to get together.
And while neither Ware nor Hsieh has specifics on what they will do to convert the former 7-Eleven into something useful, Ware is confident it will be an improvement from the status quo.
"About a year ago, a few people in the community started working to bring the tech community together by starting the Tech Jelly," Ware said in an email. "Since then, companies have formed, companies have moved here, we've had two startup weekends and more. Space was the thing that made that happen. Imagine what could happen if a dozen more communities of passion could form in things like music, fashion, woodworking, etc."
According to Clark County property records, the deal between Fremont LV Blvd. and seller Mele Pono Holdings closed Feb. 17.
Federal court records show that Mele Pono filed for bankruptcy in Nevada in 2008 and that the case was resolved in 2011.
The Downtown Project and related entities have made a big splash in Las Vegas since 2010 when Zappos, a subsidiary of Amazon, announced it would move its corporate headquarters from Henderson to downtown Las Vegas.
The move is designed to give Zappos a place to grow while remaining true to a company culture built on passion, collaboration and what Hsieh calls "serendipitous interactions," fostered when people with ideas for projects and businesses work in close proximity to one another.
Zappos, with Amazon and developer Resort Gaming Group, are funding the conversion of the former City Hall to a corporate headquarters.
Resort Gaming Group purchased the structure for about $18 million and will lease it to Zappos, which is investing tens of millions of dollars to renovate the building.
The Downtown Project and related entities are funded through about $350 million from Hsieh and other investors. It's a complement to the Zappos move aimed at seeding startup ventures and cultural events.
Contact reporter Benjamin Spillman at bspillman@reviewjournal.com