Downtown Summerlin's cool spot: Rock Rink
November 30, 2014 - 8:05 pm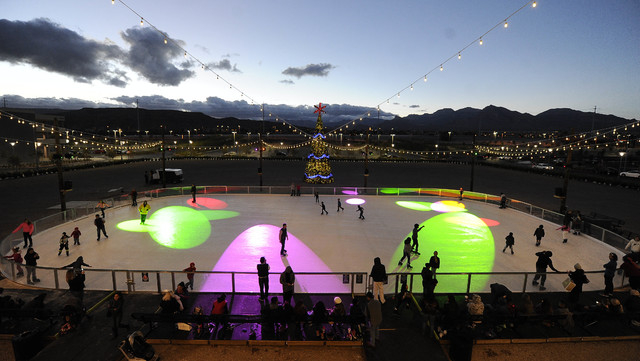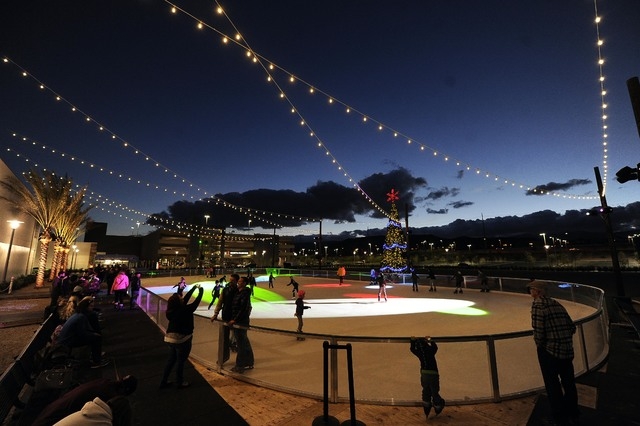 As soon as the sun set, the sky dimmed and the lights took over. The ice skating rink in Downtown Summerlin was ready to make your shopping experience a little brighter.
The recently opened shopping center, near the 215 Beltway and Sahara Avenue, unveiled its ice rink, the Rock Rink, on Friday afternoon in light of the holiday season.
The Rock Rink is 60 feet by 120 feet of real ice that's kept cool by a chilling machine, Senior General Manager Andrew Ciarrocchi said.
From Thanksgiving weekend through mid-January, you can find the ice rink near the mall's north parking garage, right next to the 30 foot Christmas tree. The tree adds to the rink's experience with lights shows every hour from 4 to 10 p.m. And on Friday and Saturday nights, a local disc jockey will spin the rink's music. Visitors can get the music, the lights and the skates all for $15.
The rink, lined with yellow Christmas lights and swiveling multicolored strobe lights, played popular holiday songs through its speakers all around the rink on a rather windy Saturday night. About 50 people of all ages skated through the rink or hovered over the edges to talk to those sitting on benches.
Off to the side, sits a purple food truck for The Coffee Bean &Tea Leaf, ready to warm up crowds with selected coffees, lattes or the classic hot chocolate or vanilla drink.
Ciarrocchi said the rink's Friday debut was just a soft opening to see whether its addition would be a success.
To his delight, the first day's turnout was indeed successful and more people were heading out to the rink the next morning. Just like Ciarrocchi, residents were pleased with the ice rink, but the location really won them over.
"We wish there was a permanent ice rink over here," resident Miguel Avecilla said, noting how close the rink was to his house.
Avecilla, said he and his family, who were skating at Downtown Summerlin, often go to the ice rink at Fiesta Rancho, 2400 N. Rancho Drive. Since the Avecillas are regulars at the mall, they said the Rock Rink would be a frequent stop during their shopping trips.
There are five other ice rinks in Las Vegas: the SoBe Ice Arena at Fiesta Rancho, the Las Vegas Ice Center, the Boulder Highway and Rancho Boulevard locations of Crystal Palace Skating Center and the seasonal ice rink at The Cosmopolitan of Las Vegas.
The Rock Rink is open 4 p.m. to 9 p.m. Monday through Thursday; 4 p.m. to 10 p.m. Fridays, 10 a.m. to 10 p.m. Saturdays and 11 a.m. to 8 p.m. Sundays. The rink will be open from 10 a.m. to 10 p.m. on school holidays.
Contact reporter Cassandra Taloma at ctaloma@reviewjournal.com or 702-383-0381.