Health district board votes not to add trauma center designations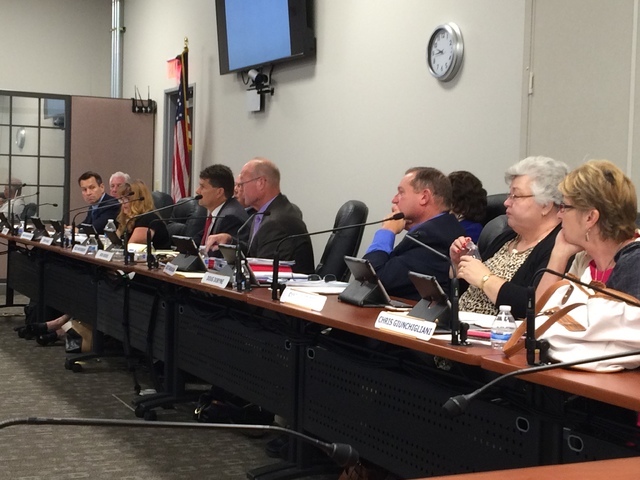 The Southern Nevada Health District's Board of Health voted June 23 not to green light new trauma centers in the Las Vegas Valley. Three hospitals — Centennial Hills, MountainView and Southern Hills — applied to receive Level III trauma center designation.
The Office of Emergency Medical Services & Trauma System (EMS), which provides medical direction and protocols for Clark County's emergency response system, found they did not demonstrate the need for additional trauma services and could not be recommended for authorization.
The board's 7-2 vote saw board members Bob Beers and Douglas Dobyne entering dissenting votes. The vote followed a month-long public input period.
There are four levels for trauma centers. Levels I and II handle the most severe cases and have the greatest amount of on-site resources available. Level III is for people who come in by ambulance and have been in traumatic situations but are stable. Level IV patients can be taken to the emergency room by family or friends and need to be treated and evaluated to decide if they need to be taken to a more sophisticated trauma center.
Currently, the valley has only one Level III trauma unit at St. Rose Dominican Hospital — Siena Campus in Henderson, with Sunrise Hospital & Medical Center, 3186 S. Maryland Parkway, the only Level II unit. The only Level I unit is at University Medical Center of Southern Nevada (UMC), 1800 W. Charleston Blvd.
UMC Department of Trauma Services Medical Director John Fildes spoke against allowing more trauma centers, saying, "Where are these patients going to come from? Not just UMC. I mean, Sunrise will lose a portion of their patients, and so will St. Rose."
He said there were no instances in which patients or EMS could not access a trauma center in a timely manner. Fildes also said that doubling the number of trauma centers at one time was unwise and dangerous, adding that local, regional and national benchmarks had not been met to warrant their addition.
The needs-based assessment task force looked at the impact of the three centers and patient needs. Its report showed that UMC sees roughly 12,000 patients each year at its trauma center, with about 3,000 categorized as moderately to severely injured.
At St. Rose Dominican — Siena, Level III/IV trauma patients in 2014 numbered 368; while there were 277 at Centennial Hills Hospital, 6900 N. Durango Drive; 641 at MountainView Hospital, 3100 N. Tenaya Way; and 541 at Southern Hills Hospital, 9300 W. Sunset Road.
A 2006 study in the New England Journal of Medicine reported there was almost no difference in the outcomes of patients treated at an emergency room versus those seen at a Level III trauma center.
Costs come into play. A Level III trauma designation means that the hospital can charge a trauma activation fee, which can be almost $10,000. Plus, with every treatment, drug and procedure, there is an additional fee at a trauma center further elevating costs, opponents noted.
Fildes defended the trauma activation fee at UMC, saying it was "the cost of being prepared 24 hours a day."
Public comment was taken from a number of people, including John A. Coldsmith, chief nursing officer at Centennial Hills Hospital.
He made a plea for Centennial Hills to be considered for the new designation, citing its growth from 171 beds to 250 and having more than 700 physicians on staff, making it, he said, "well prepared to be a Level III trauma center … cost needs to be considered, but what about care? Nevada ranks near the bottom in so many categories."
Those opposed had other ideas. Pam Udall from the UNLV School of Medicine said more Level III centers would have a detrimental impact on the school's medical students' ability to gain expertise in vital areas.
Brandon Snook, a trauma surgeon with the Air Force, said its partnership with UMC would similarly suffer if Level III centers opened.
County Commissioner Chris Giunchigliani said she was disillusioned by the way the application process had played out in the past.
"With no disrespect to HCA and Sunrise, they never should have gotten the designation of a trauma II. It was not recommended in 2004, which started this whole ball rolling," she said. "… Their two lobbyists went directly up to Carson City, and with a dear friend, Gov. (Kenny) Guinn, directed that the trauma II be designated. That started the fictionalization in this piece. That's when activation fees came in, and it became about money, not necessarily quality of care."
She said the geographic numbers did not appear to bear out the need for more trauma centers and that the board should take a step back and look further into whether there was truly a need. Giunchigliani pointed out that a trauma designation could not be reversed once it was granted.
To reach Summerlin Area View reporter Jan Hogan, email jhogan@viewnews.com or call 702-387-2949.