Hundreds take part in PRIDE parade through downtown Las Vegas
October 20, 2018 - 12:46 am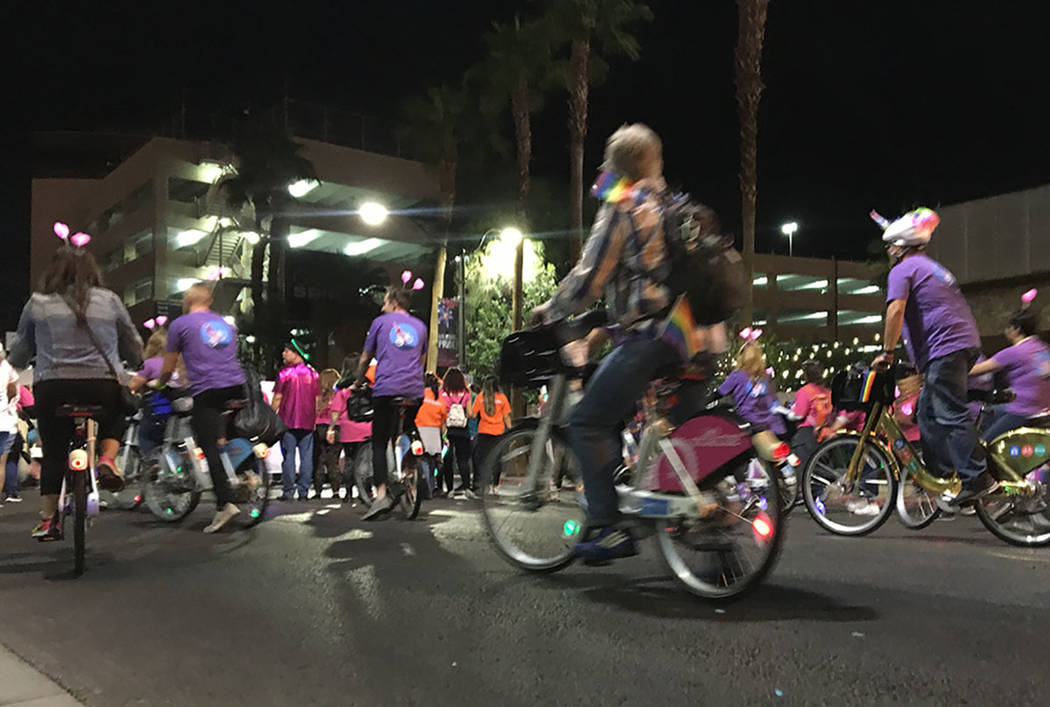 Hundreds of people swarmed downtown Las Vegas on Friday night – some donning brightly colored flags, hats, clothes and accessories, and others wearing barely any clothing at all – to celebrate at the Las Vegas PRIDE Night Parade.
"It's just a day that we all come together, and we can be who we want to be. There's no judgment anywhere, for any reason," said Christian Haworth, 32, a Clark County School District teacher. "I think Vegas is very accepting, but it has its little pockets where you're always concerned what people are going to think of you initially.
"When we're in a big environment like this, it's different," Haworth said. A rainbow sticker sparkled on his right cheek. "We're all accepted. Nobody's looking around, nobody's worried about it. We're just happy."
Trish Karr, 49, grew up in a small town in Oregon and said she's happy to finally be able to express herself.
"It's just really nice to be out of the closet. I'm bisexual. I have been since I was a young girl," Karr said. "Where I came from, that's not accepted. So I always went the way everybody told me to go. My mother never figured out why my girlfriend came over every weekend to see me. It was a two-hour drive."
Kristina Spurlock, 46, went to the parade to support Karr.
"I think it's amazing that we get to a point in time where people can be out about who they love, and that people can just accept that love is love, regardless of who that is," said Karr's friend, 46-year-old Kristina Spurlock. "I think this is a great way to celebrate that."
Tori Owens, 23, and Jessey Heller, 28, attended the parade, in part, to celebrate their first wedding anniversary.
Heller said she appreciated that she and her wife, who married Oct. 24, 2017, did not face the same hardships as earlier generations in the LGBTQ community.
"We're celebrating just the freedom to be able to be out about it," Heller said. "Anyone is welcome here. No haters."
Others attended the parade to celebrate the increased representation.
"Vegas is very straight," said Michael Grogitsky, 25, of Las Vegas, gesturing to a photo of a woman's legs, plastered on the side of the D Las Vegas.
"I only see women's legs, women's bodies," Grogitsky said. "I'm gay. I don't really care for that stuff. So it's cool to be here, where it's like me – not just tailored to women or people who like women."
Contact Kimber Laux at klaux@reviewjournal.com. Find @lauxkimber on Twitter.
Las Vegas PRIDE Festival
PRIDE events continue Saturday and Sunday during the 35th annual Las Vegas PRIDE Festival at Sunset Park, located at Eastern Avenue and Sunset Road. The celebration of diversity is open to everyone, and offers entertainment, 100 exhibitors, a food court and drink stations, according to the festival's website. The event is pet friendly and is combined with Las Vegas PRIDE Pets.
Hours are from noon to 10 p.m. Saturday and 11 a.m. to 8 p.m. Sunday.
Adult tickets are $15 per day or $20 for a two-day pass, while tickets for children ages 8 to 17 are $5 per day. Children 7 and under are admitted free.
For more information, visit lasvegaspride.org/pride-festival/.