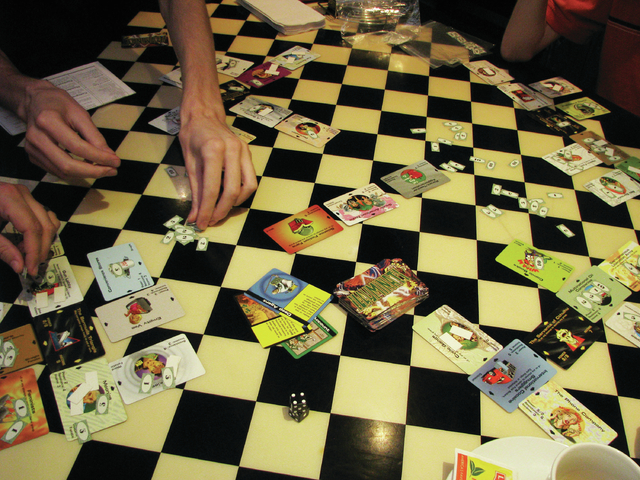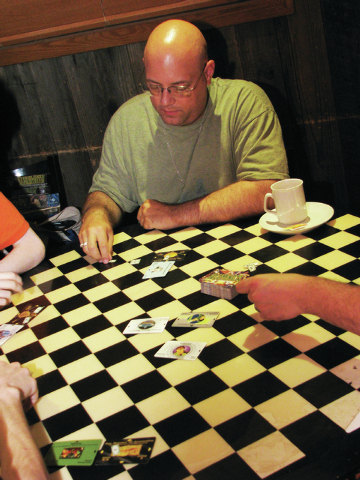 Every Wednesday night, a group meets at the Juke Joint Bar & Grill, 4230 E. Craig Road, for the Game Night Northeast Meetup group. During a recent gathering, the members were playing what looked like the world's weirdest and most complicated game.
"OK, Multinational Oil assisted by the Yuppies is a seven," said Tony Polise. "I'm going after the Semi-Conscious Liberation Army, which is an eight, so that's a negative one. That's nine to take them."
The game they were playing, "Illuminati," isn't simple, but Ben Hooker, who hadn't played it before, was receiving guidance from three other players. The instruction was complicated by the fact that each player had a different goal for winning the game, but each tried to explain not just the rules but also the strategy.
The group has met for several years, and members play a wide variety of games. Polise organizes 17 local game-playing groups in the valley through meetup.com, an online resource for like-minded individuals to find each other for group activities.
He named off the top of his head a handful of the more commonly known games, including the strategy game "Risk," the card game "Hearts," chess and the word game "Boggle." Usually, the games skew toward the more unusual types that are unavailable in the average department store.
"Everyone's welcome," he said. "We ask for a dollar donation, but we've never sent anyone away who didn't donate. We picked Wednesday because it's not so busy. In the summer, we're notoriously slow. People are off on vacation or doing other things. We can have anywhere from four to 40 players. Some nights we fill the room."
Kyle Lang had been primarily a solo video game player before his brother, who was involved in a football Meetup group, suggested he look into it.
"I was looking for something I was interested in, and board games seemed like a good idea," Lang said. "This is a way for me to get out of the house and interact with people."
For the record, Hooker won the game, and the group decided to play a rematch.
For more information, visit meetup.com/the-las-vegas-board-games-group.
LAS VEGAS CIVIL WAR ROUND TABLE
While the Game Night Northeast Meetup group gathers for friendly competition and entertainment, the Las Vegas Civil War Round Table is more formal.
The history enthusiasts meet monthly on the fourth Tuesday at America's Best Value Inn at 1000 N. Main St. for a lecture by one of the members on an aspect or important figure from the American Civil War.
"All of our presentations are by members," said the group's president, Pete Carnes. "We have a PowerPoint projector and a screen. After the presentation, we have a question-and-answer period. The hotel lets us use the meeting room for free because a lot of us go down to the restaurant downstairs afterward to eat."
The group used to meet at the Las Vegas Library but found the hotel a better fit because members don't have to worry about the library's closing time, and the group can easily shift to the more relaxed environment downstairs after the formal event upstairs.
The group includes people from across the valley.
"We were delighted to find a Civil War Round Table here, because we've enjoyed interaction with other Civil War Round Tables," said Pat Swan, who bought a home a year ago in North Las Vegas with her husband, Jim. "We were involved in them in Nashville and Franklin, Tenn. We're very interested in the subject. My husband wrote a book about it."
Other members have deeper roots in the valley. After joining the group, Stafford Sims convinced his friend and fellow construction industry professional Jerry Bijould to join. The two have been friends for 40 years, and finding the group allowed them to enjoy history while meeting other like-minded individuals.
For more information, visit meetup.com/lvcwrt.
VERY AWESOME GIRLS
A less traditional group that is nonetheless deeply involved in the community are the Very Awesome Girls Into Nerdy Activities, or simply the Very Awesome Girls, a group of women who support and promote comics and other genre fiction and fandom. They can be seen volunteering at nearly every event involving nerdy activities.. They also attend community events such as the annual AIDS Walk Las Vegas.
Stephanie Payne founded the group in 2010 when she grew weary of visiting the comic shop by herself and not always finding it to be a welcome environment for women.
"I knew a bunch of nerdy girls, and I thought we should hang out and be awesome together and do stuff for the community," she said. "It gives an outlet for women to get their geek on and not be judged. It's a community where we can get together and bond and affect each other in a positive way."
Members also participate in volunteer work for nonprofits and help with fundraising.
The organization has grown to five chapters: Las Vegas, Phoenix, San Francisco, Los Angeles and Flint, Mich. Payne has taken a back seat in organizing the local group and helps oversee all the chapters.
"We try to help out in the community and have fun," she said. "We know we're very visible wherever we are, and we want to project a positive image for other women, nerdy or otherwise."
For more information, visit veryawesomegirlslv.com or facebook.com/veryawesomegirls.
Contact East Valley View reporter F. Andrew Taylor at ataylor@viewnews.com or 702-380-4532.