Smith Center and other key projects to reach fruition in 2012
January 17, 2012 - 12:24 am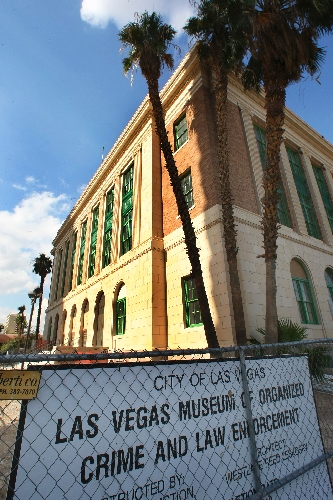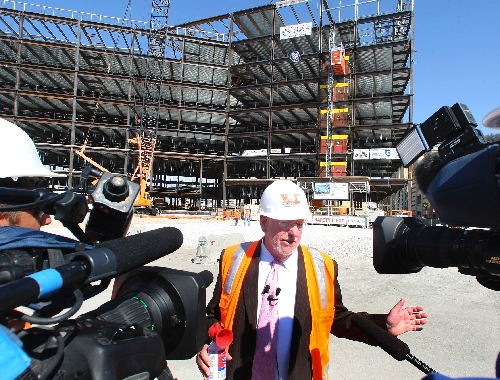 The new year marks new beginnings for downtown Las Vegas, where the area's resurgence is taking shape and projects are under way.
One of the highly anticipated projects is the Smith Center for the Performing Arts, 361 Symphony Park Ave., which is scheduled to open March 10. Said to be a "world-class performing arts center," according to Myron Martin, president and CEO, the Smith Center is part of the 61-acre Symphony Park development, which houses the Lou Ruvo Center for Brain Health and will include the Discovery Children's Museum, residences, hotels, retail stores and restaurants.
Martin envisions the Smith Center and Symphony Park putting Las Vegas on the world culture map.
"The Smith Center will be the city's front yard in many ways," Martin said. "It's proven that performing arts centers are catalysts for development, and the Smith Center will be that for Las Vegas."
The Smith Center includes Reynolds Hall, which will feature a 2,050-seat theater where Broadway and touring shows will be performed. The center also includes the Boman Pavilion, which is the future home to Cabaret Jazz, a 258-seat theater ideal for intimate performances, the Troesh Studio Theater for rehearsals and other events . It also will house several offices and classrooms.
Martin said one of the Smith Center's most notable aspects will be its educational component.
"We're going to take an artist on the main stage and encourage students to get into performing arts," Martin said. "There will be days where just school buses will be parked out front and kids will fill the theaters."
Performances beginning in March are set to include Broadway shows "Wicked," "Mary Poppins," "The Color Purple," "Million Dollar Quartet" and "Memphis." Contemporary, classical and dance performances are also slated for 2012.
Before the opening of the Smith Center for the Performing Arts comes Zappos.com Inc.'s move downtown and the opening of a new Las Vegas City Hall. City officials plan to move into the city's new location, 495 S. Main St., between Feb. 16 and 26, while the Zappos team will plant its headquarters at 400 Stewart Ave. The city's move is expected to bring more than 13,000 new jobs to Las Vegas and millions of dollars in tax revenue.
In the middle of downtown, inside a former post office and federal courthouse, is the Mob Museum, 300 Stewart Ave., slated to open Feb. 14. The building, which is placed on the Nevada and National Register of Historic Places, includes a courtroom in which several of the Kefauver Committee hearings on organized crime took place in the early 1950s.
Jonathan Ullman, executive director, said the building is the museum's "ultimate artifact."
"The building has been restored but includes all its original detail … and it comes to life in this high-tech way," Ullman said. "Inside, people can get a comprehensive look at organized crime with each floor's theme."
Ullman said visitors can expect an interactive and different experience with each floor of the museum as they all surround various themes and time periods of mob history.
"The third floor, for example, will have the feeling that you're entering the criminal justice system," Ullman said. "It's intended to be very interactive. There will be a (a place for) using FBI surveillance tools where (visitors) can listen to wire-tapped tapes and get a sense of what it's like to listen to investigators."
The museum is set to be open daily, with admission costing $10 for Nevada residents. Though the museum is skewed toward an older crowd, Ullman said there are opportunities for children to benefit from their visit.
"It's interesting for all ages because it's historically accurate and important," Ullman said. "It's a really important story we're telling because social issues are addressed, (as well as) economic issues. There's no reason to embellish any of this because they're interesting facts. It's history, and it's reality."
The Mob Museum isn't the only place where people can get a glimpse into Las Vegas' history starting this year. The Neon Museum, 821 Las Vegas Blvd. North, is set to open in June. The Boneyard, which contains more than 150 of the city's most historic neon signs, and the visitor center, which will be housed in the La Concha Motel lobby building, are set to be completed by May 14.
Contact Paradise/Downtown View reporter Lisa Carter at lcarter@viewnews.com or
383-4686.