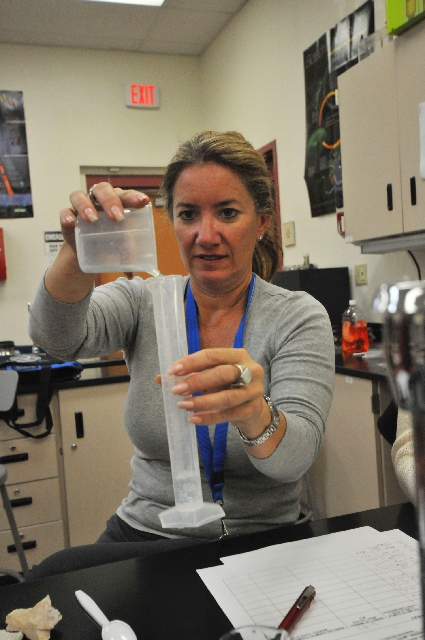 For these dedicated teachers, school was in session even during spring break.
More than 80 teachers from schools across the valley attended classes from 8 a.m. to 5:30 p.m. March 26 at Faith Lutheran Middle School & High School, 2015 S. Hualapai Way, as part of the Southern Nevada Earth Science Education Workshop. They chose from classes covering topics such as the economics of mining, density, geology, erosion and reclamation, minerals, rocks, fossils and soil.
The subject matter is most aligned with earth science curriculum, but teachers in all grade levels and in varying subjects could attend.
"We try to spread it out," said Joseph Riney, information systems administrator for the Nevada Mining Association, the sponsoring organization. "We cover everything from history to English language arts. We mix in everything we can. … We kind of give them ideas to make it work for lower or higher grades, how to adapt the lessons a little bit."
Teachers in one lesson did a drilling exercise using cupcakes. They gently removed the topsoil, or frosting, and drilled into the cupcakes using straws to extract the "earth" inside. In another classroom, teachers measured the density of various rocks by measuring the amount of water displaced when the rocks were dropped into a container.
Teachers also went on one of three field trips March 27. The first field trip was to the Great Unconformity and Lhoist limestone mine. The Great Unconformity, a geological site on the east side of the valley, is named as such because two side-by-side layers of rock are about 1.2 billion years apart in age. The second field trip was to Mercator Minerals Ltd.'s Mineral Park mine in Arizona, which extracts about 56 million pounds of copper annually. The third field trip was to Aggregate Industries' mine near Interstate 15 and Sloan Road and the Las Vegas Rock quarry in Jean.
The NMA has provided workshops for free for the past 24 years in Southern Nevada and for 34 years in Northern Nevada. In the past, the NMA has offered three days of events but reduced it to two this year because the third day –– typically a full-day field trip –– is not utilized by many teachers, Riney said.
The NMA does not charge for the workshops or field trips, but teachers pay a $10 fee to the Clark County School District to receive professional development credit.
Katie Neddenriep, chairwoman of the education committee for the NMA, said these workshops are meant to "raise awareness of what the (mining) industry's doing in Nevada and how it's impacting communities."
She also hopes these lessons, if used in the classroom, pique students' interest.
"It's a great way to reach out to those communities where they're not as directly impacted by mining," Neddenriep said. "Hopefully some of these kids are also inspired to go into the mining industry. Your workforce isn't a renewable resource if people aren't interested in going into that. We're trying to generate that next generation of employees to come along."
George Radich, an eighth-grade science teacher at Harney Middle School, 1580 S. Hollywood Blvd., attended the workshops for the third year in a row.
"Every year, there's a new program," he said. "You learn more and more stuff. It's very good for science teachers, and they get new ideas. … It should really be appreciated by the teachers, (and) more people should participate."
For more information, visit nevadamining.org.
Contact View education reporter Jeff Mosier at jmosier@viewnews.com or 702-224-5524.