FAA investigating Allegiant Air emergency landing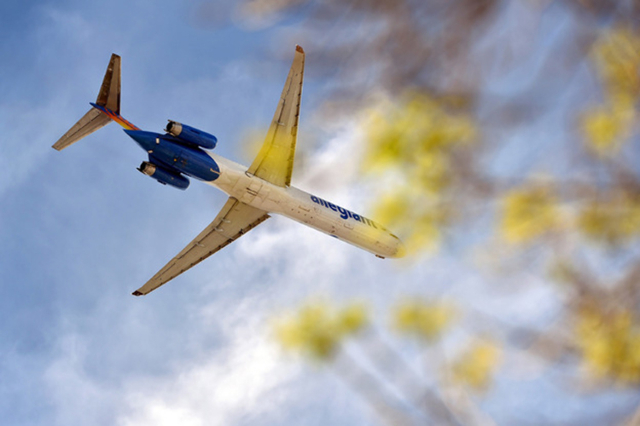 The Federal Aviation Administration is investigating why an Allegiant Air flight from Las Vegas made an emergency landing in North Dakota last week because it was short on fuel.
Federal regulations require airliners to have enough fuel to reach their intended destination or a designated alternate, plus 45 minutes of flight time. But the Allegiant pilot had to declare an emergency and land at the Hector International Airport in Fargo, N.D., even though it was closed for a special event.
"The pilot of Allegiant Air Flight 426 declared an emergency … while the U.S. Navy's Blue Angels demonstration team was practicing for an air show," the FAA said in a statement. "Air traffic controllers instructed the Blue Angels to suspend their practice session and the Allegiant flight landed safely. The FAA is gathering information about the circumstances."
Las Vegas-based Allegiant Air said only that it is "coordinating with the FAA and the airport to investigate all channels of communication regarding the flight and the circumstances leading to the declaration of emergency."
Not only was the plane low on fuel when it reached Fargo, the pilots apparently knew nothing of the closure.
In radio communications archived online by LiveATC, an air-traffic controller is heard telling a pilot he would have to wait 40 minutes to land or divert about 70 miles to Grand Forks.
"I'm kind of surprised here," the pilot said. "We weren't told ahead of time … There's no way they can pull them (the Blue Angels) off and let us land in there?"
The pilots said Allegiant headquarters was confused, and was trying to call the airport to arrange a landing.
The controller said the company and its dispatchers were told about the closure months in advance, and reminded earlier in the week.
Twenty minutes passed.
"We don't have enough fuel to go anywhere else," the pilot reports. "I don't have 20 minutes … We're bingo fuel (only enough to land) here in about probably three to four minutes. Then I've got to come in and land."
With that, the plane was allowed to land in Fargo.
Contact Wesley Juhl at reviewjournal.com and 702-383-0391. Find him on Twitter: @WesJuhl.