Faith groups get together for common good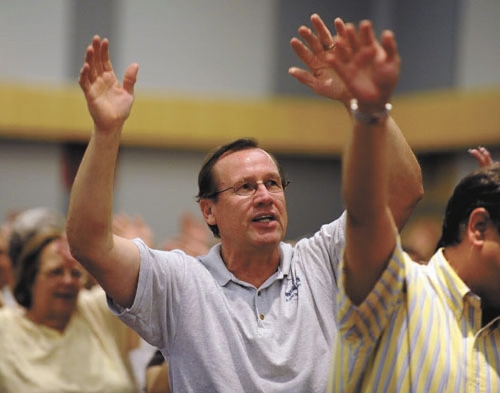 The vibe – the music, the singing, the almost sermonlike quality of some of the presentations – was equal parts pep rally, revival meeting and town hall gathering.
And that's appropriate, because the first-ever Las Vegas Valley Community Convention for the Common Good aimed to teach, to inspire and to harness the power of faith to better Southern Nevadans' quality of life.
The Tuesday evening event at the University of Nevada, Las Vegas student center ballroom drew more than 1,500 people – UNLV President Neal Smatresk noted that it was the "most full I have ever seen this room" – interested in organizing a broad-based, interdenominational effort to address social problems facing the valley.
Attendees arrived individually and in buses with other members of their churches, synagogues and mosques. They cheered when their congregations were recognized, waved signs emblazoned with their faith communities' names and were liberal in bestowing applause and standing ovations to speakers.
The event was sponsored by the Las Vegas Valley Interfaith Sponsoring Committee, which organizers say was formed three years ago to promote interfaith communication and social action.
Bishop Dan Edwards of the Episcopal Diocese of Nevada said local faith communities share concerns about such social issues. However, he said, individual faith communities may not have the resources or the opportunity to work together to address such problems unless they first get to know one another.
So, Edwards said, much of the committee's work has been in building relationships, as members of faith groups share their own stories as a means of finding common ground across denominational and congregational boundaries.
The goal Tuesday was to convince individual faith groups and nonprofits to become part of an organization of organizations that can tackle the issues of education, youth concerns, housing and blight, sex trafficking, the integration of immigrants, and aiding the elderly.
On Tuesday, audience members approved by acclamation the creation of Nevadans for the Common Good, an organization that will spearhead efforts to address the state's social problems.
Also on Tuesday, committee members announced that Robert Hoo, an organizer with the Industrial Areas Foundation, will begin work in July as Nevadans for the Common Good's first lead organizer.
Hoo said his initial goal will be to meet with Southern Nevadans who wish to become involved.
The Rev. Robert Stoeckig, vicar general of the Roman Catholic Diocese of Las Vegas and pastor of St. Andrew Catholic Community, told the crowd that the next step will be for Southern Nevadans to "engage in a process of contagious neighborliness" by "listening to each other."
Then, Stoeckig urged attendees to take what they had heard back to their own faith communities.
Next year at this time, he said, "something will be different in our valley because you are here and you are with us on this journey."
Isaac Mubarek of Las Vegas was impressed by the event's interfaith tenor.
"I'm from the Mideast," he said, and "I enjoy all backgrounds, not just Christian, but Muslim and Jewish. We're all one family."
Robin Collins, a member of Green Valley United Methodist Church, called it "phenomenal that we're going to put a voice and some meat behind what's going on here in Las Vegas."
Contact reporter John Przybys at
jprzybys@reviewjournal.com or 702-383-0280.