Family of man who died in Saturday's hit-and-run asks for help — PHOTOS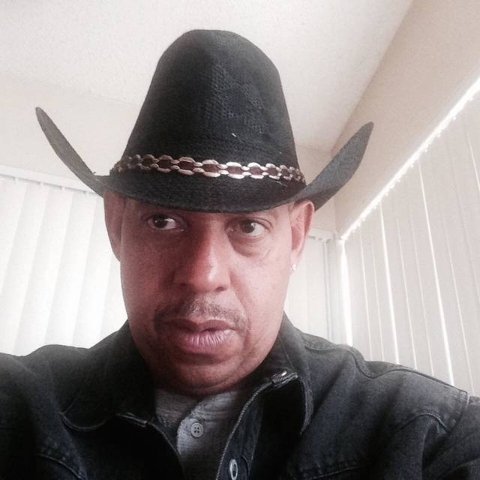 The family of a North Las Vegas man killed in a hit-and-run collision pleaded Sunday for the community's help in finding the driver who fled the scene Saturday night.
Family members held a candlelight vigil Sunday night for 55-year-old Clay Stampley Sr. near the crash scene at the intersection of West Cheyenne Avenue and Simmons Street. The father of seven was a Circus Circus employee for 30 years and worked in groundskeeping there. He also had been employed at Area 51, about 150 miles from Las Vegas.
A memorial created at the scene featured a large portrait of Stampley adorned with flowers and his initials.
Stampley's niece Carmel Gadsen asked community members to come forward with information that could help find the driver responsible for her uncle's death.
"The fact of the matter is, these people left and ran," Gadsen, 38, said in an interview after Sunday's vigil. "Someone knows something. So, the sooner we get something out there, to get people thinking about it, and reporting … these people can be apprehended. We're not going to rest, with this being an unsolved crime."
About 100 people attended the vigil, she said. Several of those in attendance were coworkers who elaborated on the "good, positive person that he was."
"They said that they liked to have him around and that they would always look for him, because he always was smiling and that he was a joy at work," said Jacinda Stampley, another niece.
Stampley's great-neice, 23-year-old Carmella Gadsen shared some of her great-uncle's wisdom.
"Whenever you're in a very hard time in life, he's someone who would tell you to focus on the positive side of things and to let that lead you," she said.
Stampley's mother, Emma Stampley, faced a heart-wrenching Mother's Day, grieving over the loss of her son, who, Gadsen said, was her second child to die. "He was on his way to work, and he was run over. It's getting to be an everyday thing," his mother said.
"No mother should ever have to outlive her children," Jacinda Stampley said.
The family hopes to raise awareness of incidents where speed is a factor.
"We want to stress the importance of people just slowing down. It's amazing that this town has had his many hit and run accidents," Carmel Gadsen said.
Carmella Gadsen said she has lost two friends in the past two months to people driving recklessly.
"I feel like what people are forgetting, is that every time we get behind the wheel of a car, we have everybody else's lives in our hands," she said. "And it's only a matter of how much do you care to drive safely enough to protect the people next to you. When I get into a car, I think about the people on the road and how they all have someone to go home to at the end of the day."
She also described the example Stampley set as a father.
"He was an amazing father, and showed his sons how to be the same," Carmella Gadsen said. "He's the dad a lot of us wished we had."
Only two of Stampley's seven children were able to attend Sunday's vigil.
The family has set up a GoFundMe account to raise money to bring the other five out from North Carolina. Those wishing to donate can find details at https://www.gofundme.com/236mc6s.
Saturday's fatal crash occurred just after 5:20 a.m.. Officers on the scene found Stampley ejected from a vehicle and suffering from critical injuries. He was taken to University Medical Center, where he died, police said.
Investigators said Stampley was driving a Dodge Dakota south on Simmons when a GMC Yukon traveling west on Cheyenne ran the red light and hit the Dakota.
The occupants of the Yukon fled the scene on foot and had not been found as of Sunday evening.
The investigation continues, police said.
Anyone with additional information is urged to call the North Las Vegas Police Department at (702) 633-9111 or Crime Stoppers at (702) 385-5555.
Review-Journal writer Raven Jackson contributed to this report.
Contact Natalie Bruzda at nbruzda@reviewjournal.com or at 702-477-3897. Find @nataliebruzda on Twitter. Contact Jessica Terrones at jterrones@reviewjournal.com and 702-383-0381. Follow @JessATerrones on Twitter.