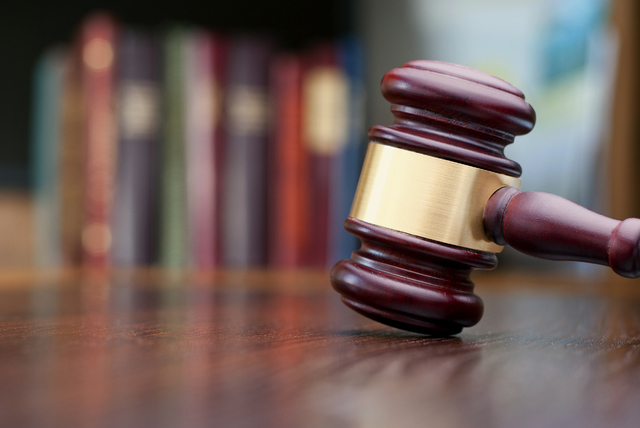 The federal case against three Cuban immigrants charged in a major Las Vegas-area theft ring hinges on the word of a six-time felon motivated to set up the defendants, their lawyers argued Friday.
But a federal prosecutor maintained that two of the defendants have nobody to blame but themselves — and their "big mouths."
The fate of all three defendants — Alexis Torres Simon, 46; Julio De Armas Diaz, 54; and Alexander Del Valle Garcia, 42 — rests with a 12-member jury, which began deliberating a little after 4 p.m. The panel went home for the weekend about an hour later and was to resume its work on Monday.
The defendants, who did not take the witness stand in their own defense during the two-week trial, face a series of felony charges tied to the theft of drugs and expensive merchandise from delivery vans and warehouses around the Las Vegas Valley.
In his closing argument, Assistant U.S. Attorney Daniel Schiess singled out the undercover work of the six-time felon, Yordani Corona Del Toro, who helped the FBI break up the theft ring.
Del Toro, 23, also a Cuban immigrant, secretly recorded Simon and De Armas Diaz planning the robbery and kidnapping of a delivery van driver hauling pharmaceutical drugs, Schiess said.
Simon and De Armas Diaz were taken into custody April 8, 2013, as they were about to carry out the robbery scheme, according to trial testimony. Del Valle Garcia was arrested several days later.
The recorded planning session, or as Schiess called it the "big mouth evidence," occurred the day before the robbery was to go down, when Simon and De Armas Diaz were driving Del Toro around town on a dry run.
"It was clear as can be," Schiess told the jury. "Is there any doubt what they were doing?"
Schiess called upon the jury to use its common sense when considering the evidence, especially the Del Toro tape and corroborating phone records and other surreptitious recordings Del Toro made.
Defense lawyers once more attacked the credibility of the government's chief witness and the thoroughness of his FBI handler, agent Shay Christensen.
They argued Del Toro lied throughout the investigation and was motivated to set up their clients to escape punishment for felony convictions in two burglary cases in state court.
Del Toro got probation in both cases, despite plea deals allowing state prosecutors to seek life in prison for him as a habitual criminal after he left the country for several months last year.
"This case rises and falls on the weight of Yordani Corona Del Toro," defense attorney Osvaldo Fumo told the jury. "If he took your daughter out and told you he would have her home by 10 p.m., would you believe him?"
Fumo, who is representing Simon, said he rated the quality of the FBI investigation a "D plus."
Earlier in the trial, Del Toro testified that he fled to Mexico and then Cuba, leaving his newborn daughter behind, out of fear for his safety. The wife of one of the defendants sent his mother a threat, indicating he would pay for cooperating with FBI agents, Del Toro said.
Agents assigned to the FBI's organized crime squad linked the ring to the Oct. 15, 2012, warehouse theft of $573,756 in Coach merchandise, mostly purses, in southeast Las Vegas.
Ring members also broke into unattended delivery vans to steal drugs and other goods, prosecutors said.
One theft was said to have occurred on Nov. 14, 2012, from a delivery van in the parking lot of a Smith's grocery store on North Rainbow Boulevard. Another happened on March 13, 2013, in the parking lot of a Walgreen's store on West Desert Inn Road.
The three defendants, who are in federal custody, listened to testimony during the trial with the help of Spanish-speaking interpreters.
Contact Jeff German at jgerman@reviewjournal.com or 702-380-8135. Find him on Twitter @JGermanRJ