Fire at FAA facility spawns a few long lines at McCarran
September 26, 2014 - 5:00 pm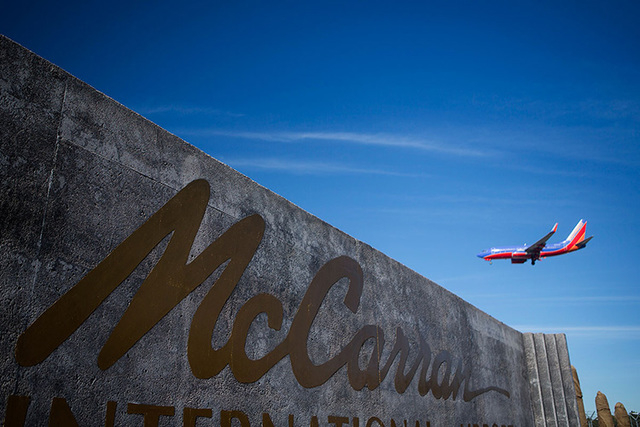 The fire at the Federal Aviation Administration air traffic control radar facility in suburban Chicago created a big mess in the Midwest and a few long lines at McCarran International Airport on Friday.
Thousands of passengers leaving Las Vegas scrambled to find alternative routes when about 200 flights — just under half the entire daily schedule — were either canceled or delayed at the city's airport.
A McCarran spokeswoman reported there were some lines at airline ticket counters, but most passengers apparently got word of the trouble before arriving at the airport.
Southwest Airlines, the busiest carrier at McCarran with more than 200 flights a day, canceled its nine nonstop flights to Midway Airport and its three to Milwaukee. Midway is Southwest's busiest station with Las Vegas No. 2.
The airline also canceled Las Vegas flights to Cleveland, Pittsburgh and Orlando, Fla., on Friday because aircraft weren't where they were supposed to be as a result of the flight scramble.
Three airlines — United, American and Spirit — average a total of 11 flights a day between Las Vegas and O'Hare International Airport and all those flights reportedly were canceled Friday.
American and United use O'Hare as hub operations for their networks of flights. United officials said the air traffic control outage also affected its operations in Grand Rapids, Mich.; Madison, Wis.; Indianapolis; and Milwaukee.
Most of Allegiant Air's flights to Midwest destinations were delayed. Allegiant doesn't fly to O'Hare or Midway, but its flights to Grand Rapids; Peoria and Moline, Ill.; and Des Moines, Iowa were affected.
Aviation officials in Chicago began grounding flights from the city's O'Hare and Midway at 3:35 a.m. PDT Friday.
The airlines are encouraging passengers with tickets for Saturday flights to contact them before going to McCarran because it was still uncertain late Friday how weekend schedules would be affected. Policies are in place for passengers to change itineraries without penalty as a result of the cancellations.
Flights to and from other destinations may also be affected by delays because so many operations connect through Chicago. Weather and network disruptions in the East commonly produce a cascading ripple effect of delays for arriving and departing flights at McCarran.
Friday's flight schedule problems also were compounded by weather delays in San Francisco.
Contact reporter Richard N. Velotta at rvelotta@reviewjournal.com or 702-477-3893. Follow @RickVelotta on Twitter.