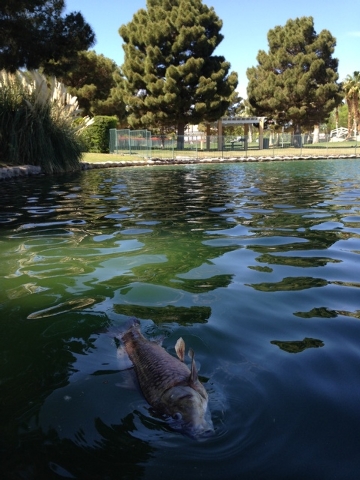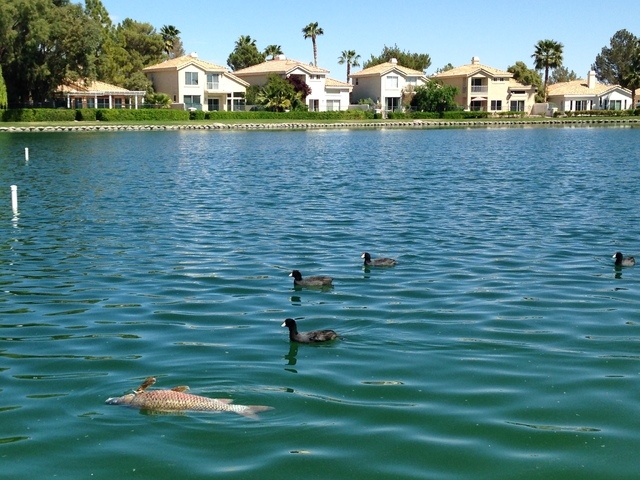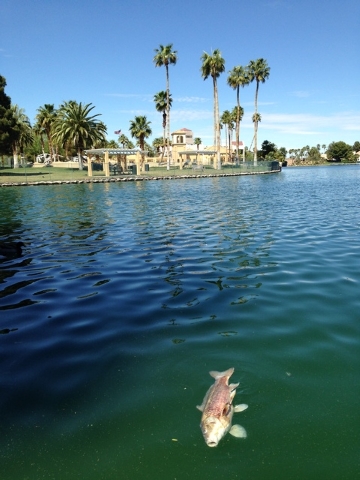 Fish are going belly up in the heart of an upscale neighborhood built around four artificial lakes in the northwest Las Vegas valley.
About a dozen largemouth bass and other fish, some of them approaching two feet in length, could be seen floating Tuesday at the south end of the largest lake at Desert Shores.
Fish started turning up dead in Lake Jacqueline last week — so many that the Desert Shores Community Association had to hire an outside company to remove them.
The association also called in a Nevada Department of Wildlife biologist in hopes of pinpointing the problem. No exact cause was determined, but the likely culprit is a seasonal change in water temperature that allowed decomposing, carbon-dioxide-producing nutrients normally trapped by cold water at the bottom of the lake to rise.
The process is known as "turning over," said Doug Nielsen, spokesman for the department of wildlife.
"It's the sort of thing that happens from time to time when the lake turns over and there's not enough dissolved oxygen to support the fish," Nielsen said.
The lakes at Desert Shores are stocked once a year or so with catch-and-release sport fish such as bass, bluegill, carp, catfish and crappie.
The fish die-off appears to be localized in one area of Lake Jacqueline. The phenomenon has not been seen in the three other finger lakes in the 27-year-old development west of Buffalo Drive between Lake Mead Boulevard and Cheyenne Avenue.
No one from the association would comment, but a woman who answered the telephone at the association's office pointed to a written statement on their website. The statement, with a link to a department of wildlife report, says in part that the association "takes the issue very seriously," but notes that the fish die-off it is likely the result of "natural causes."
"We have had this type of incident occur previously in Desert Shores," the statement says. "It is important to understand that this does happen from time to time in any environment such as Desert Shores or any lake community."
In his report, biologist Kevin Guadalupe all but ruled out a parasite or disease, but said additional monitoring is needed to be sure.
Nielsen said Guadalupe collected samples from various depths and locations in Lake Jacqueline and prepared the report as a courtesy.
The lakes are privately owned and operated and are not regulated by state wildlife officials, he said.
Nielsen guessed the die-off will continue until dissolved oxygen levels gradually rebound in that part of the lake.
Though it's "bad for fish, bad for fishing and bad for fishermen," he said, it doesn't pose a health hazard to any other animals or people.
Contact Henry Brean at hbrean@reviewjournal.com or 702-383-0350. Find him on Twitter: @RefriedBrean.