Fliers in Henderson show how outside groups try to sway voters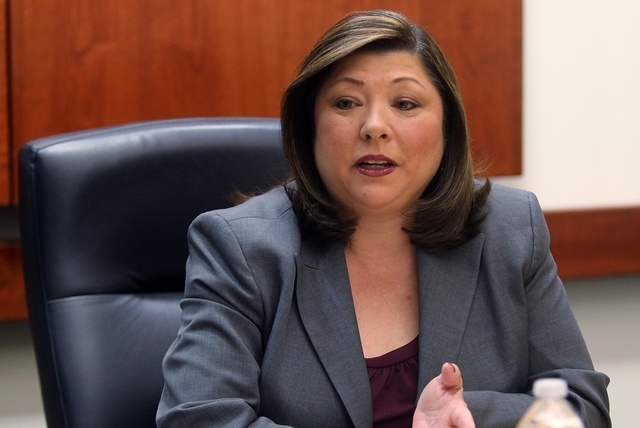 The glossy mailers started arriving a couple of weeks ago, looking like ordinary campaign ads.
They urged the re-election of Gerri Schroder and Debra March, two Henderson City Council members. The mailers touted their accomplishments and even used the same photos their campaigns had on earlier mailers.
But the candidates didn't pay for these ads.
They were funded by an outside group called "Advocates for Quality of Life PAC," and both campaigns said they knew nothing of the mailers before they arrived. The PAC's quiet entry into two local races shows how outside spending can affect elections with little public notice.
There are 215 registered political action committees in Nevada that can raise and spend unlimited money on local and state races or ballot questions. Like Advocates for Quality of Life, many have deliberately gauzy names that give no hint of who's behind them or their real agendas. After all, who could be against "A Better Nevada" or "Citizens for Responsible Local Government"?
In theory, contributions to PACs are public. But trying to trace the chain of donations for just one PAC shows how hard it's become to track political spending.
THE FINE PRINT
Advocates for Quality of Life is funded largely by donations from other PACs, including two connected with Realtors. Those other PACs are in turn funded by yet more PACs, including statewide Realtors groups.
One of the state PACs lists hundreds of individual contributors, three steps removed from the Henderson campaign spending.
That all appears to be legal. But such funneling of money "undermines the spirit of the law and what it's trying to accomplish," said David Damore, an associate professor of political science at the University of Nevada, Las Vegas.
That kind of chain — PACs giving to other PACs that give to other PACs — is relatively new in Nevada, having first gotten widespread attention in the 2010 governor's race, Damore said. Now it has filtered down to cities, including Henderson, Las Vegas and North Las Vegas, which all have contested primary elections Tuesday. Early voting ended Friday.
Eddie Hamilton, one of Schroder's opponents, said the PAC mailers are misleading, since they look exactly like candidates' own ads, down to the photos.
"Most people don't even look at the fine print," Hamilton said, adding that he hadn't noticed himself that someone other than Schroder sent the mailers.
Hamilton said he has done robo-calls to voters that included his name and home phone number. Outside groups spending money, he said, are "like people hiding in the bushes someplace."
The other challenger, Edward O'Neil, said no one from Advocates for Quality of Life ever spoke to him. He said the group is "obviously biased" since it made an endorsement without talking to all the candidates.
Schroder said she's never had a PAC send mailers supporting her before. She said she didn't want to speculate on why the group decided to spend money in the Henderson race.
"I thought, 'Well, that's nice. Thank you,' " Schroder said, recalling her reaction when the mailer arrived at her house. "I appreciate them supporting me. But I have no idea who they are."
And if even candidates don't know, how many voters do?
'PART OF THE GAME'
The Advocates PAC is run by the Greater Las Vegas Association of Realtors, state records show.
The association's CEO, Michele Caprio, said in an email that the PAC "supports elected officials and issues that we consider supportive of a better quality of life for our fellow Nevadans." She did not elaborate, did not return a follow-up message and declined to say why the PAC was spending money in Henderson.
The PAC doesn't spend on campaign materials directly. Since 2013, it has paid $286,500 to 808 Strategies, a Las Vegas consulting group. That group's president is Rocky Finseth, a lobbyist for the Nevada Association of Realtors, the Henderson Chamber of Commerce and other business groups. Finseth didn't return phone and email messages.
808 Strategies also works for such groups as the Alliance for Property Protection Rights PAC and the Las Vegas Issues Mobilization Fund.
"I think it's part of the game," Damore said of the generic names.
Using a hypothetical, he added, "Who's going to have on their PAC 'Trial Lawyers For More Profit'? You're just not going to see that. So they couch it."
CITIZENS UNITED
Laws vary by state. But across the country, independent groups have been able spend more money with fewer restrictions since a 2010 U.S. Supreme Court decision, Citizens United v. Federal Election Commission. It and subsequent rulings found that many restrictions on political spending violated the First Amendment of the U.S. Constitution.
Millions of dollars are spent on national races. But in a local race, even thousands can make a difference in who's elected.
While candidates have to report what they raise and spend, outside groups can affect an election with little transparency. And few limits.
Direct donations to candidates are capped at $5,000. The Board of Realtors PAC has given that amount this year to each of three Henderson candidates: March, Schroder and the third incumbent up for re-election, Sam Bateman.
But there's no way to know how much money Advocates for Quality of Life has put into the Henderson election. Mailers with the group's name are going out even though it says in a report filed Friday with the state that it hasn't spent a dime this year. (Its consultant could be spending money given in previous years.)
Damore said politicians tend to dismiss concerns over outside money, saying that only the media cares.
"There isn't much motivation for them to change the system, because the people who benefit are the ones who have to change the system," Damore said.
March's campaign manager, Dave Thomas, said he was surprised but pleased by the PAC support, which he said fit with March's "broad-based support" from 17 groups. March's opponent, Crystal Hendrickson, said she had not seen the PAC mailers. After hearing the details, she said, "Well, it's legal, isn't it?" and added with a laugh, "Good for her."
Thomas said he's been on the other side of the equation, with an outside group spending against his candidate in a prior election.
"With the Citizens United opinion … the power that's been given to outside organizations is tremendous," Thomas said.
He said he opposed Citizens United personally. But he added of the PAC supporting March: "I'm thrilled that they back her."
Contact Eric Hartley at ehartley@reviewjournal.com or 702-550-9229. Follow @ethartley on Twitter.