Friends, family remember man police say was gunned down at apartment complex
February 24, 2016 - 11:06 pm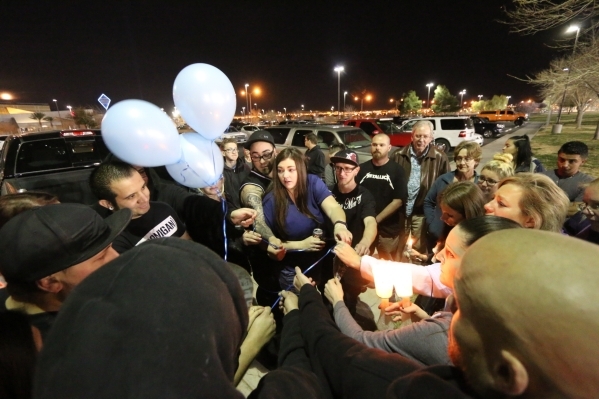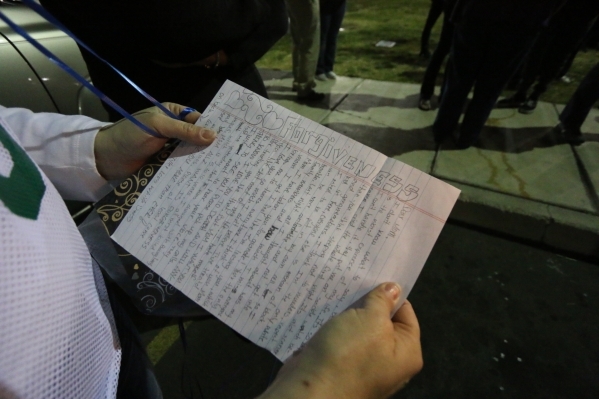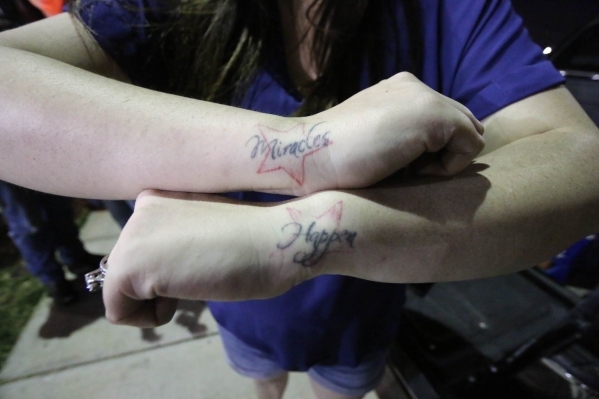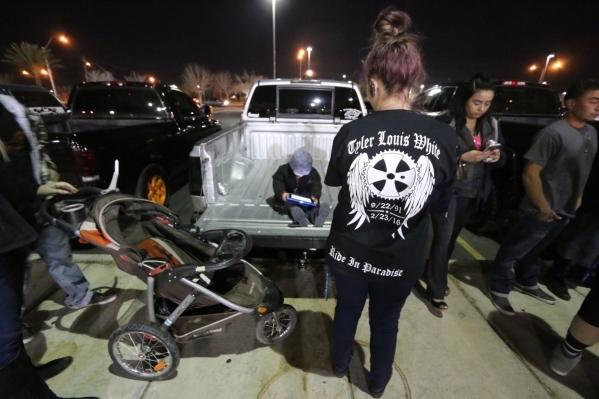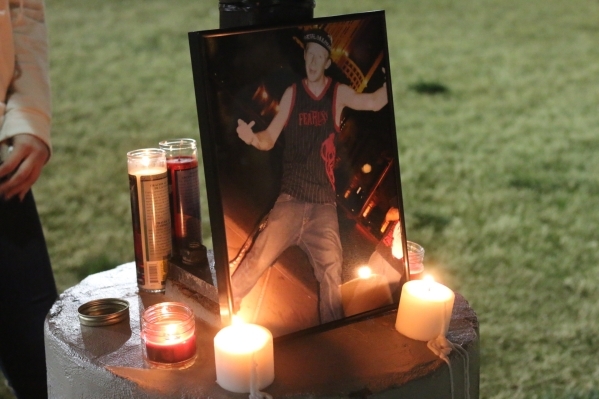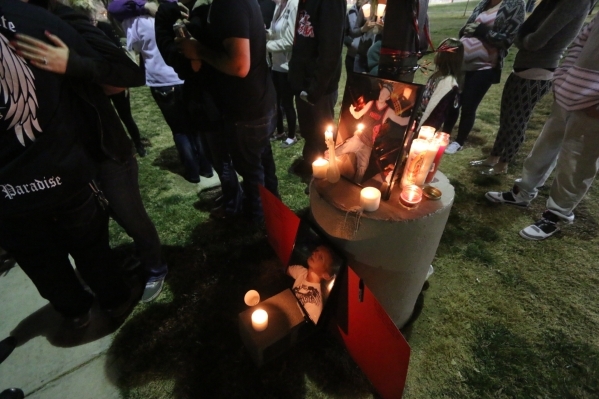 When Holly Miller walked up to her son Tyler Louis White's vigil Wednesday night, his friends and family happily laughed when they saw what she was wearing: A jersey from his childhood football team that read "TYLER'S MOM."
And she cried.
"I said, 'Talk to me, Tyler. I don't know what to wear, I don't know how to do this,'" she said, breaking down into tears. She spotted the jersey and knew, she said.
In her hands at Desert Breeze Park, she clutched childhood photos of White, 24, who police said was gunned down in a northeast valley apartment complex early Tuesday after an argument. She passed them around the group, which was standing around a handful of candles and a bundle of black and red balloons.
Police said the argument at 4555 N. Nellis Blvd. may have been drug-related. They named three people of interest in connection to the shooting but later cleared one after speaking with him. Still, they are searching for Colton Brantano and Sherri Esquibel.
Everyone involved knew each other, police said. At one point, someone started busting up White's girlfriend's car, parts of it falling onto the parking lot. White came running down a set of stairs. Soon after, there were gunshots.
He died at University Medical Center.
"He was in a bad spot," White's childhood friend Wiggy Clements, 23, said. "Every time I saw him, I told him to stand on his feet, and he'd try, and he'd fall in a hole again."
Behind her and the group of more than 30 people, boys and girls on skateboards and bikes swooped down hills and jumped in a nearby skate park. She said White loved BMX biking, then fell silent as she teared up.
A friend stopped by to comfort her, reminding her of their younger years when they would hang out after high school, eating Starburst candies and smoking cigarettes in her truck.
"Every time something bad happened, he stepped up and helped me," Clements said. "He was my miracle. He tattooed 'Miracles happen' on my wrists."
White left behind a 4-year-old son, who was at the vigil and keeping himself occupied on a relative's phone. Miller, 46, crouched down next to the boy, Bentley, and whispered:
"Do you know you have his red hair? Do you know you have his blue eyes?"
The boy stared at the screen but shook his head yes.
The group soon encircled Miller as she held three blue balloons, a poem about White tied to the end. After a countdown from three and a loud "I love you!" in unison, the group let the balloons go.
They floated up toward the Luxor's light beam.
"That's Tyler, always in the spotlight," one friend shouted.
As photos were passed around, Miller also clutched a handwritten note White had left her the last time they were together in person. It was long; it said "I love you" in a huge illustration. On the back, an illustrated word: "Forgiveness."
"I saw this, I saw 'forgiveness,' and I knew I had to forgive him," the mother said of the man who may have shot her son. "I feel like Tyler isn't the only one that died that day. I feel like this other boy, Colton, his life changed forever that day, too."
"His parents lost a child the same day I did," she said, "and forgiveness, that's what Ty would want. He's in his own prison."
Las Vegas Review-Journal reporter Kimber Laux contributed to this report. Contact Rachel Crosby at rcrosby@reviewjournal.com or 702-387-5290. Find her on Twitter: @rachelacrosby