Goodman easily wins re-election; all other valley incumbents win, too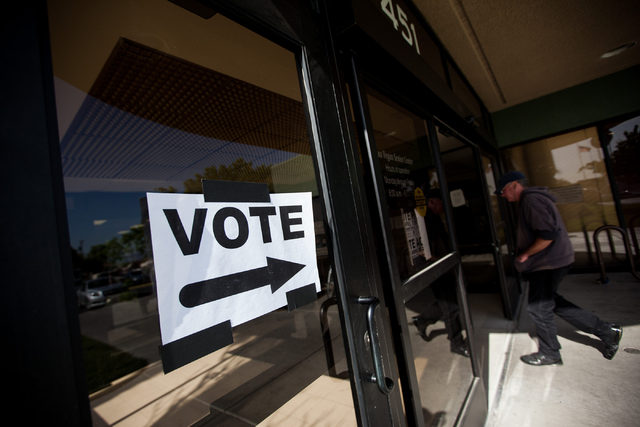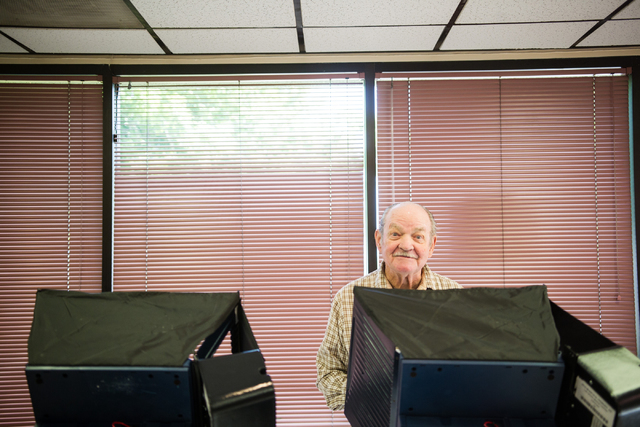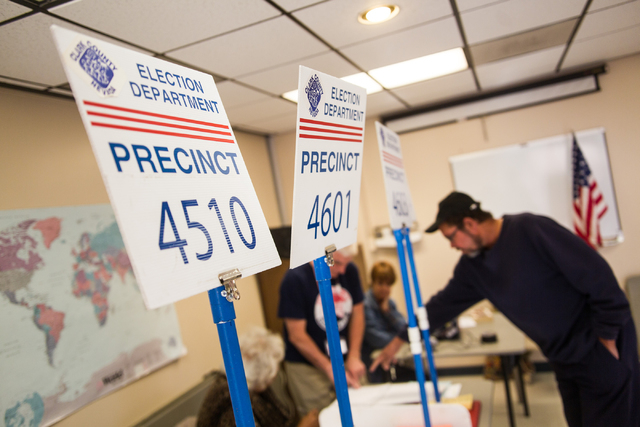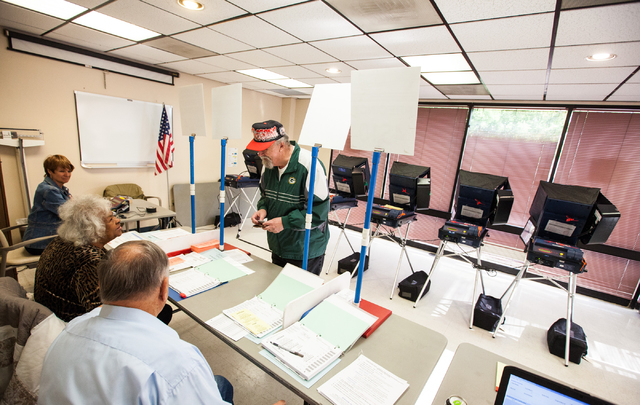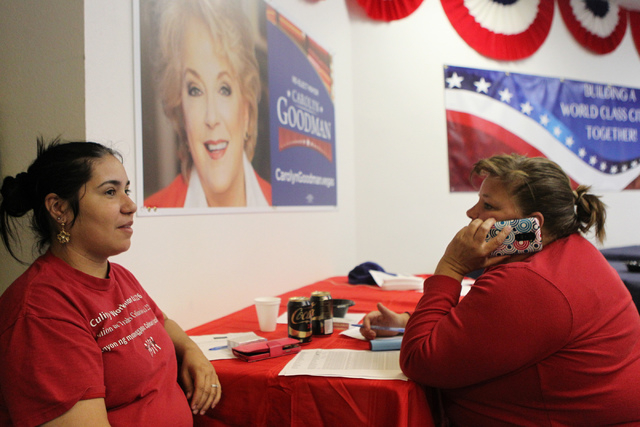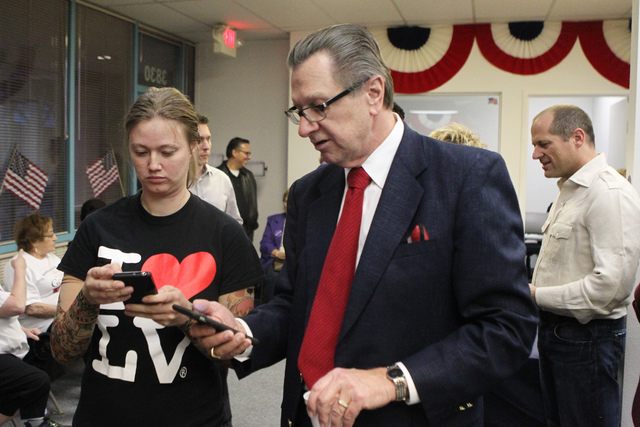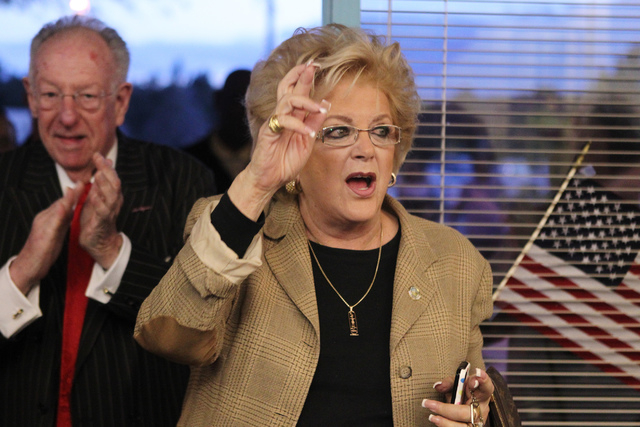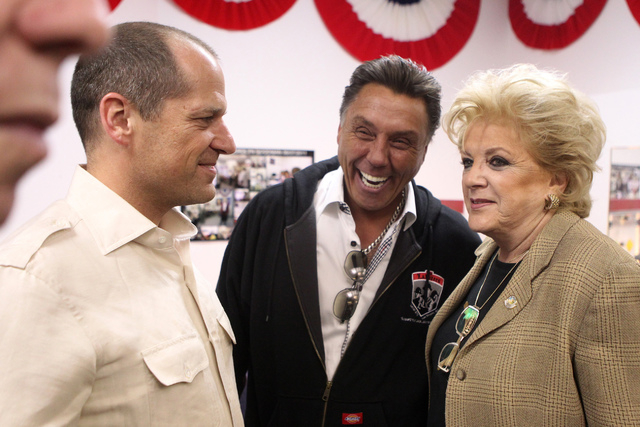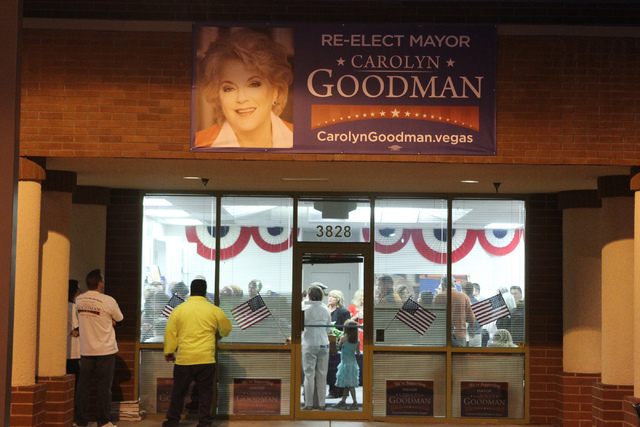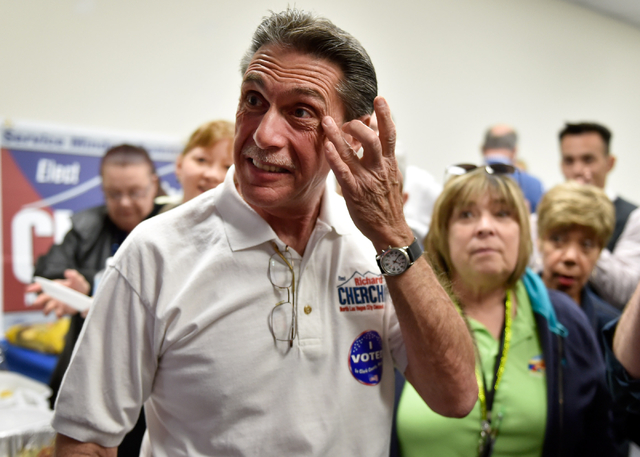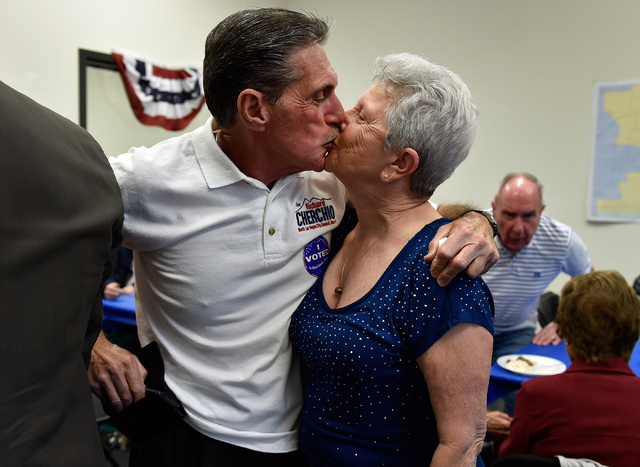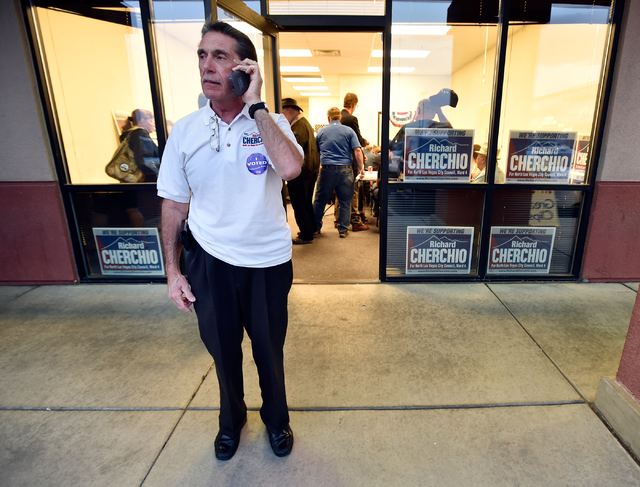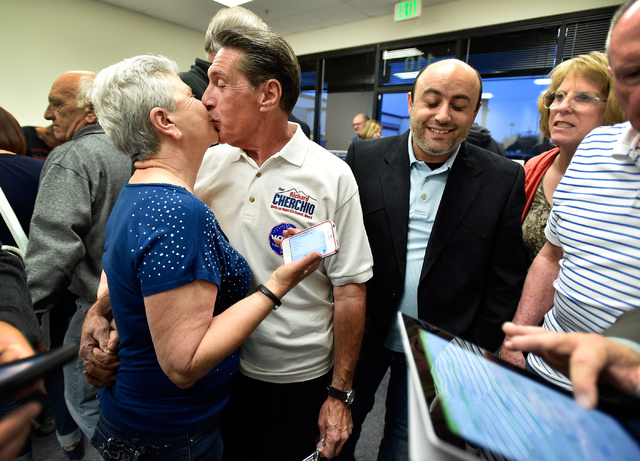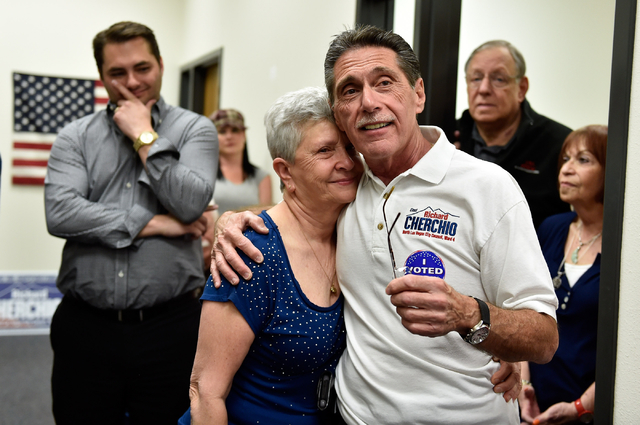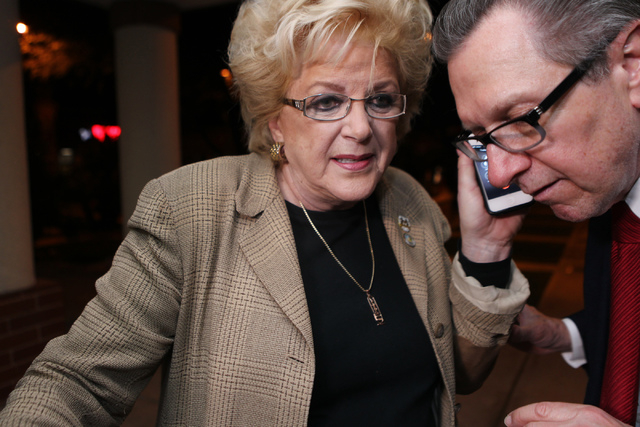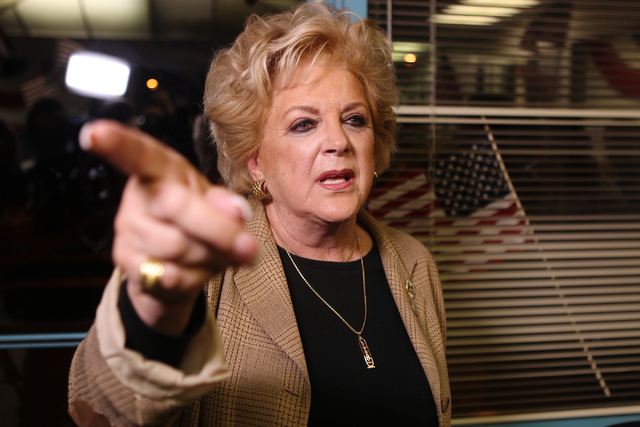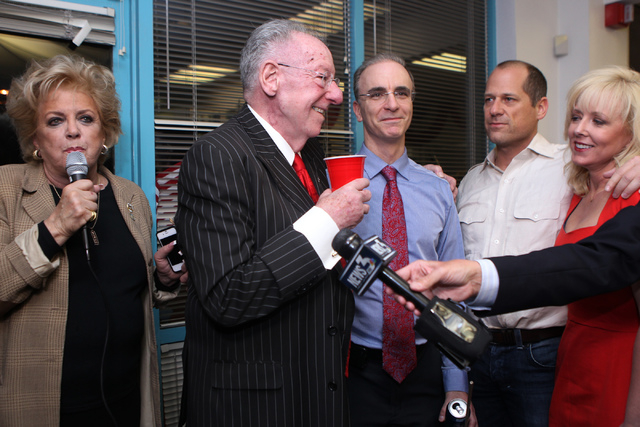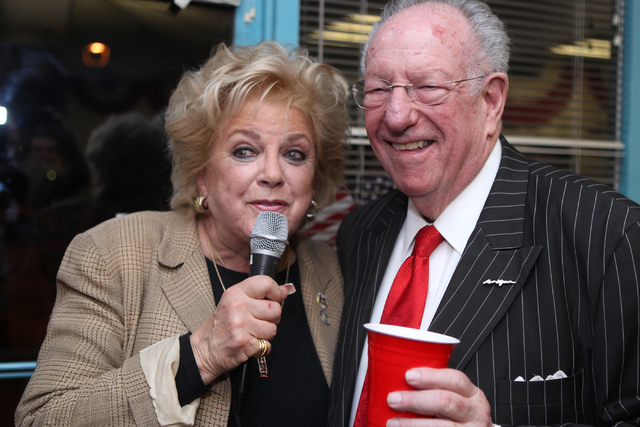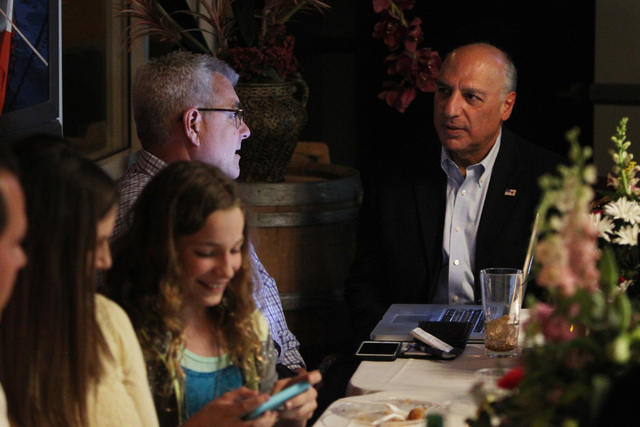 Las Vegas Mayor Carolyn Goodman easily won a second term Tuesday, holding off a ferocious challenge from Stavros Anthony.
In other races, too, it was an Election Night with no surprises and little suspense: Incumbent city council members in Las Vegas, as well as North Las Vegas and Henderson, won decisively.
In Las Vegas, Goodman beat Anthony, the mayor pro tem, by more than 4,600 votes, 55 percent to 42 percent. Two other candidates, Phil Cory and Abdul Shabazz, trailed far behind at 3 percent and less than 1 percent, respectively.
Goodman gave a brief speech at her campaign headquarters on Meadows Lane, the same place where she celebrated her 21-point win at a raucous party in 2011.
"Everybody here has believed in what we want for this city," the mayor told several dozen supporters and campaign staff. "This support we had … that's what turned around and made this happen for us.
"We have a lot of work to do, and I'm so grateful to all of you."
Her husband was a little more pointed: "He's a piece of crap, this guy," former Mayor Oscar Goodman said of his wife's vanquished chief opponent.
Anthony, first elected in 2009, will keep his Ward 2 City Council seat, one awkwardly positioned to Goodman's immediate right on the City Hall dais.
In council races, incumbents won in all three cities: Ricki Barlow, Bob Coffin and Lois Tarkanian in Las Vegas; Gerri Schroder, Debra March and Sam Bateman in Henderson; and Pamela Goynes-Brown in North Las Vegas.
The trend was clear early in the evening, since the majority of voters in all three cities cast votes either by mail or at early-voting sites.
County elections officials posted the early and mail-in results right after polls closed at 7 p.m. All the winners held leads then, and Goodman's lead only increased as the night went on.
The closest council race of the night was Bateman's. With 50.97 percent of the votes, he barely achieved the majority needed to avert a general election runoff. Derek Uehara got 43 percent of the votes, and a second challenger, Tristan Galicia, got 6 percent.
In North Las Vegas, Goynes-Brown had 63 percent of the vote against three challengers, the closest of whom was Laura Perkins at 25 percent.
Richard Cherchio, who served two years on the North Las Vegas council after being appointed in 2009, easily won the seat back with 72 percent of the vote to Matthew Anderson's 28 percent.
Had there been any contest where no one got a majority of votes, the top two finishers would have faced off June 2 in a general election. That's now unnecessary.
LAS VEGAS
The race between Goodman, a first-term independent, and Republican Anthony was bruising — and expensive.
It became largely a referendum on the city's now-abandoned plan to spend $56 million in taxpayer dollars on a downtown soccer stadium.
Goodman was a strong stadium supporter and Anthony a vociferous opponent. The two spent weeks bad-mouthing each other in the run-up to Tuesday's election, and they shelled out plenty of cash in the process.
Anthony spent $280,735 on his first mayoral campaign, according to election filings, and Goodman spent $755,492 — far more than she did to win the post in 2011.
Goodman's primary night victory marks a fifth straight mayoral contest win for the Goodman family. Oscar Goodman served three terms as the city's mayor between 1999 and 2011.
Anthony, a former Metro police officer, called his first mayoral run a learning experience, one he said he doesn't regret.
"I knew going in I was running against an incumbent with a very recognizable name," Anthony said. "They outspent us three to one and ran a pretty negative campaign.
"I think we did everything we were supposed to do … 42 percent is pretty good."
At 15.67 percent, Las Vegas had the highest turnout of the three cities.
Goodman's win was seen as a vindication of her approach to publicly subsidized downtown projects, the biggest of which was the soccer stadium plan.
Four mayoral debates saw her and Anthony attempt to draw blood over issues ranging from downtown redevelopment to things local leaders have little or no control over — including gun rights and state education spending.
In the Ward 1 council race, Tarkanian walloped Raymond Fletcher, 81 percent to 19 percent. In Ward 3, Coffin's 56 percent beat five challengers, with Megan Heryet closest at 19 percent.
And Ward 5 Councilman Barlow beat lone challenger Randy Voyard 69 percent to 31 percent.
In the only contested judicial race in any of the three cities, Las Vegas Municipal Court Judge Cynthia Leung held off her only challenger, attorney Yvette Chevalier, 64 percent to 36 percent.
HENDERSON
In Henderson's hardest fought race, Uehara, a Republican financial adviser, challenged first-term Ward 4 councilman Bateman, a Democrat who works as a Clark County prosecutor.
Uehara raised $56,284, far more than any other Henderson challenger. But that was dwarfed by the nearly $420,000 Bateman raised this year and last.
A disappointed Uehara said he didn't know what to make of the results. Bateman said he was grateful to have another term.
"I think we've spent the last four years making good progress," Bateman said.
Schroder, running for a third term in Ward 1, easily beat two challengers at 58 percent. Eddie Hamilton had 26 percent of the votes, and Edward O'Neil had 16 percent.
Hamilton said the result showed how hard it is to beat well-funded incumbents, particularly when few people vote. Hamilton hoped to attract young and disaffected voters, but turnout was just 11.81 percent in Henderson.
Councilwoman Debra March beat Crystal Hendrickson easily, 59 percent to 41 percent, in Ward 2.
Challengers tried to make the race a referendum on fiscal policy, arguing the current council members have not been good managers of the city's budget. But the voters who showed up didn't agree.
Voting at Henderson's Green Valley Library was briefly interrupted about 3:30 p.m. Tuesday when a juvenile called police to report seeing a man with a gun.
Officers arrived and saw a man matching the description, but the man let police pat him down and had no weapon.
NORTH LAS VEGAS
Cherchio will be a new councilman in North Las Vegas, with Ward 4 incumbent Wade Wagner not running for re-election. But Cherchio's not so new.
After being appointed and serving two years, Cherchio lost by a single vote in the 2011 election.
On Tuesday, he easily beat Anderson, a chiropractor. Cherchio raised more than $170,000 for his campaign, while Anderson raised just $8,586.
Cherchio said campaigning gave him a chance to "get into the weeds" to see what residents care about and what needs to change.
As a result, he said he's got a lot on his to-do list, from small items such as speed limits and stoplights to larger goals: decreasing crime and expanding library hours.
North Las Vegas had the lowest turnout of the cities at 9.38 percent. Considering its low rate of voter registration, Tuesday's election was decided by less than 2 percent of city residents.
In Ward 2, incumbent Goynes-Brown beat Perkins, with two other challengers far behind. Richard Moyer and Richard Carreon each got 6 percent of the vote.
"You're always a little bit anxious because you want to seal the deal and get to the end. I'm feeling thankful and very grateful," Goynes-Brown said. "I'm excited. Any challenges that arise — I'm ready to get moving."
Contact Eric Hartley at ehartley@reviewjournal.com or 702-550-9229. Find him on Twitter: @ethartley. Contact James DeHaven at jdehaven@reviewjournal.com or 702-477-3839. Find him on Twitter: @JamesDeHaven. Contact Bethany Barnes at bbarnes@reviewjournal.com or 702-477-3861. Find her on Twitter: @betsbarnes.